Decorate with neutral colors: elegant accessories brighten interior spaces
Published on 28/06/2021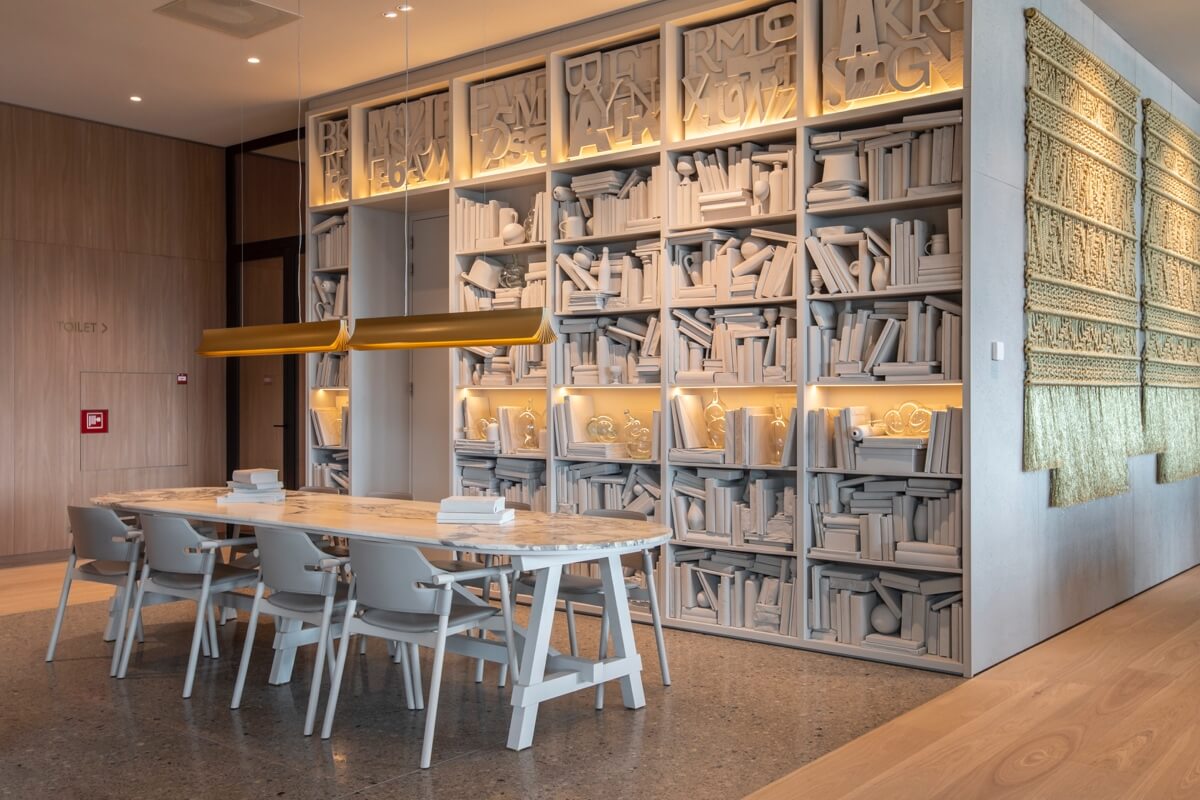 Pure, light and sophisticated, neutral tones bring new light to your indoor living spaces. Furnishing with neutral designer items means revolutionizing aesthetics and expression: adding a shared feeling of tranquility and harmony in different contexts and furnishing styles.
Discover the versatility of soft colors with Midj's furnishing accessories and transform interiors into welcoming, sophisticated and bright places.
Unexpected combinations with pastel colors
In living areas, unique white-colored furniture illuminates the atmosphere with a bright, vivid, and energetic look.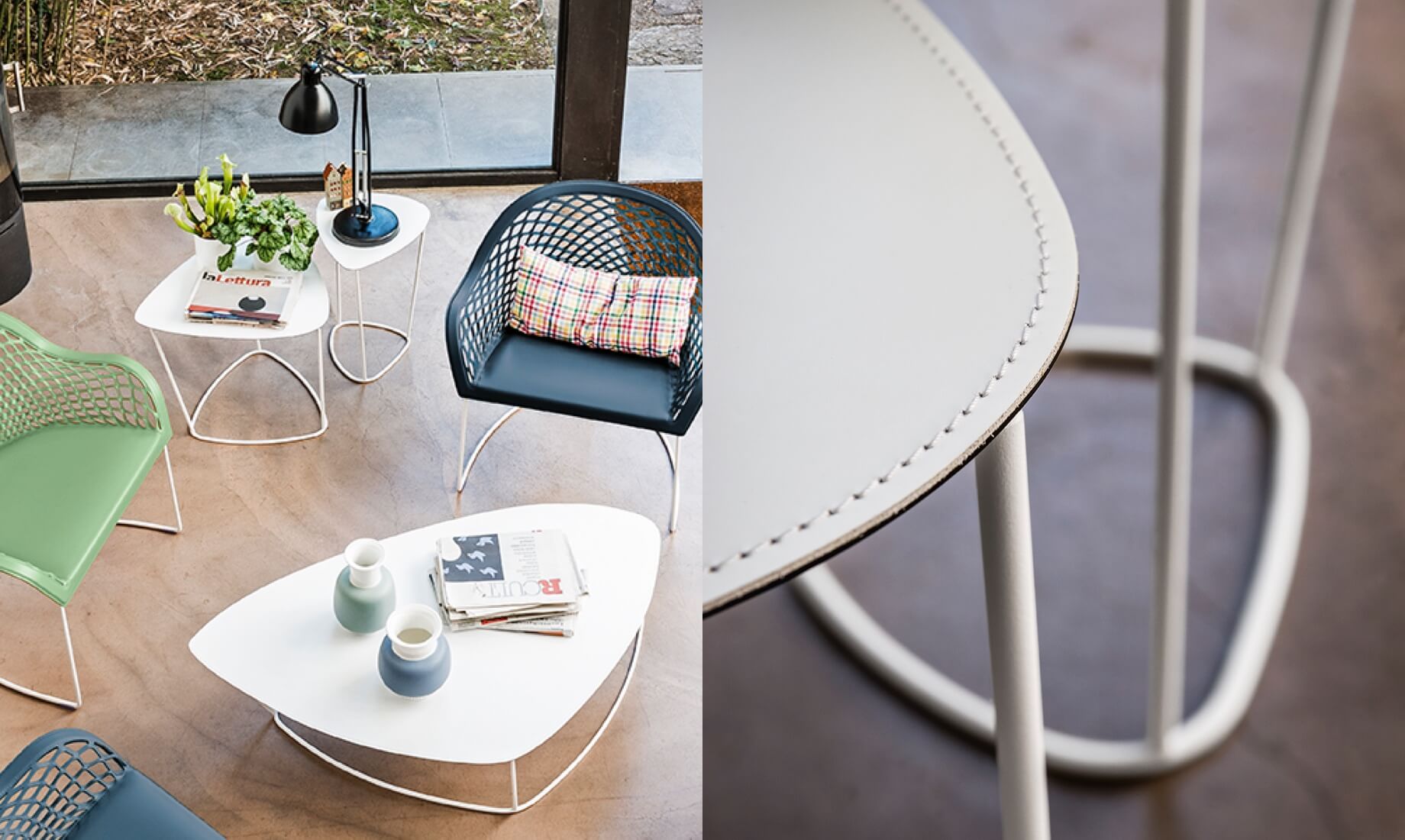 Guapa coffee table, design Sempere#Poli Design.
Guapa coffee tables, recognizable through fascinating dynamic shapes and the fine leather artistry, fit and adapt to any color scheme in living rooms.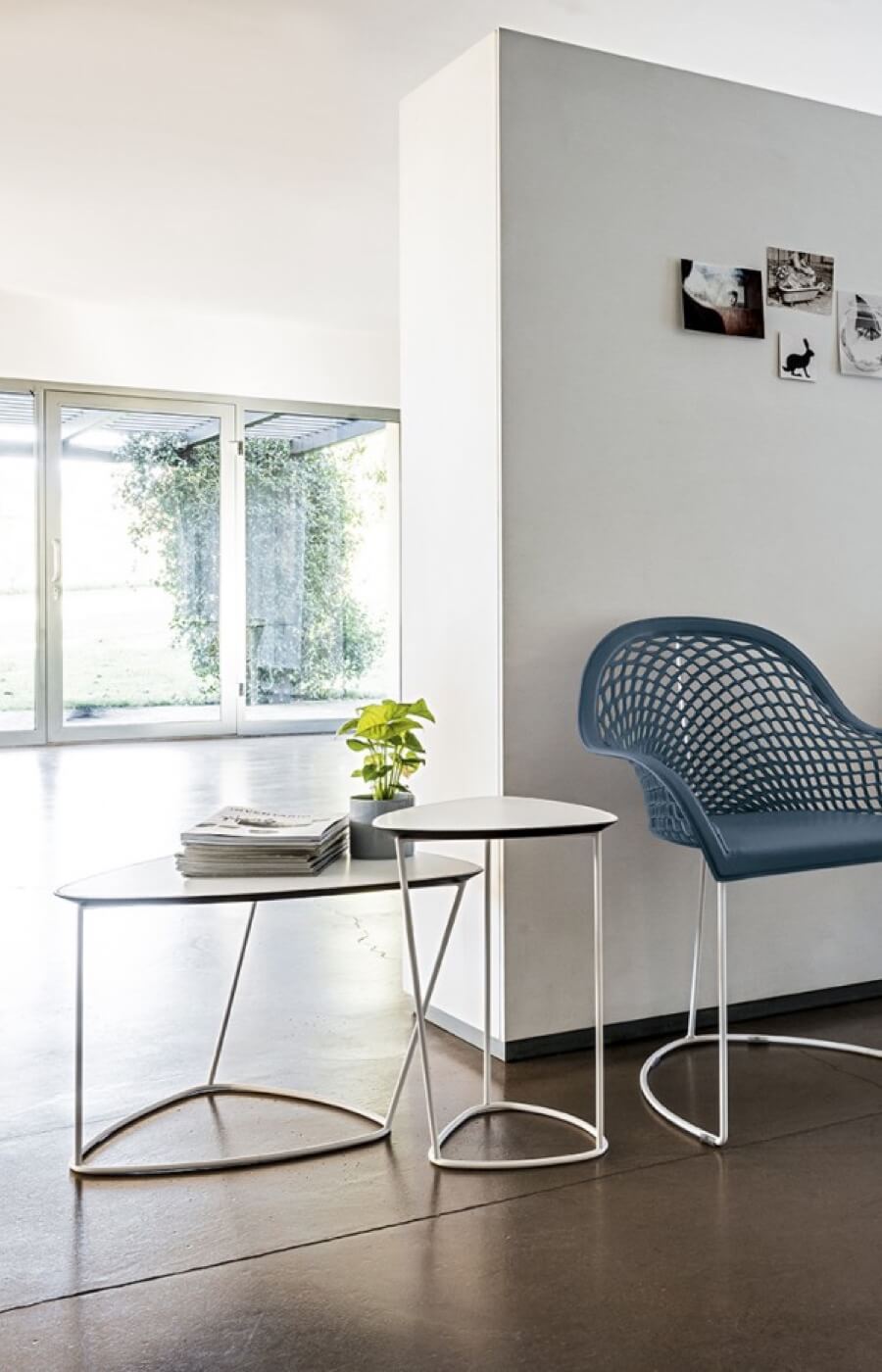 Guapa coffee tables, design Sempere#Poli Design.
Harmonized by soft pastel colors, Guapa coffee tables revive any living and welcoming area through an eclectic character that certainly doesn't go unnoticed.
Find out in our article how to bring delicate pastel shades into your interior rooms!
White becomes the scene's absolute protagonist
Opting for a total white style is ideal in a contemporary kitchen that focuses on a minimal, essential, and elegant design.
The Apelle stool enhances everyday areas such as modern kitchen isles, conquering the space in height and communicating absolute calm and lightness.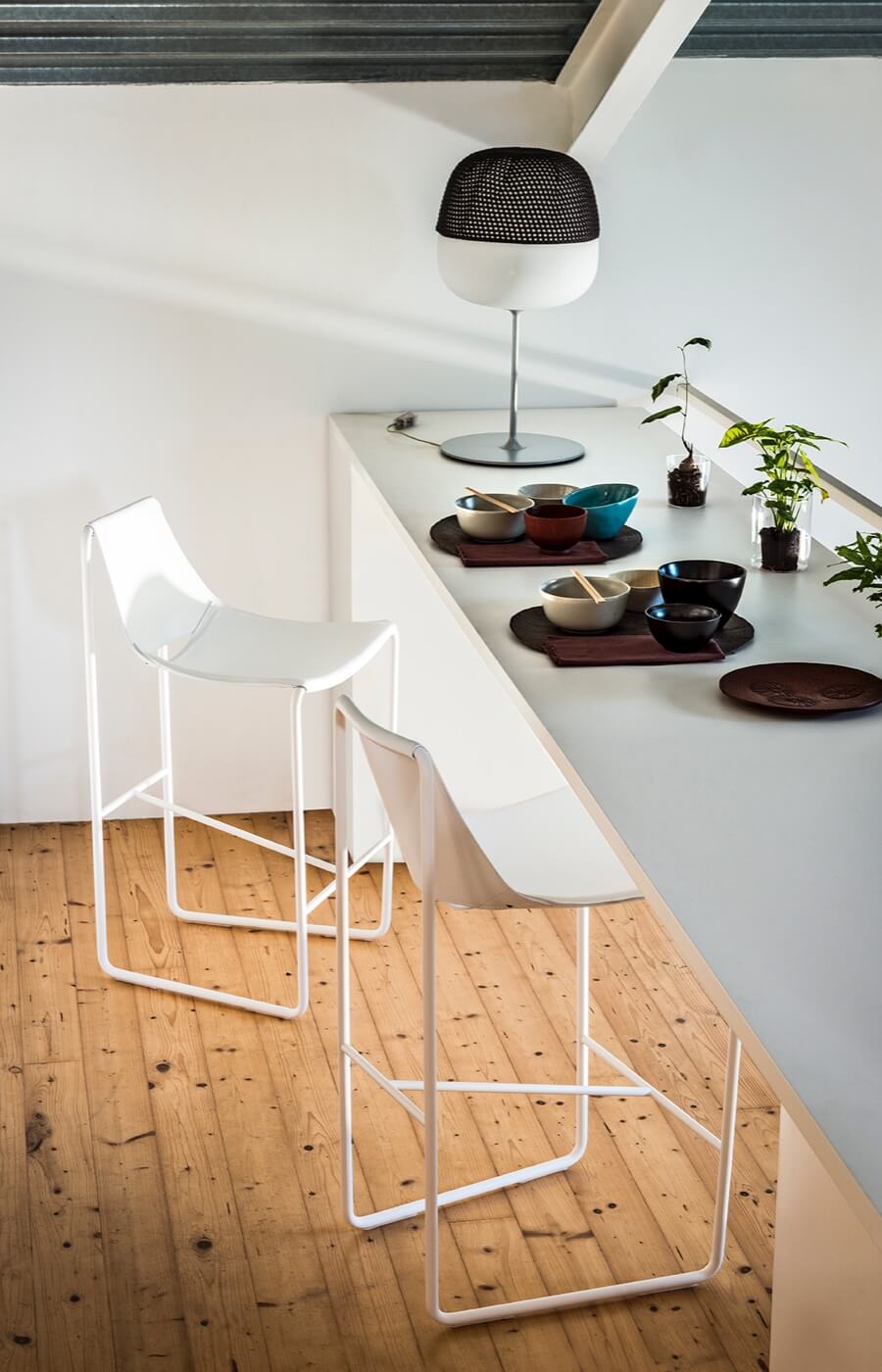 Apelle stool, design Beatriz Sempere.
"Total white fills spaces with freshness, light, and serenity."
The enveloping features of Apelle can also be found in offices and home offices with the desk chair. The fluid and welcoming lines rediscover a new harmony and aesthetic purity in white.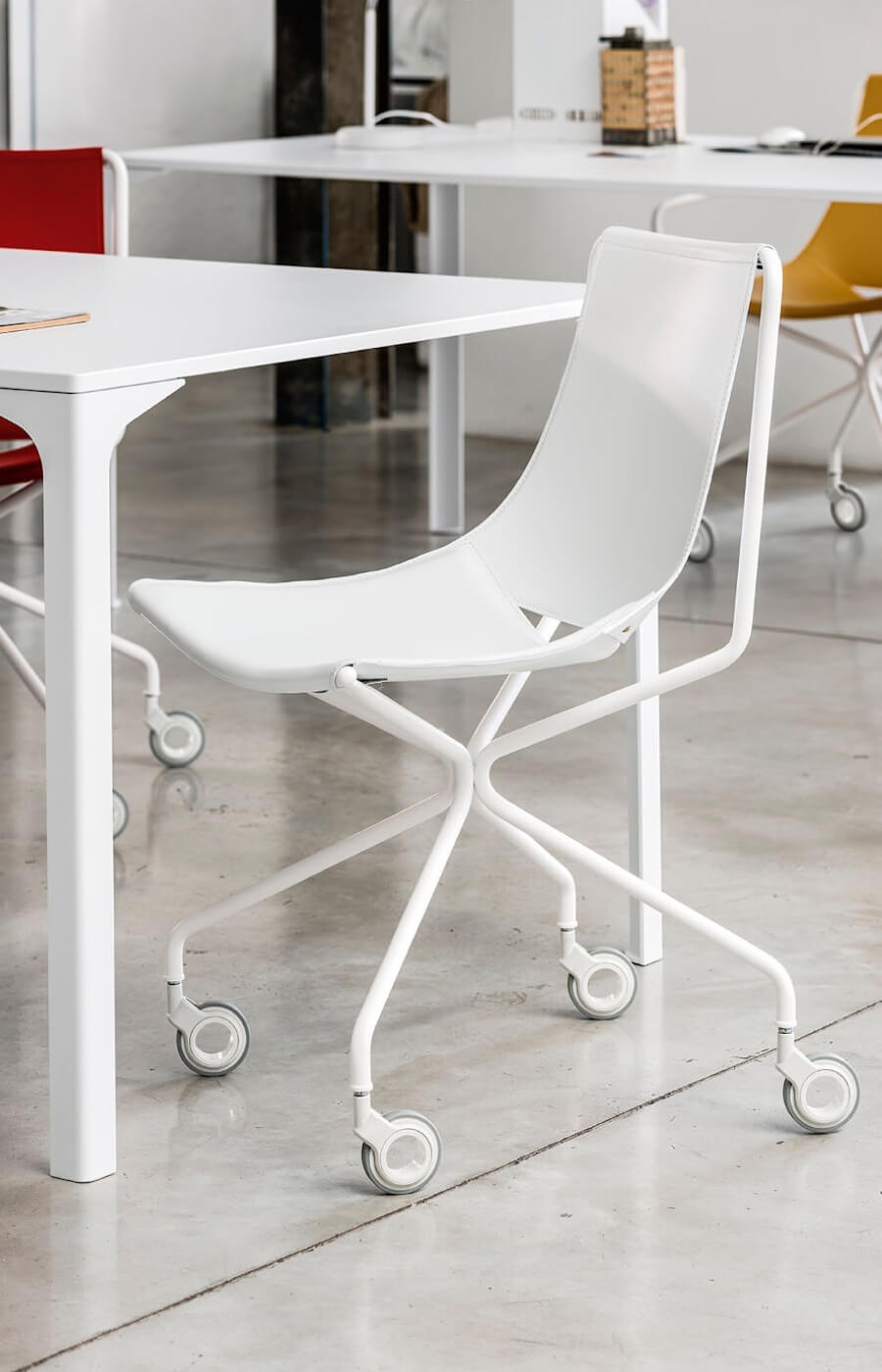 Apelle chair, design Beatriz Sempere.
Also the versatile Armando table finds its ideal place within workspaces fitting into common areas such as study, meeting, and conference rooms.
Armando table, design Balutto Associati and Liù armchairs, design Archirivolto.
Thanks to its simple and essential design, the Armando table is extremely comfortable, and with its bright white color, it carries a strong feeling of tranquility, which is essential during moments of concentration and productivity.
Suite armchair and its iconic personality
The subtle shades of the Suite armchair can be combined with many furnishing styles.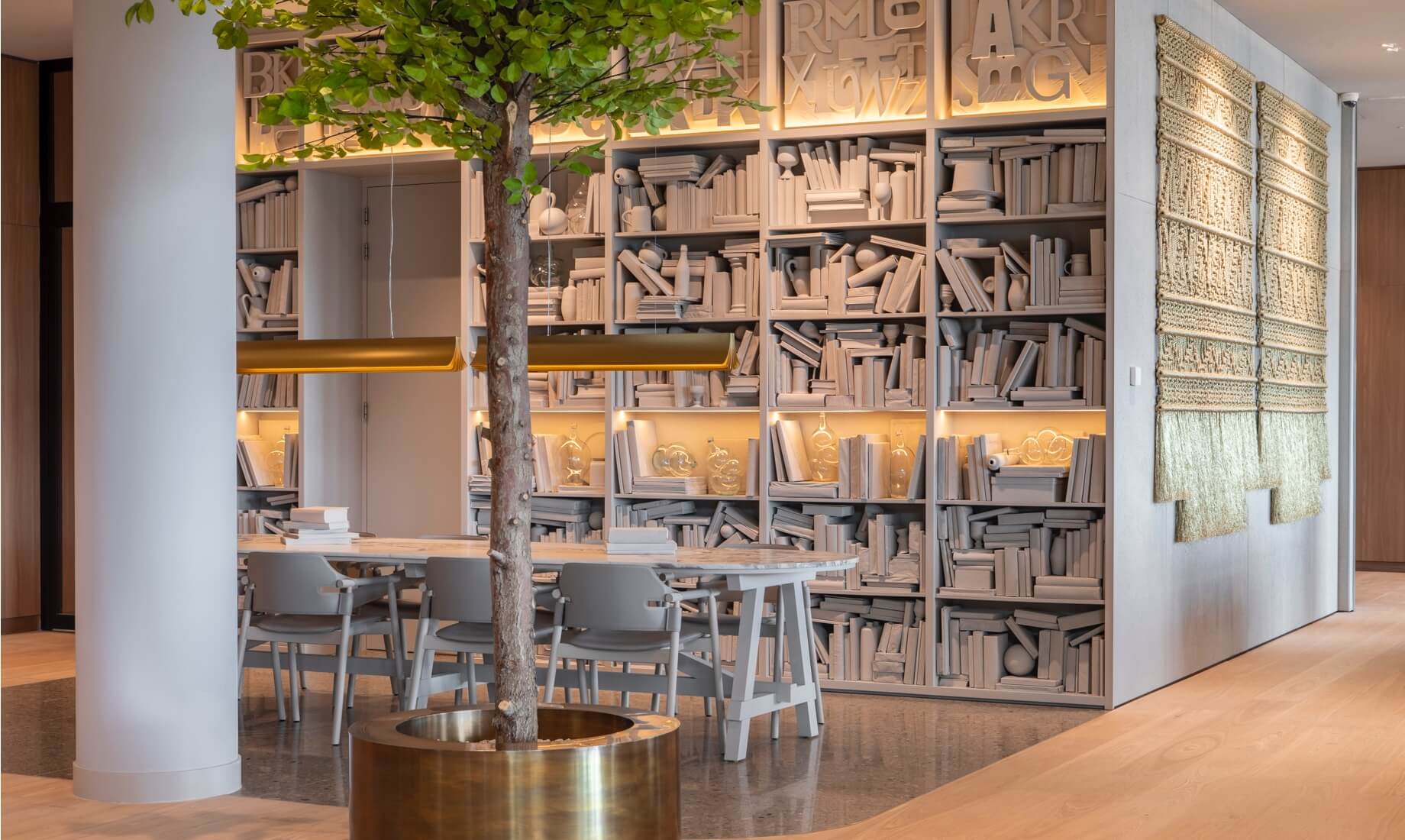 Suite armchair, design AtelierNanni.
Hotel Deventer, located in the homonymous Dutch city, pays particular attention to shared areas dedicated to reading, relaxation, and conviviality with AtelierNanni's armchairs, creating a classy place where design completes any study, reading, and work activity.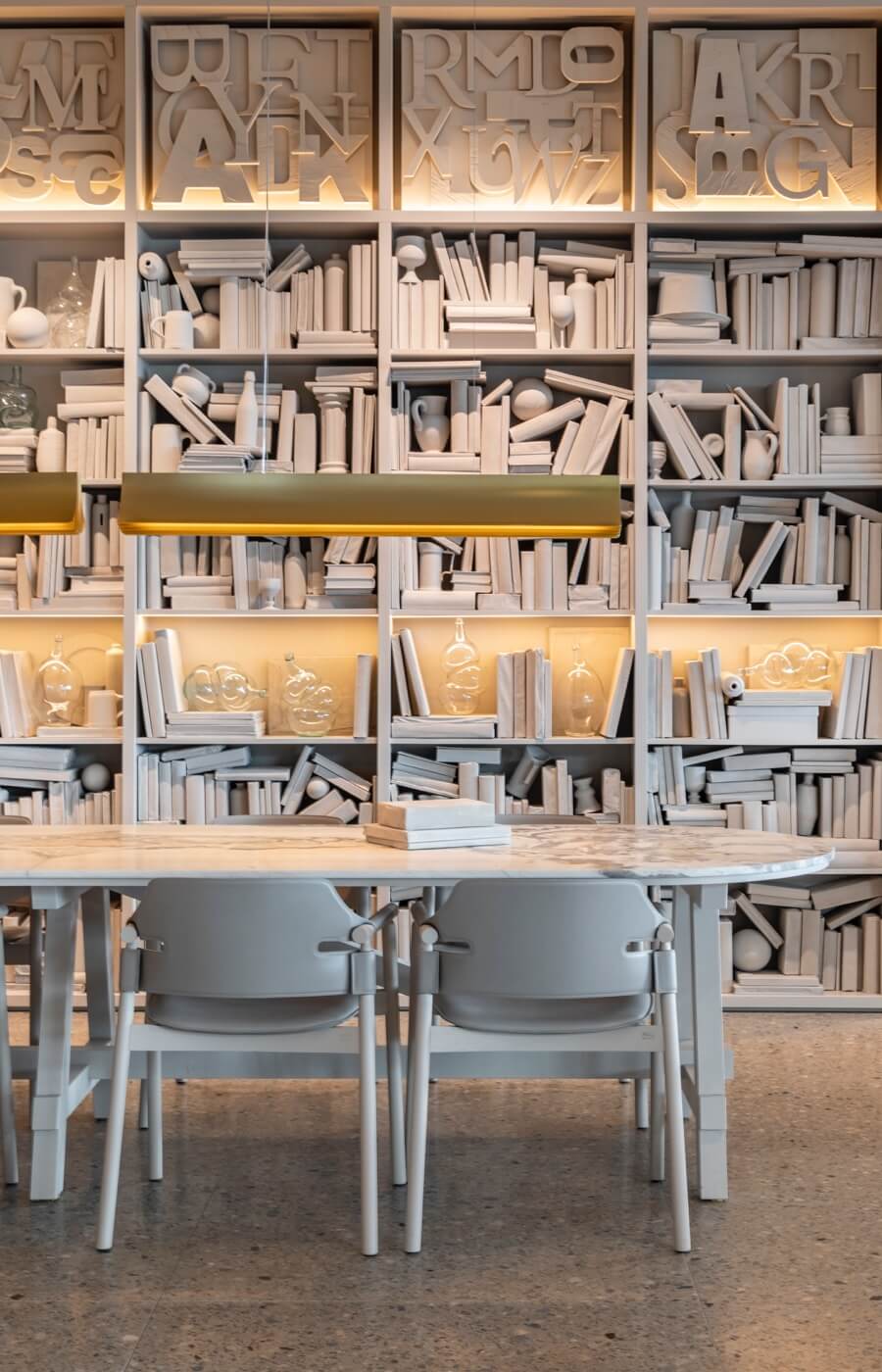 Suite armchair, design AtelierNanni.
Dalia shines bright at a lakeside bistro
Protagonista indiscussa, la sedia Dalia che incanta gli interni del bistrot Südsee situato nel comune austriaco Maria Wörth. Our Dalia chair, the indisputable protagonist, enchants the interiors of Südsee bistro located in the Austrian town Maria Wörth.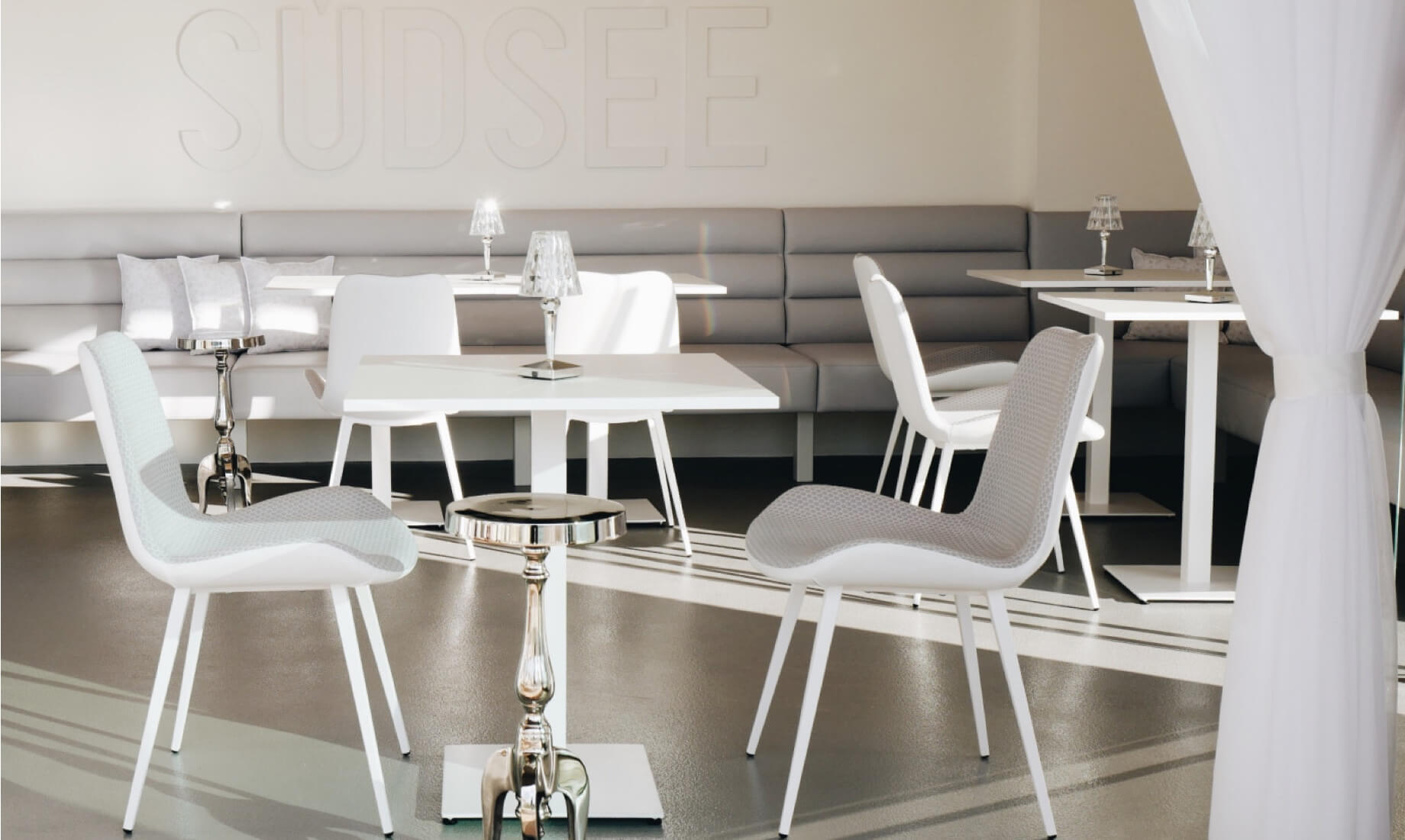 Dalia chair, design Beatriz Sempere.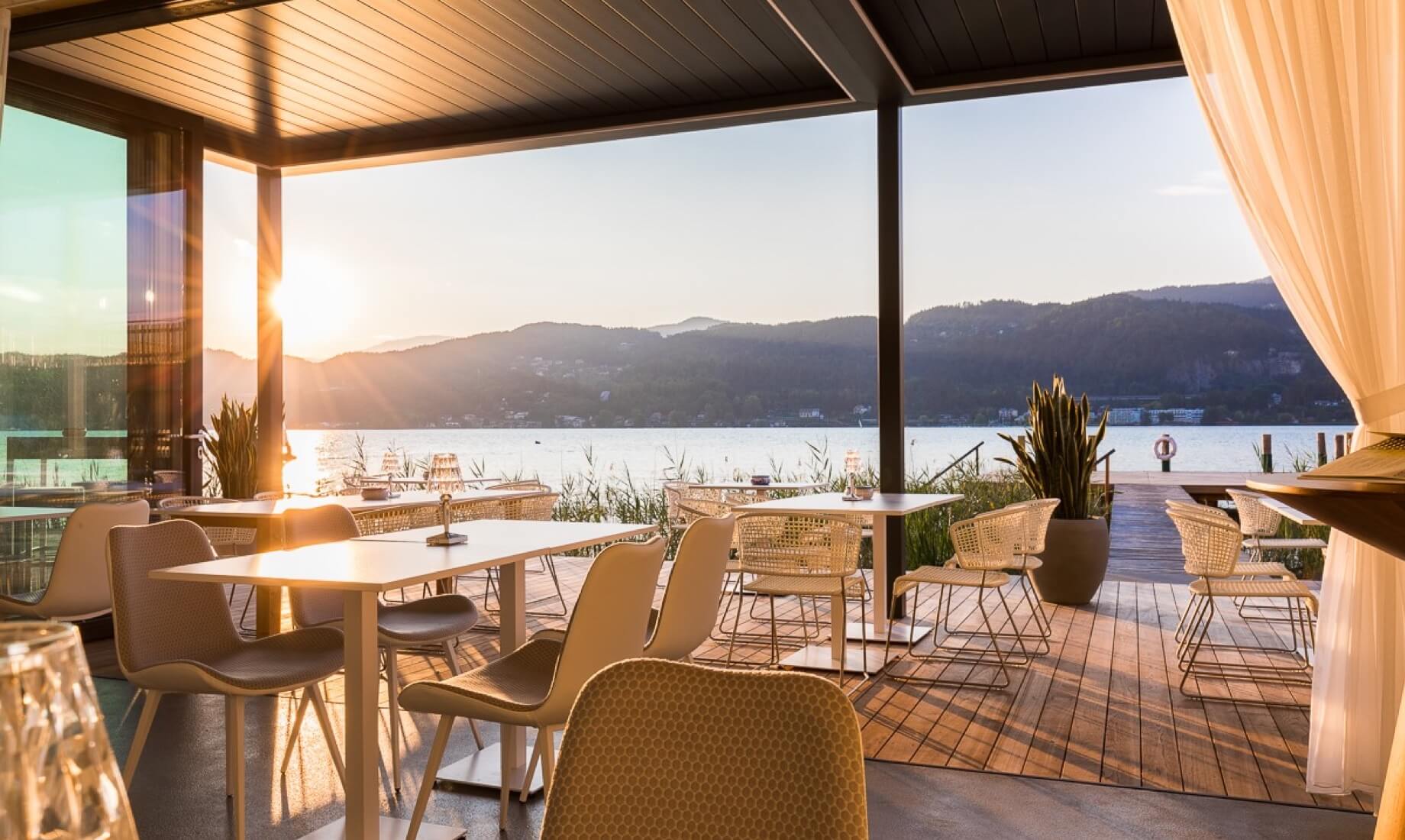 Dalia chair, design Beatriz Sempere.
Characterized by a marked formal purity, Dalia blends into the surrounding lakefront landscape with a combination of beauty and comfort. Together with the choice of sinuous, balanced, and innovative geometries, the focus on materials is undoubtedly one of the characterizing elements of Beatriz Sempere's collection.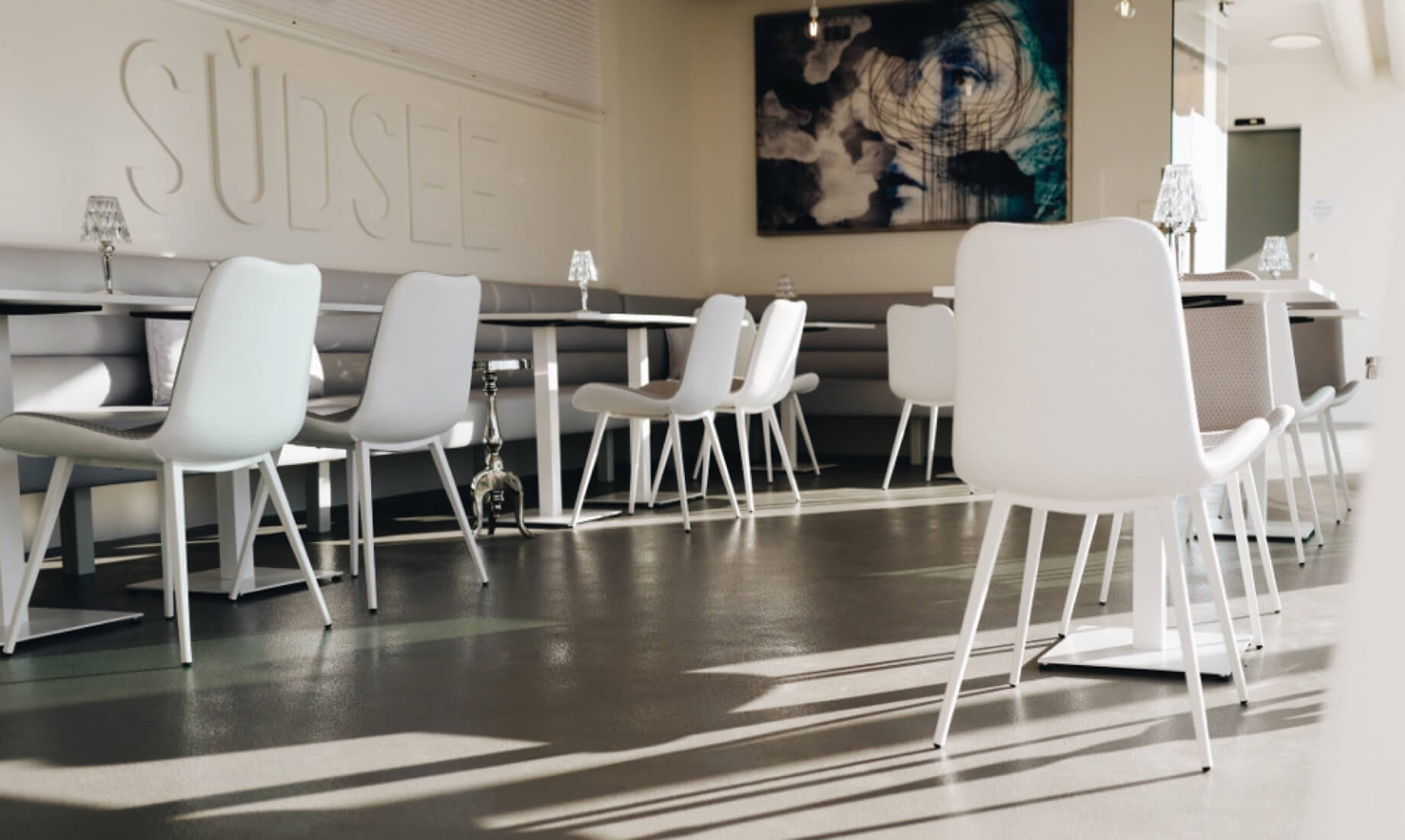 Dalia chairs, design Beatriz Sempere.
With the light gray interior that embraces the white-toned exterior, Dalia reflects natural light, becoming the source of a relaxed, ethereal and daring aura as if wanting to take part in the visual show offered by Lake Wörthersee.
Details and contrasts to make the difference
Interior design is full of new trends: light colors in relation to contrasting textures and materials.
Accessories with simple and clean lines, such as the Nenè table and chairs, aim at the minimal and essential aspects of interior design, bringing a new and fresh look to kitchens and living rooms.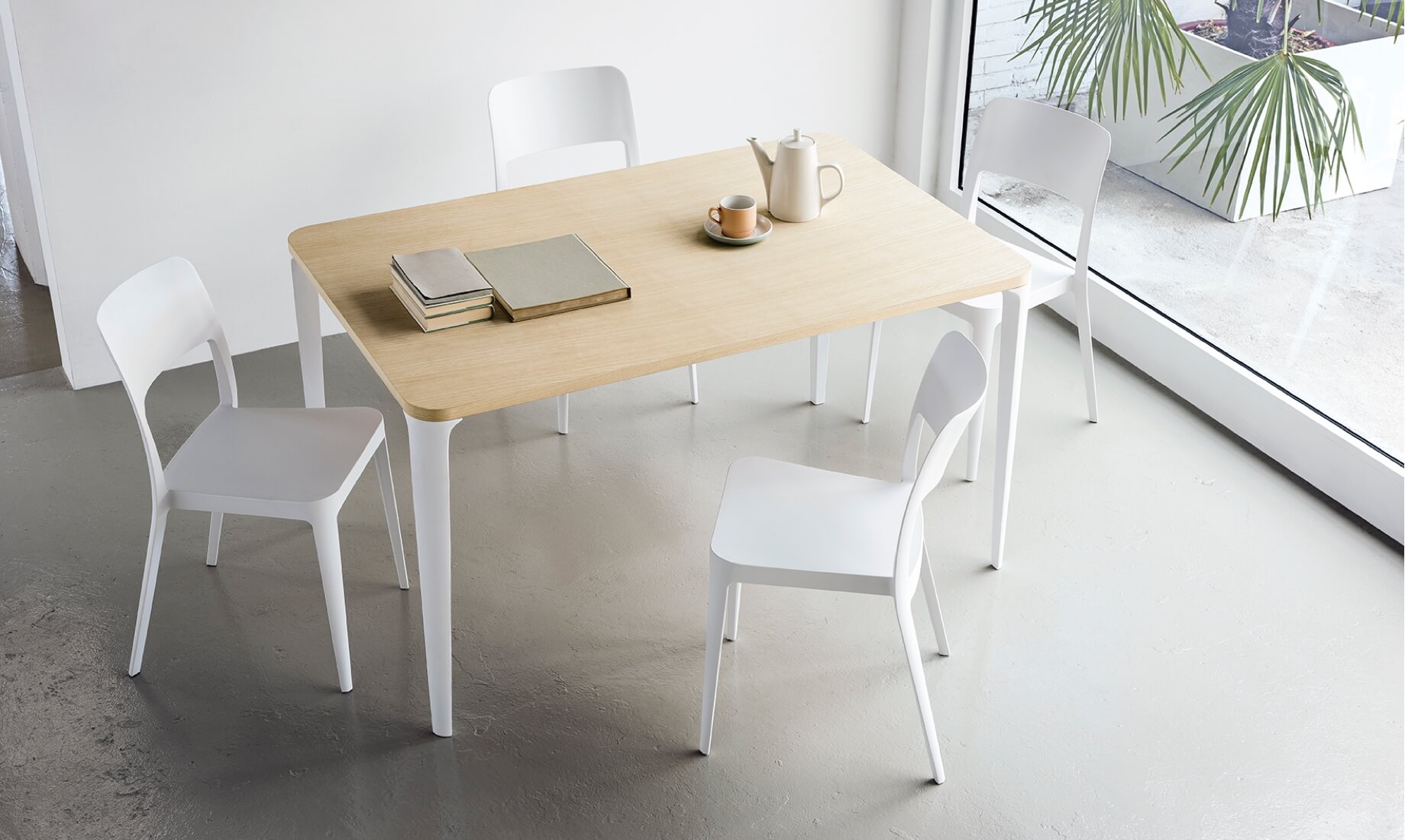 Nenè chairs and rectangular table, design Paolo Vernier.
The melamine top in Sablé color enhances the white painted metal structure and the whole surrounding environment: a slight and balanced contrast that conveys lightness, cleanliness, and practicality.
"The delicate features of our Lea armchair can be admired in their eternal and elegant classicism."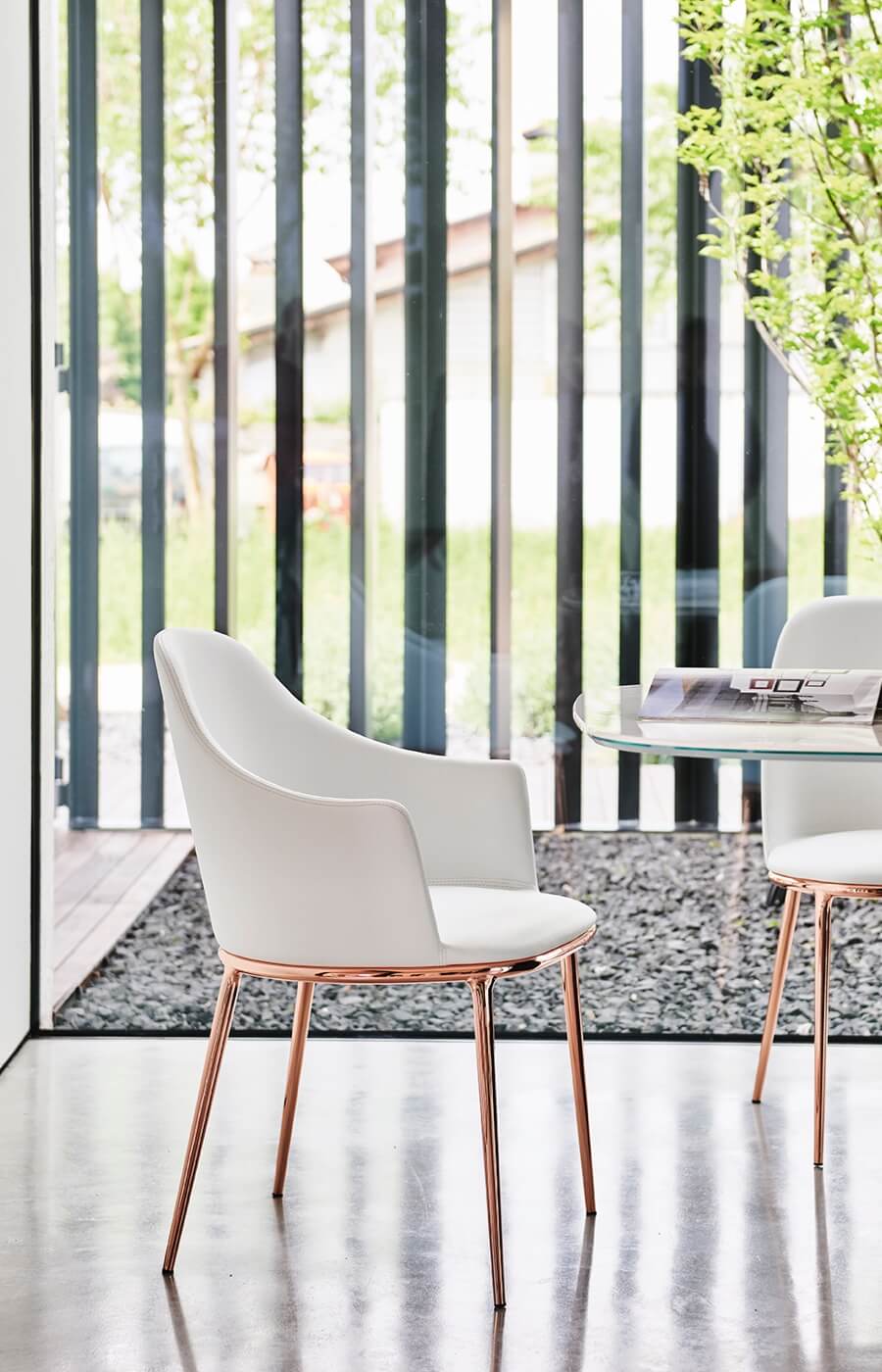 Lea armchair, design Paolo Vernier.
The gold pink detail of Lea's structure embellishes and personalizes the aesthetic design of the armchair as an extremely elegant decorative touch.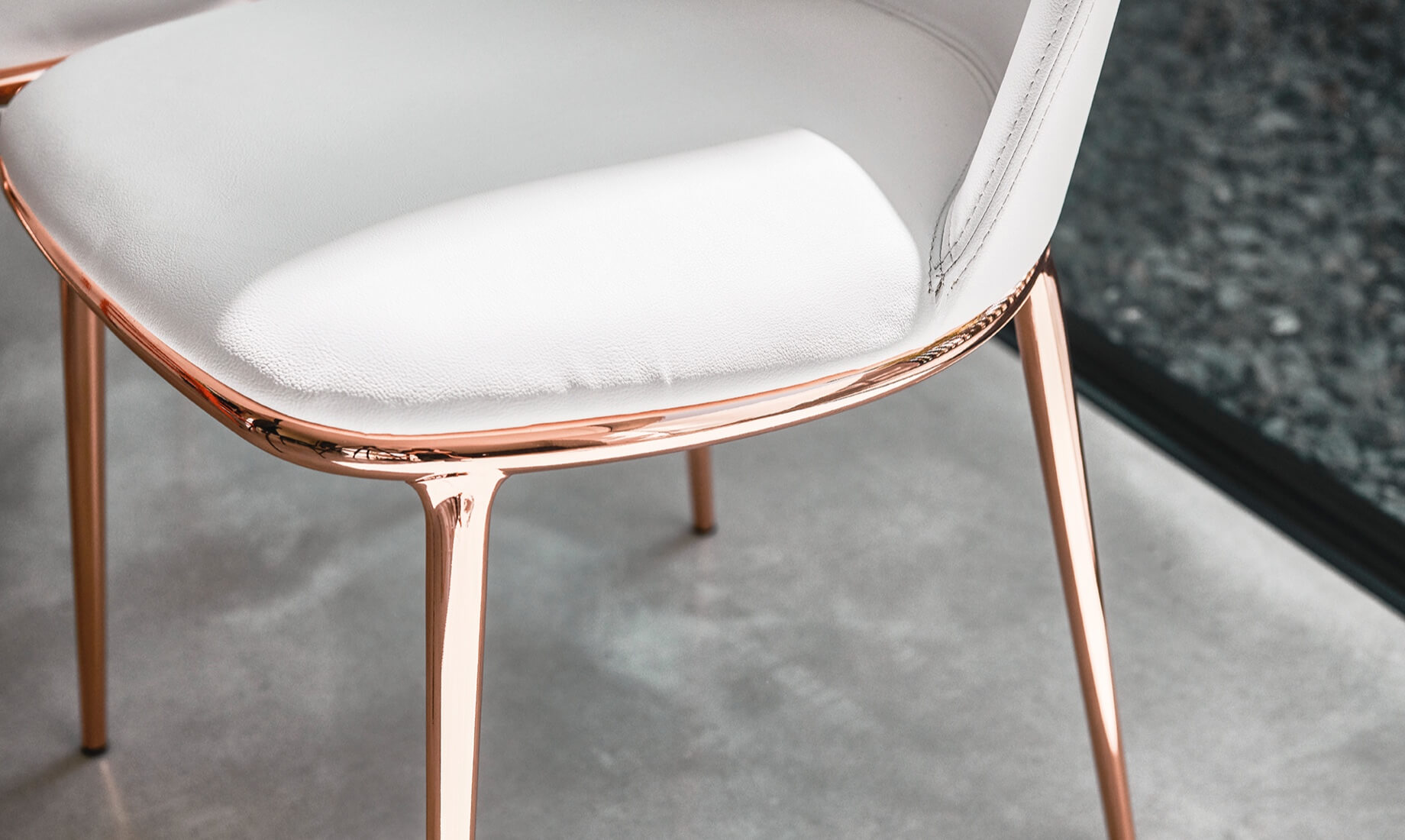 Poltroncina Lea, design Paolo Vernier.
The white leather backrest makes the seat a fine designer item that immediately catches the attention when placed in living rooms.
Match the elegance of neutral colors to your interior!
Enhance and illuminate rooms with light-colored furnishing accessories. Discover Midj's proposals for modern and designer furniture.