Bar & bistro tables: the fascinating atmosphere from long ago with a contemporary twist
Published on 07/06/2021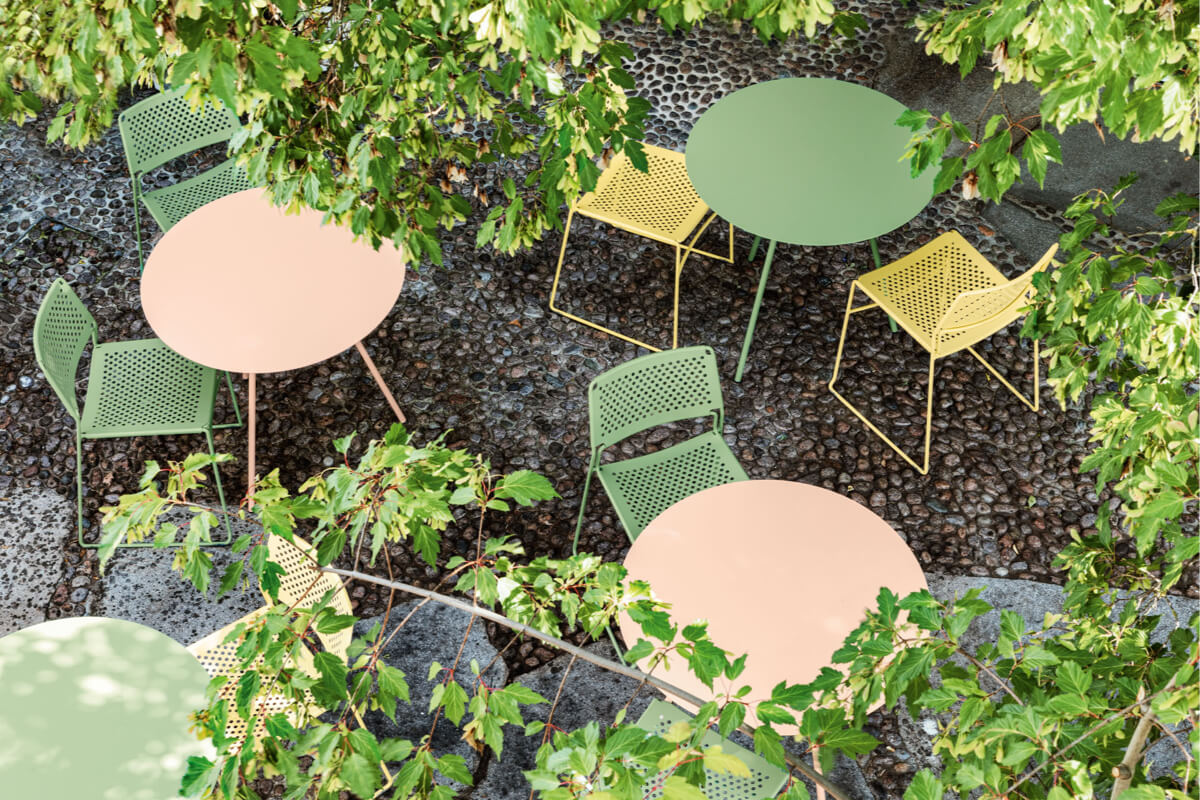 Ideal for creating a relaxing and casual setting, bar and bistro tables add visual appeal and character to any environment, highlighting the perfect spot for moments of leisure and pleasure. Discover how our furnishing elements reveal the personality of your space.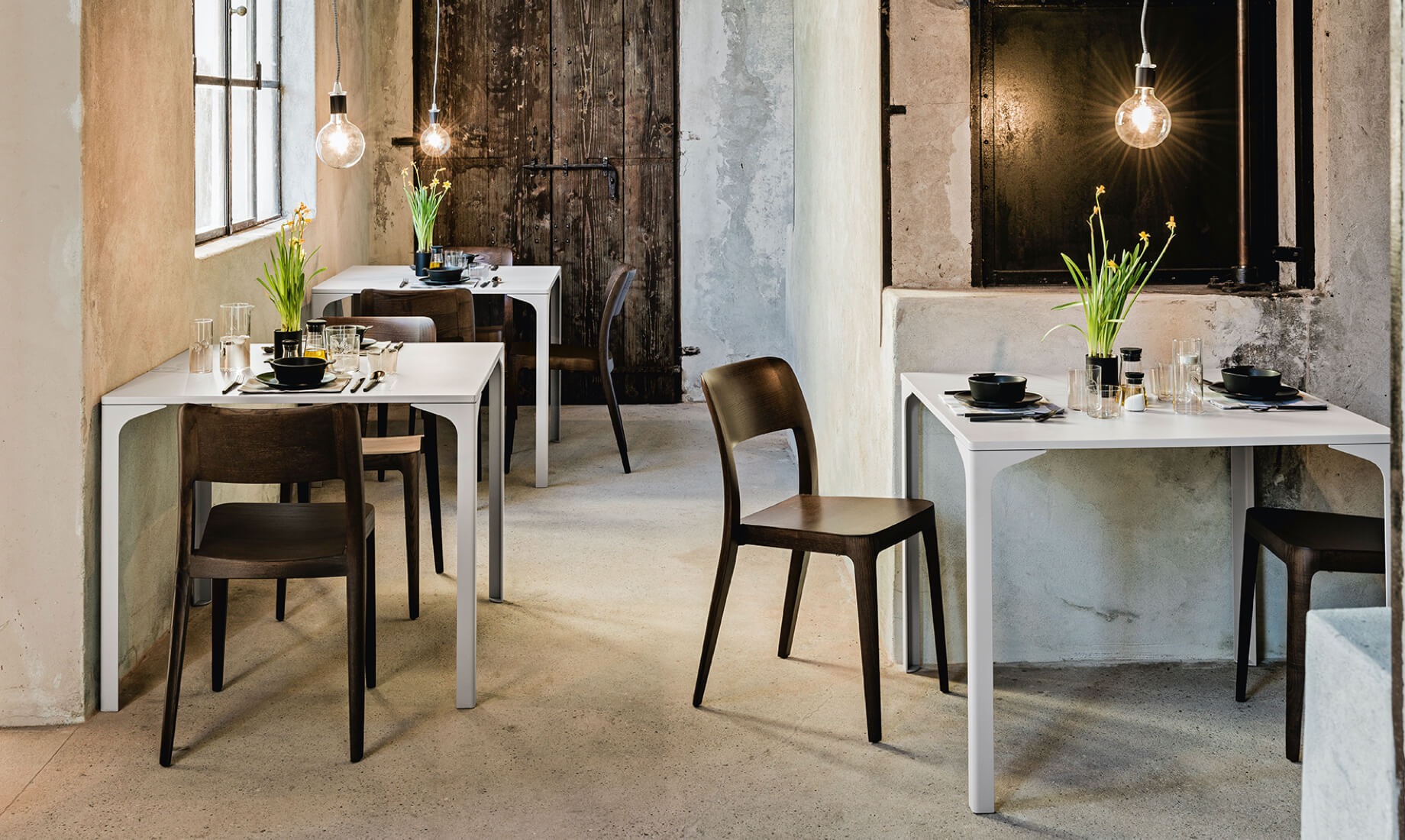 Armando table, design Balutto Associati. Nenè chair, design Paolo Vernier.
The word bistro leads imagination back to Paris in the 1920s, to its small restaurants or quaint sidewalk cafés. However, it also us to picture encounters between artists, writers, and actors. We transformed these distant memories into more modern solutions, not only for what concerns the shapes but also the materials.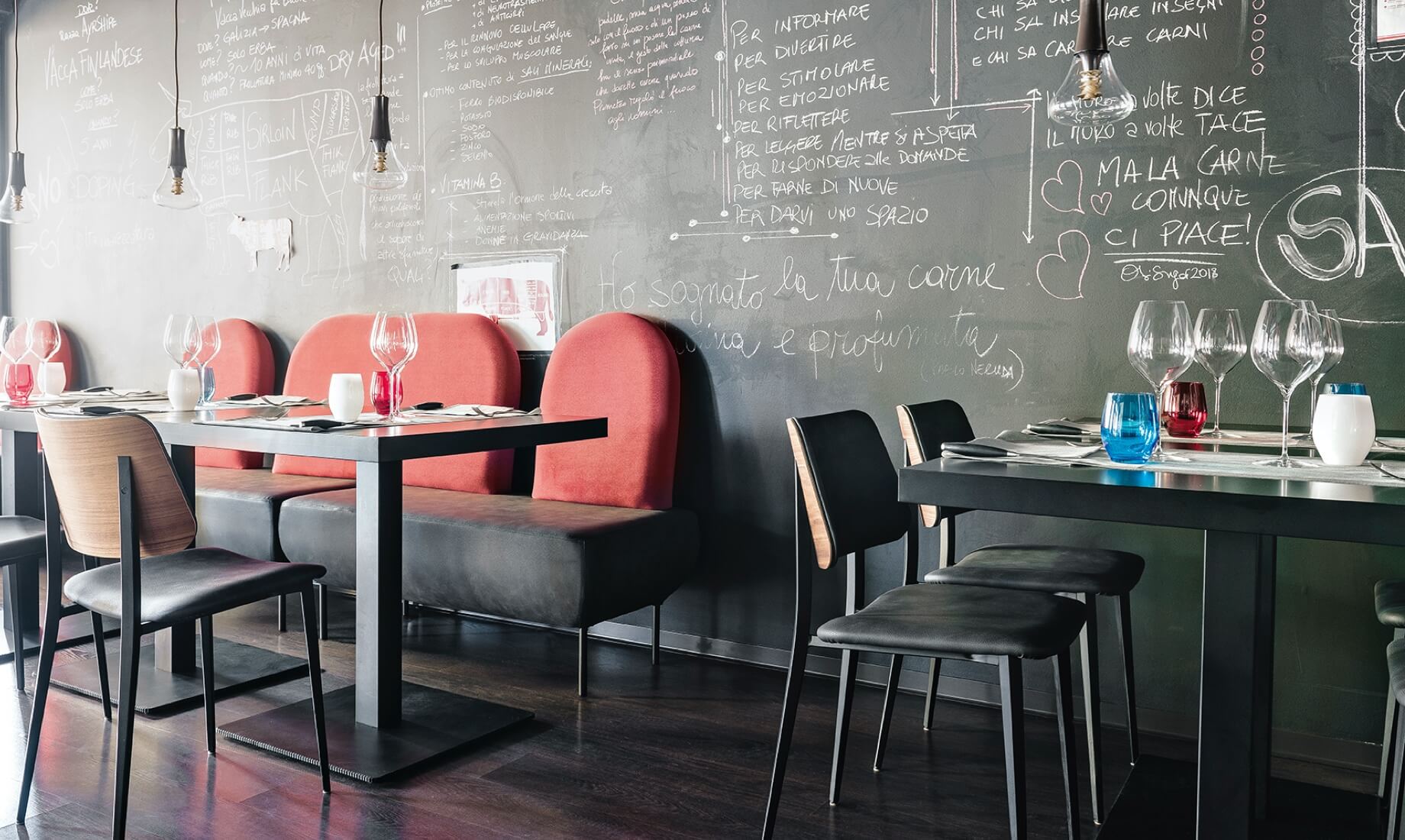 Smart bistro table. Nenè chair, design Paolo Vernier. Landscape modular bench, design Millim Studio. Joe chair, Midj R&D design.
"Our collections of petite tables and bistro chairs allow us to create evocative environments, which take us back to a lost time, in search of the Belle Époque."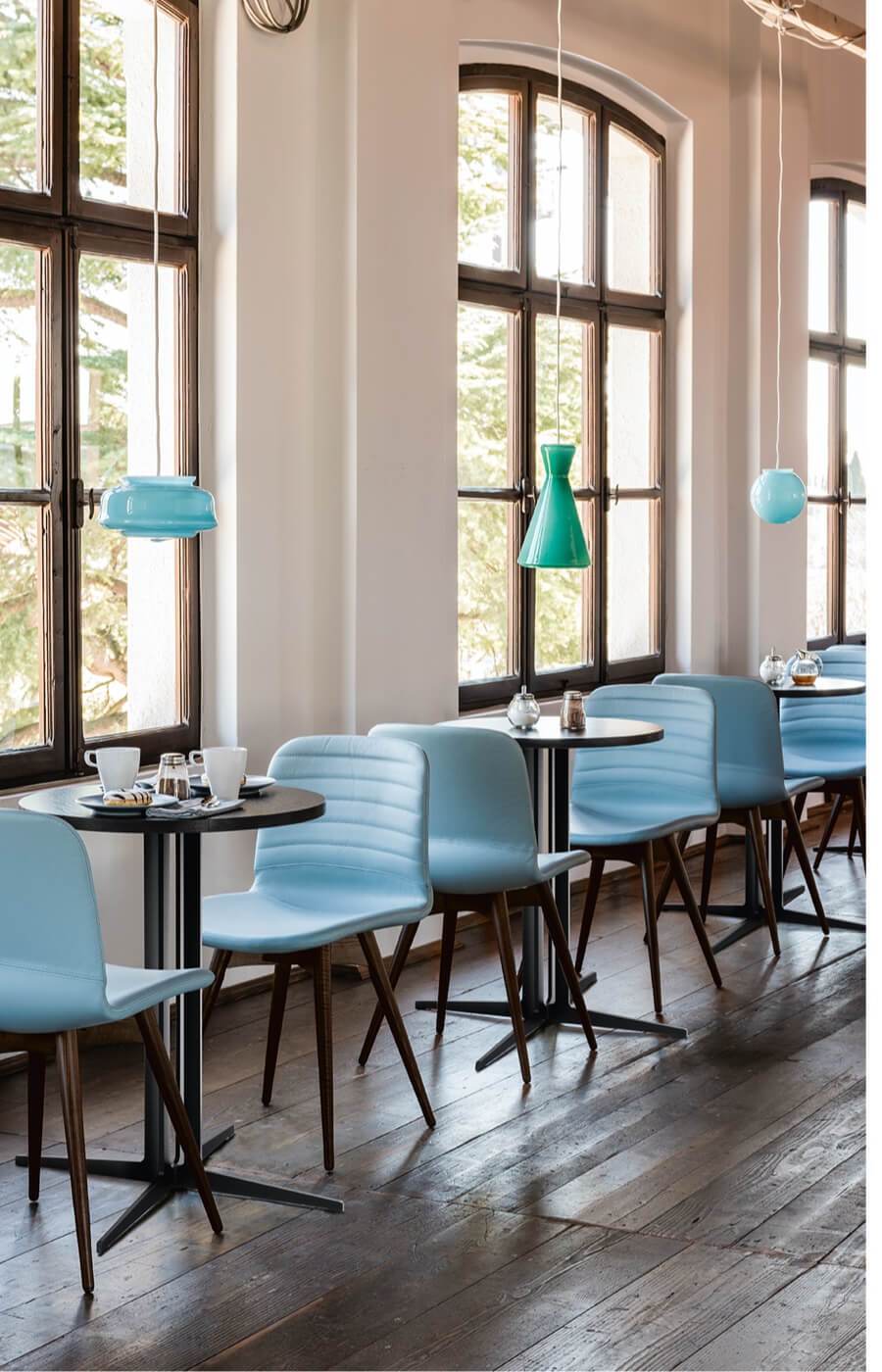 Sintesy bistro table, Liù armchair.
Our proposals for the contract and hospitality sectors include indoor and outdoor solutions that ensure complete comfort and ergonomics.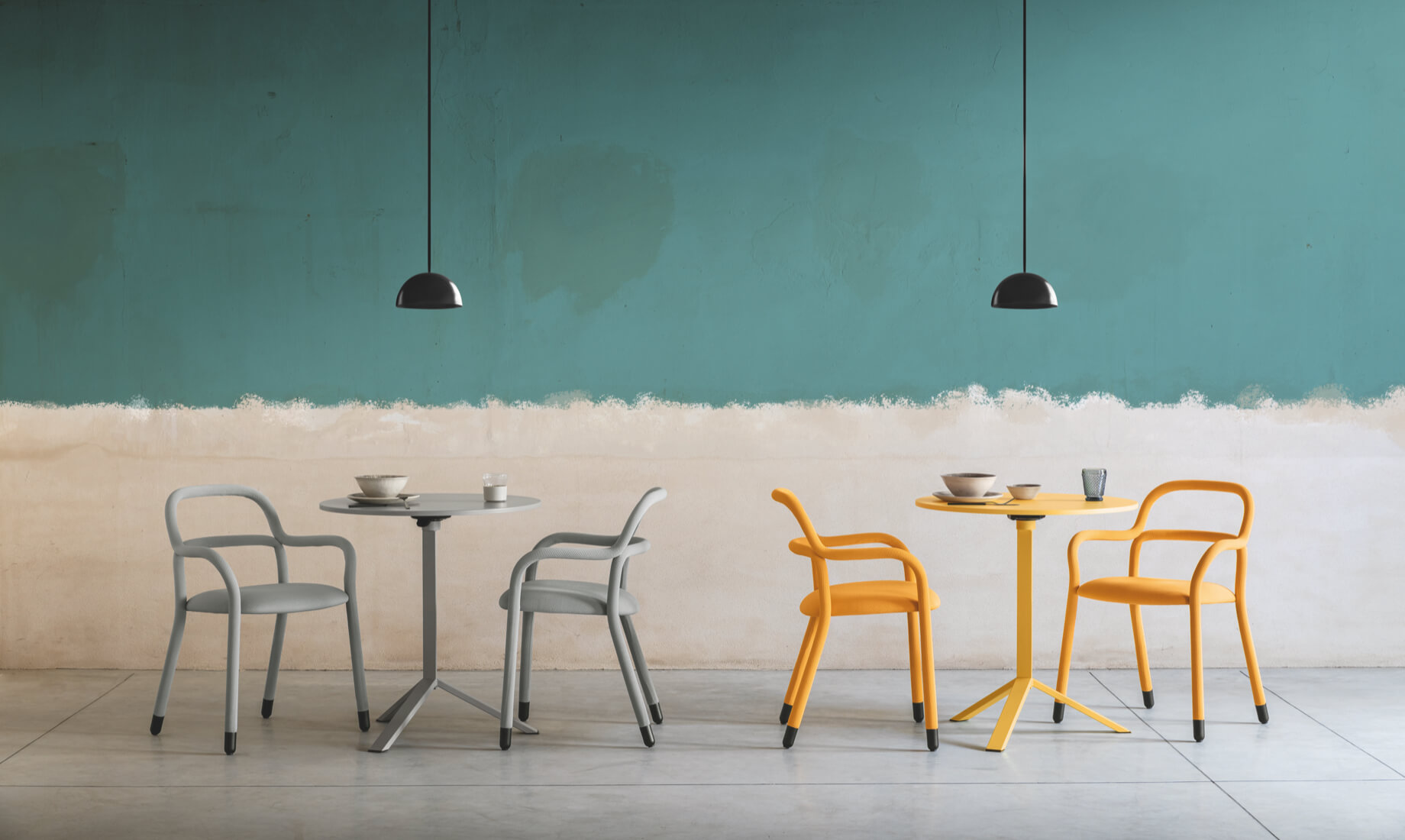 Square bistro table, Pippi armchair, design Roberto Paoli.
Set up an intimate, relaxing, and retro atmosphere
Perfect for creating a small paradise for food lovers, all tables included in our collections Liù, Syntesi, Luna, Nenè, Smart, and Square feature visual lightness and structural strength. They easily adapt to even the most intimate spaces and allow to create extremely flexible environments.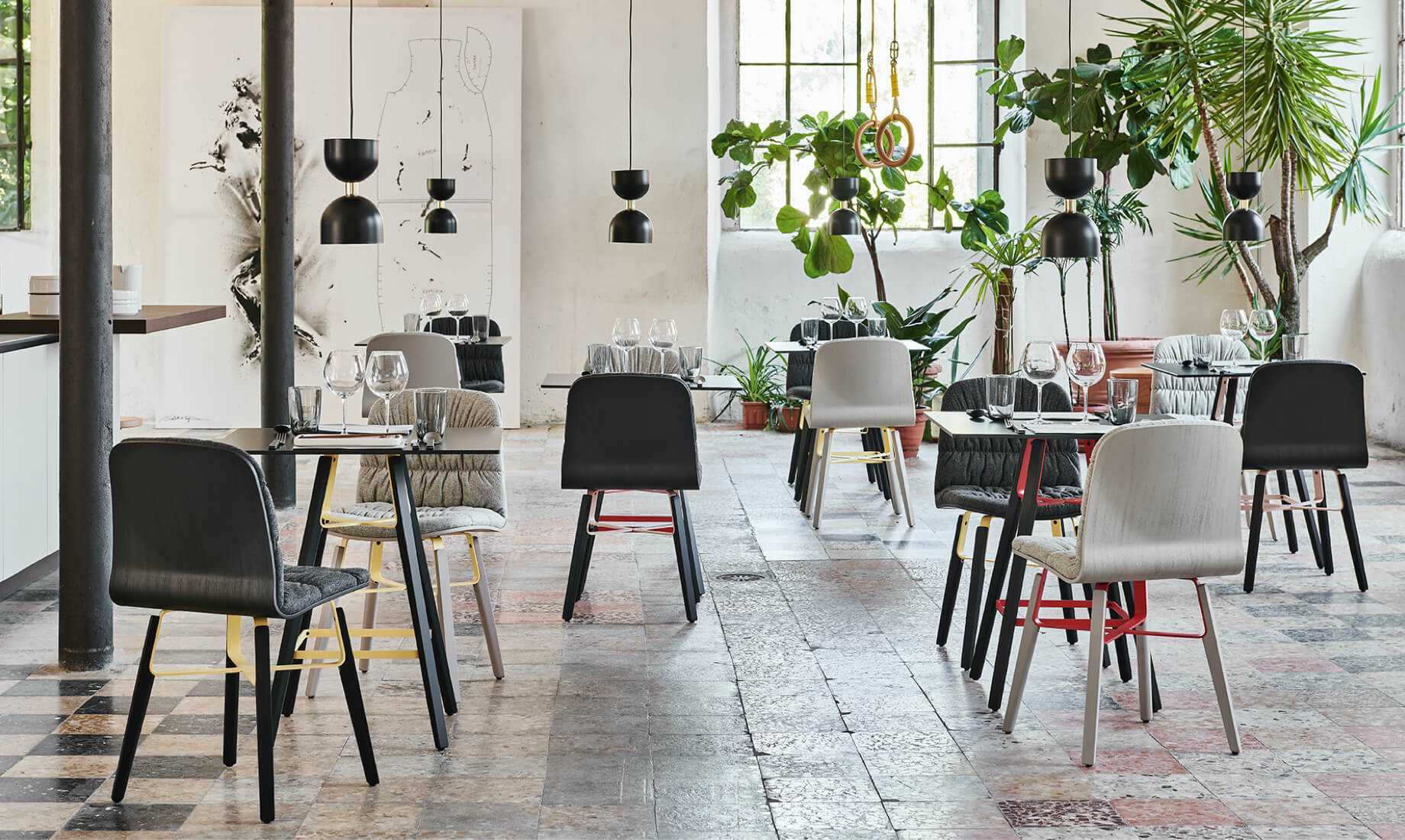 Liù bistrot table and chairs, Archirivolto design.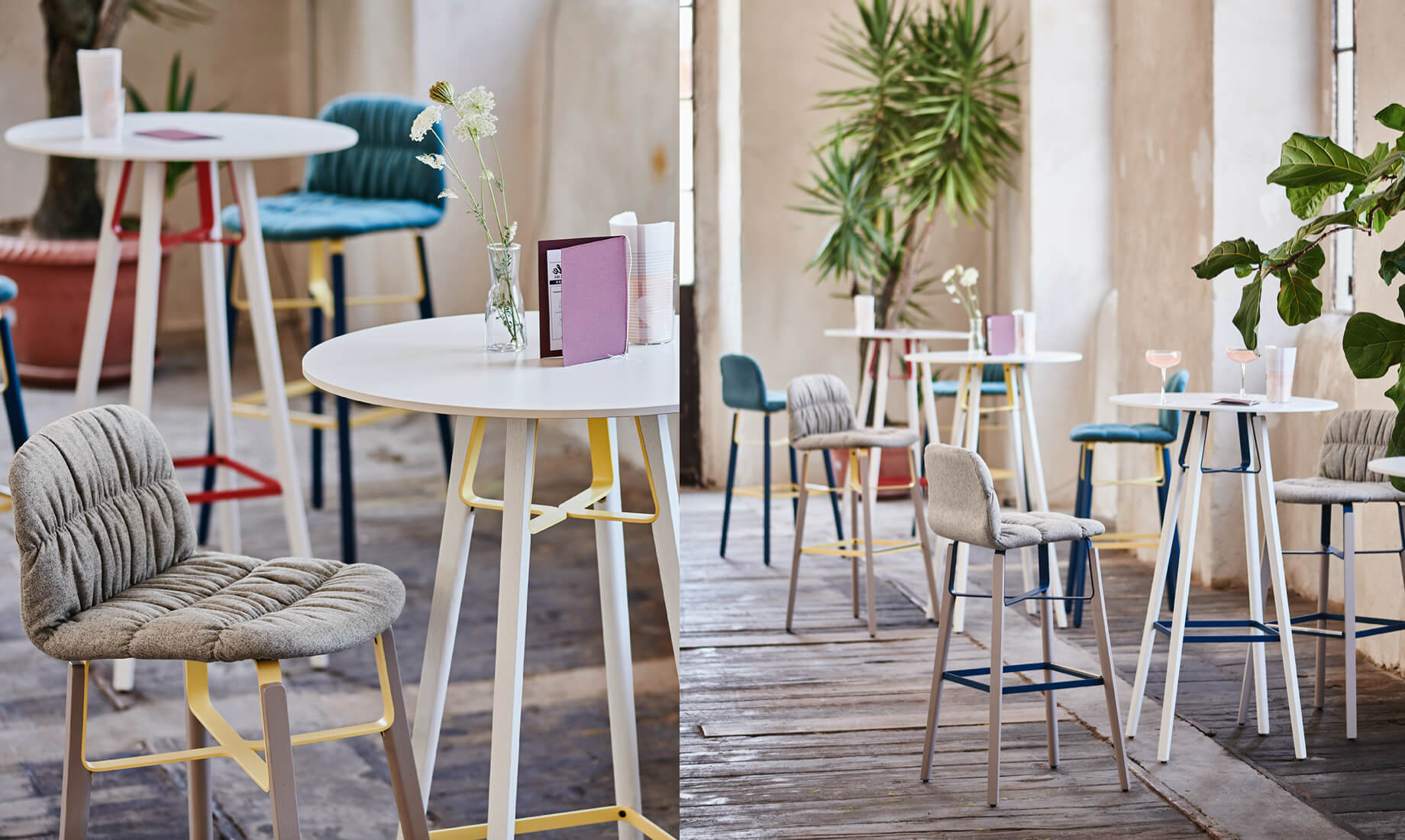 Liù bistro table and stools, Archirivolto design.
And what about bistro chairs?
Perfect for indoor dining spaces, to satisfy the demands of contemporary customers who love to pick, we chose them casual, soft, and with a slightly nostalgic allure.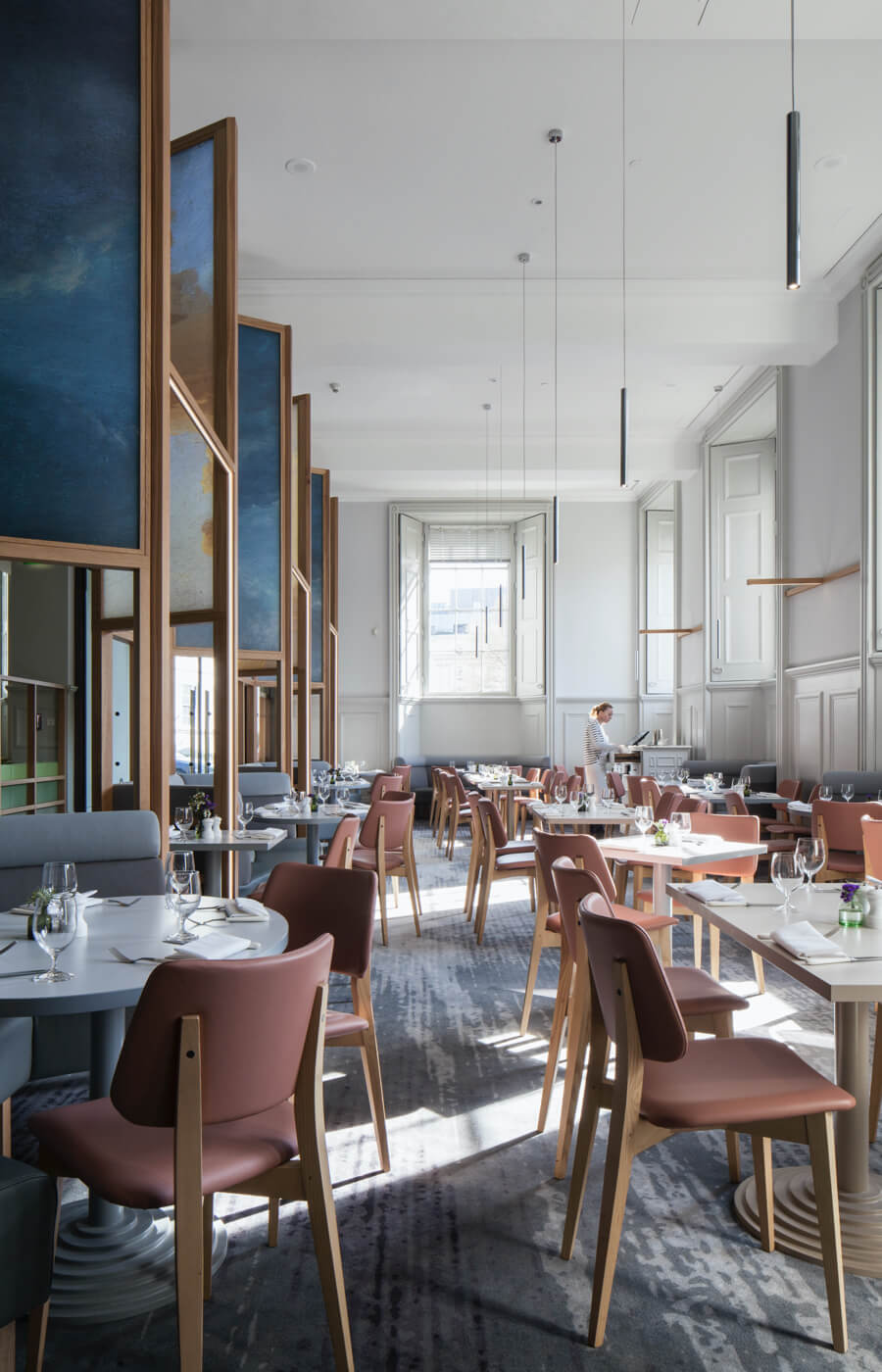 Joe chair, design R&D.
Outdoor areas become an expression of desire
An outdoor environment becomes truly special when it manages to express the pleasure of living through an image, a flavor, or an encounter.
In short, whether it's for a quick breakfast, a lunch break, or an evening drink, receiving guests means offering moments of serenity and lightheartedness.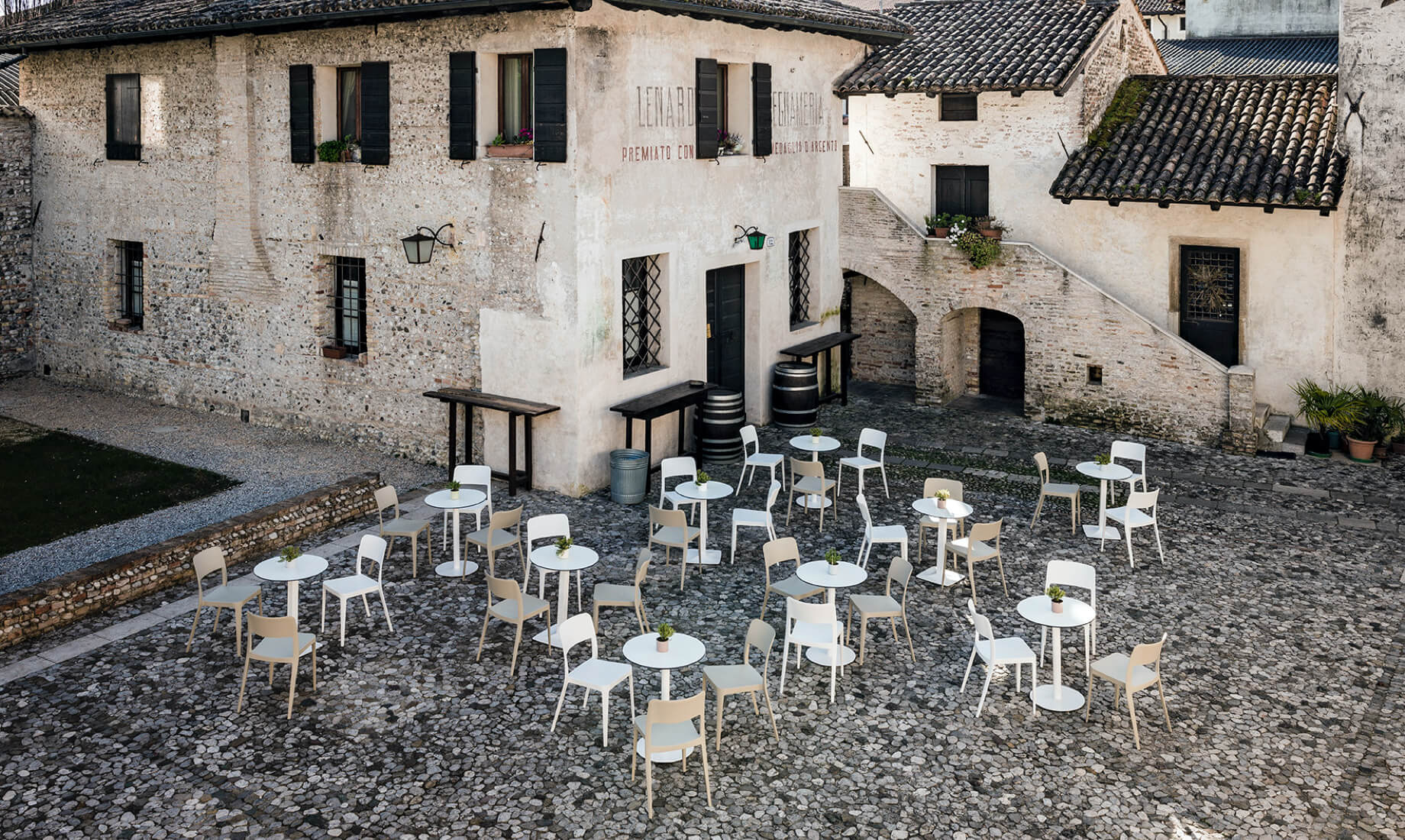 Smart bistro table, Nenè chairs, Archirivolto design.
When furnishing a bistro garden, it's essential to create a dialogue between the furnishing elements and the surrounding environment. Our bistro tables retain all the Parisian charm of the 1920s to allow guests to experience the outdoors without giving up the elegance of the interiors.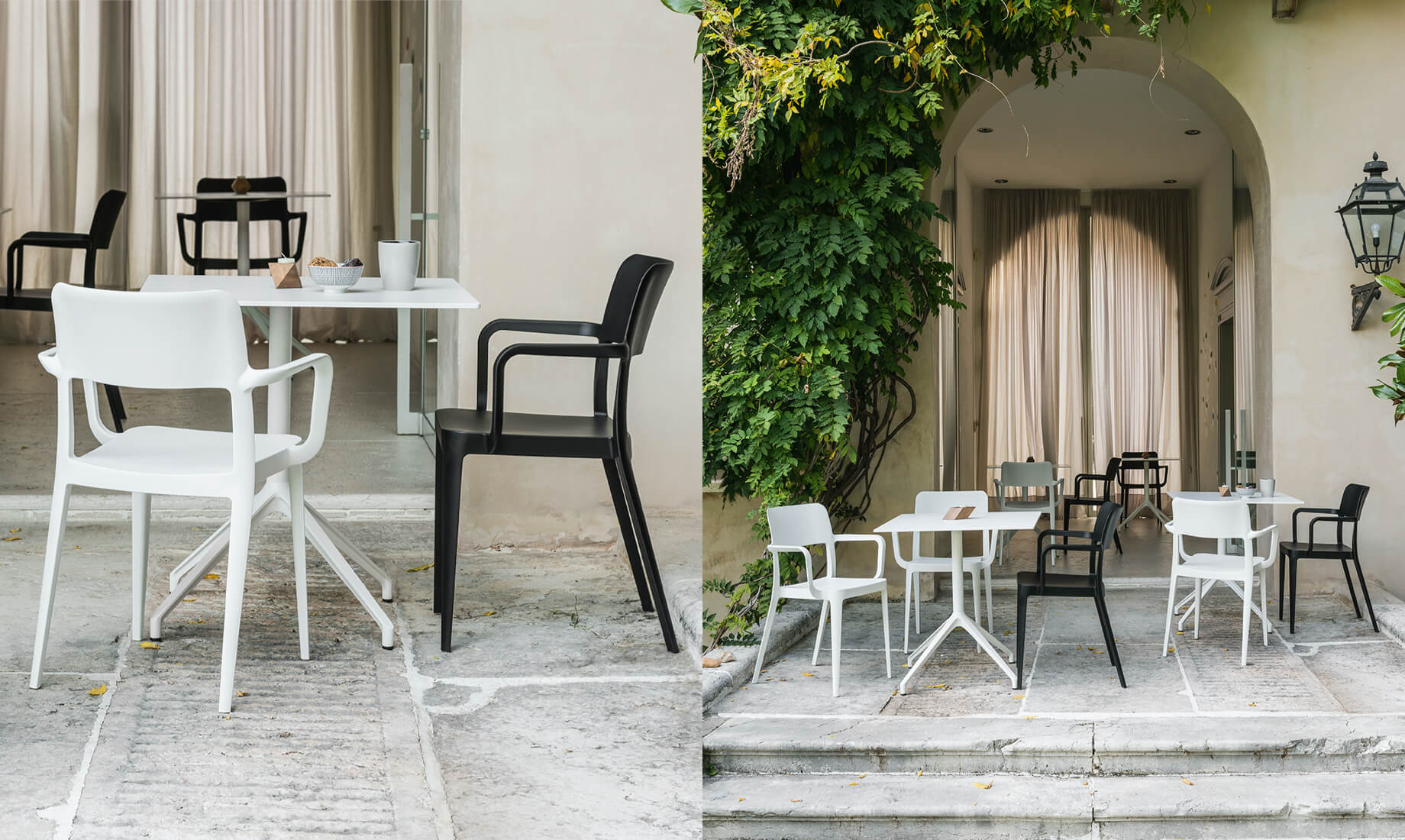 Luna bistro table. Nenè chairs, design Paolo Vernier.
"In an outdoor dining area, character and strength are a must."
From tables to chairs defined by clean and soft lines, each element is designed with high-quality materials to withstand time and weathering.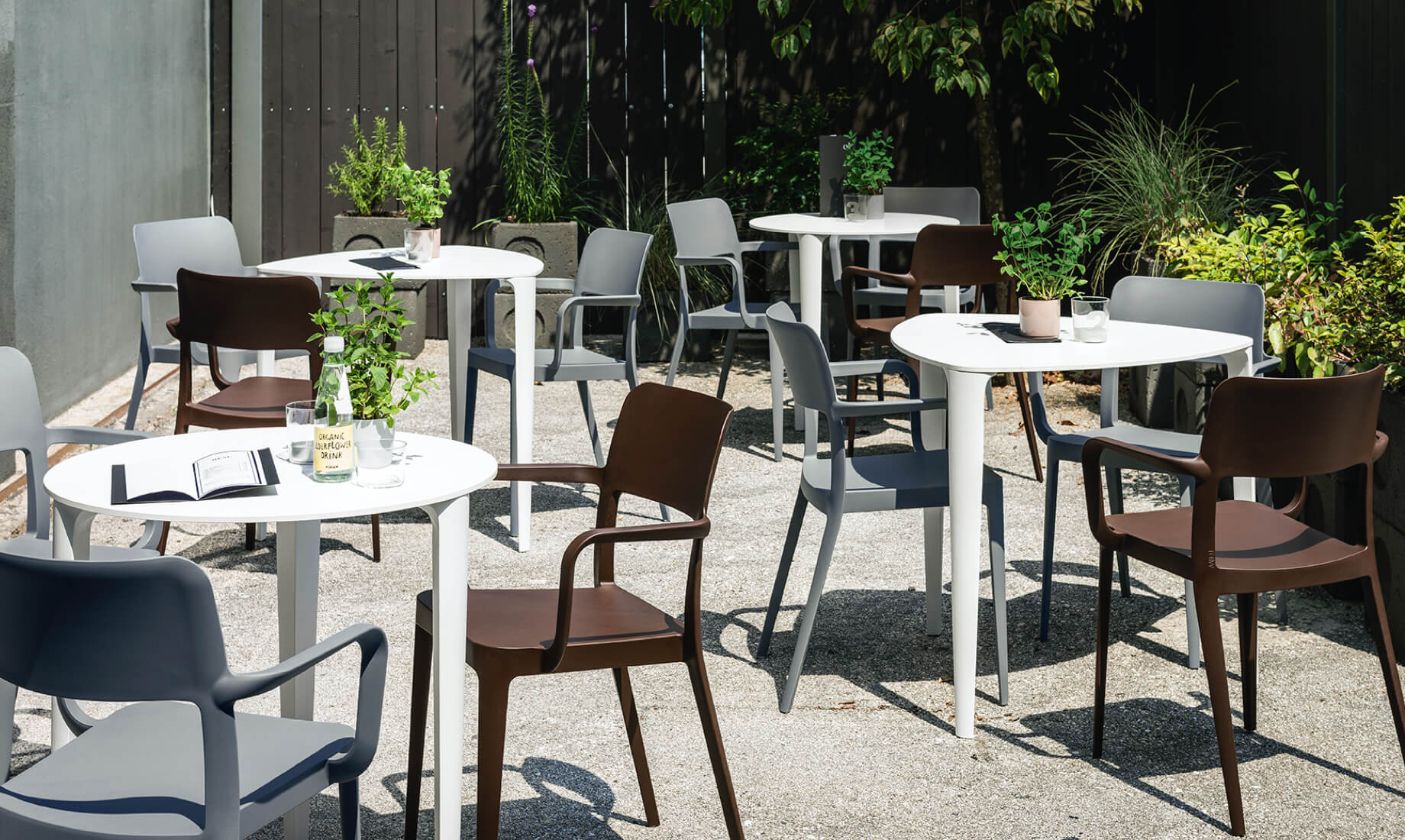 Bistrot table in triangular and round version, Nenè armchair, design Paolo Vernier.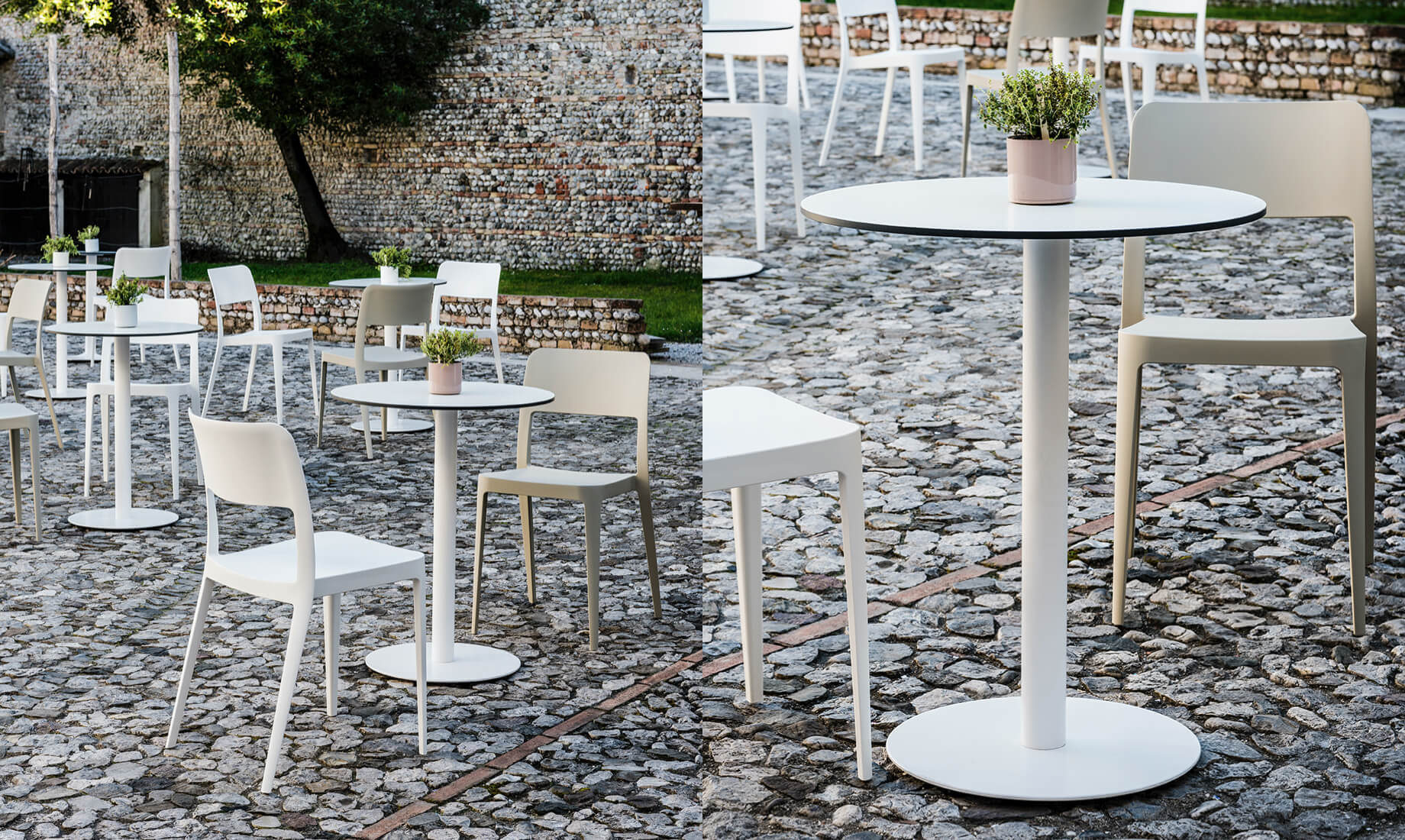 Smart bistro table. Nenè chair, design Paolo Vernier.
Create your dining area with "Midj in Italy" tables and chairs
Whether indoor or outdoor, our furnishing elements for bistros and bars create friendly environments. Through colors, tastes and scents, we can dive into what makes us feel happy and lighthearted. Discover our collections of bar and bistro tables that define your genuine and unmistakable style.