All spotlights are turned towards them: Ghost, Suspense, Charlotte, and Japan
Published on 14/10/2020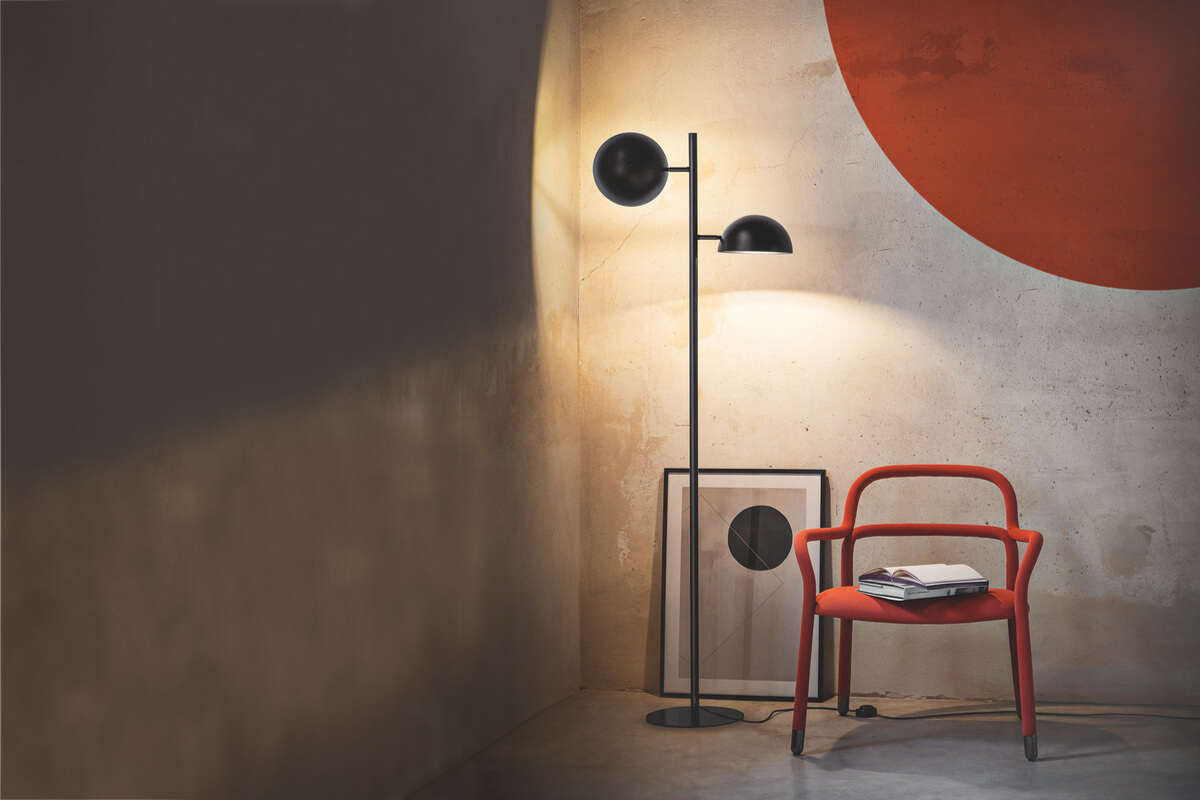 In the process of furnishing a space, light plays a decisive role in defining its character. And since light completes and specifies the boundaries of the world we live and work in, we are pleased to present our new lighting accessories: Midj's designer lamps!
Suspense: a game of balance
Designed by F + B design studio, the Suspense collection includes hanging, floor, and table lamps. Suspense presents a fascinating game of impalpable opaline spheres made of blown glass, which roll on a steel band.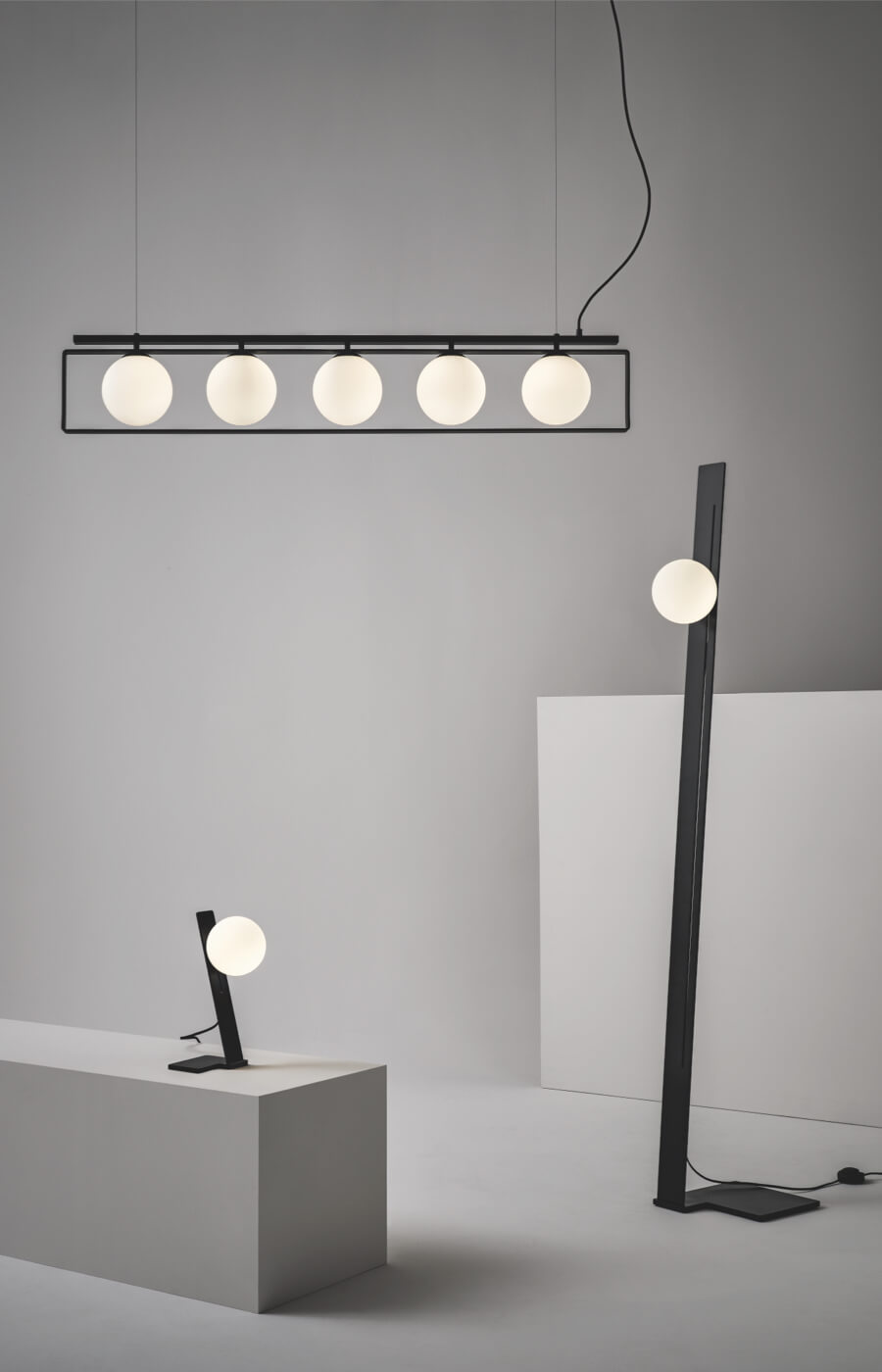 "Abstract in its formal game of absolute classicism and contemporaneity, a display of timeless shapes."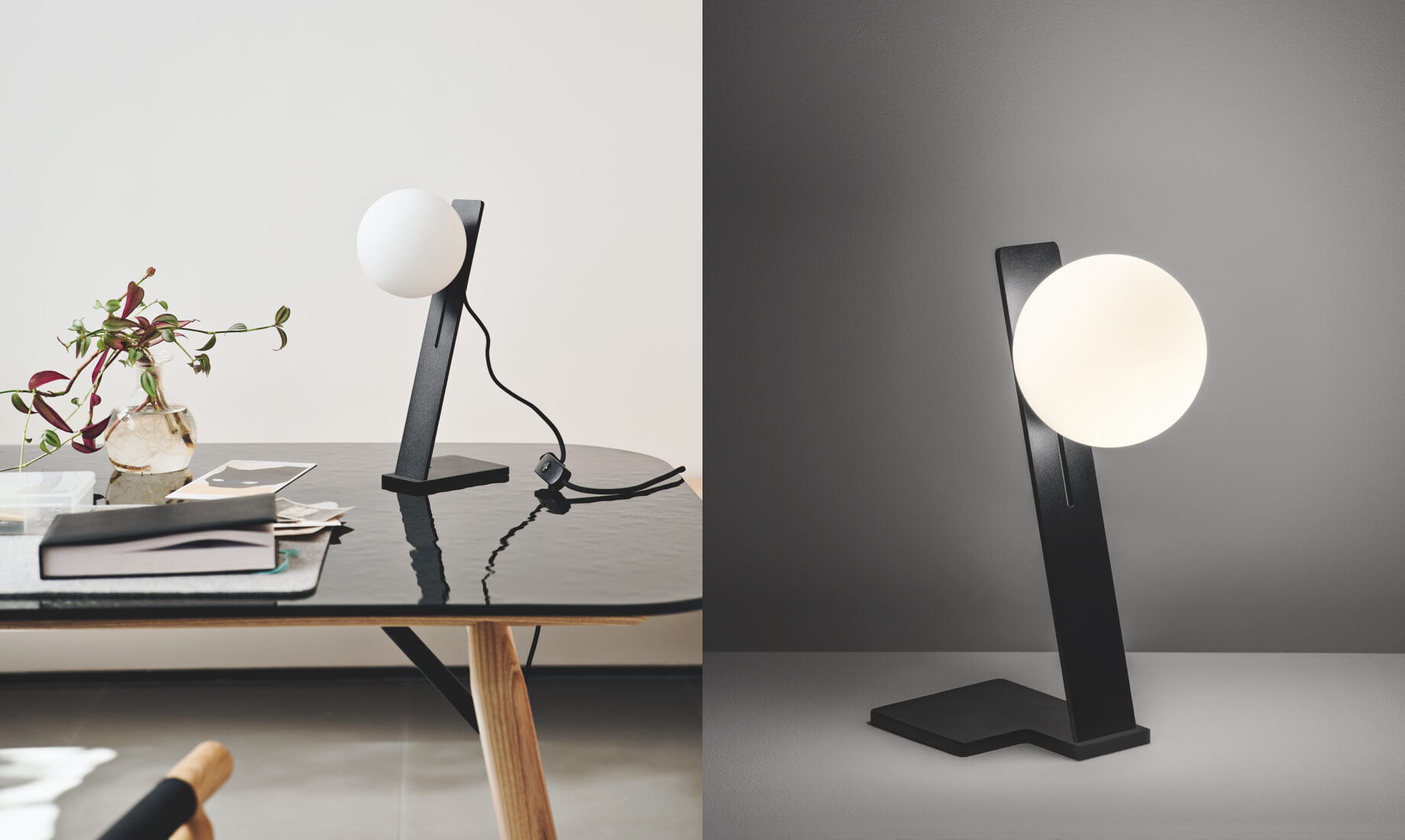 Suspense table lamp, Suite desk.
The essential and elegant combination of white spheres with the black steel structure expresses itself through discreet lines that satisfy contemporary living needs.
The frosted glass shades let out a soft and enveloping light that makes a living or relaxation environment even more charming and intimate.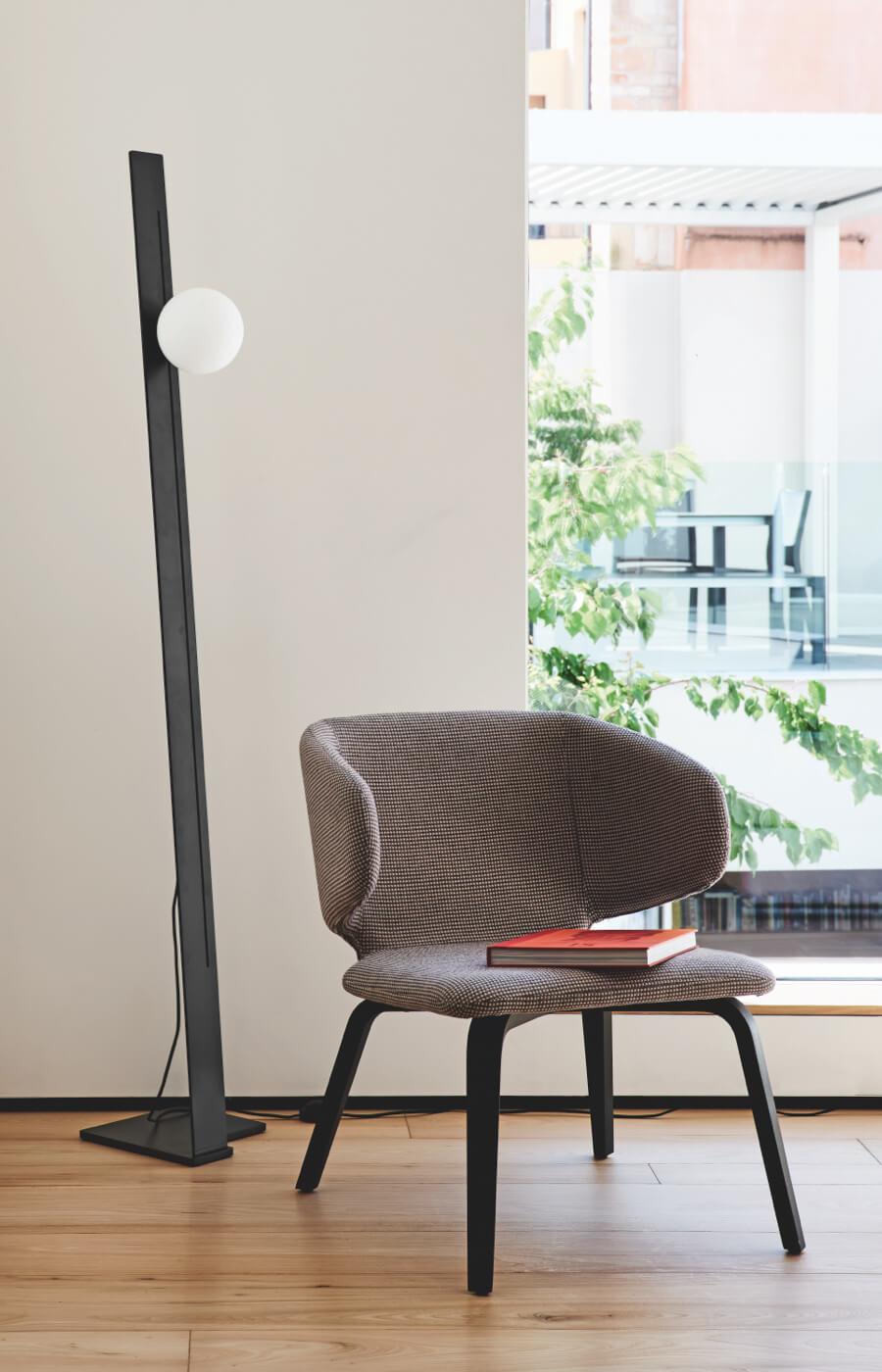 Suspense floor lamp, Wrap lounge chair.
While inside a domestic or contract space, floor or table lamps give life to welcoming and suggestive bright corners. In addition, the glass sphere can be easily adjusted in height to offer full visual comfort and new decorative expressions.
Ghost: ethereal and discreet
The Ghost collection created by F + B design for Midj expresses the great value of Italian craftsmanship. The collection includes 3 versions: the floor, table, and hanging lamp. The mouth-blown glass shade makes each element absolutely unique.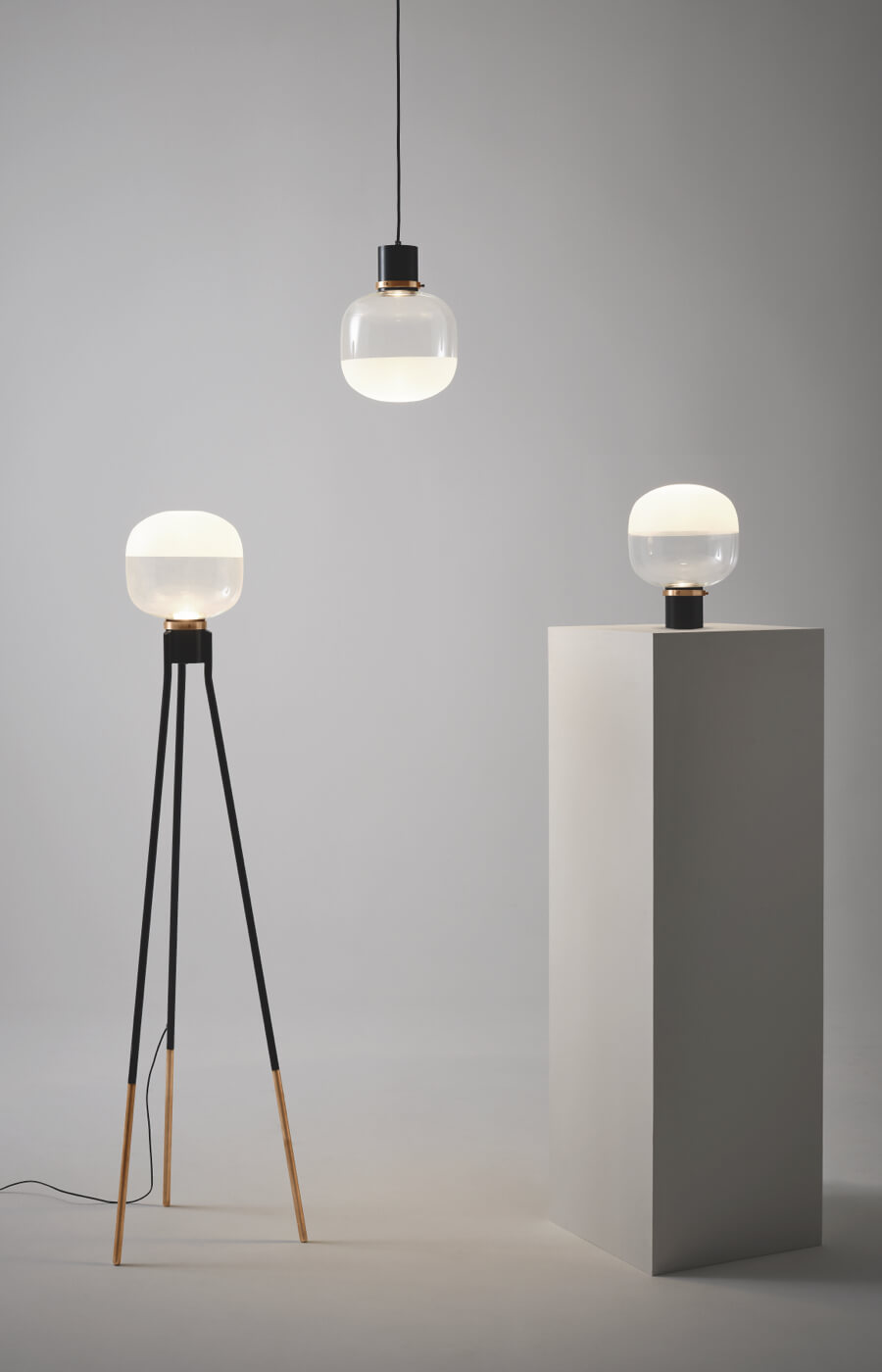 Stable and yet light, with its sinuous and sensual black metal body, Ghost reveals the soft design philosophy that distinguishes all of Midj's items.
"Ghost celebrates the theme of transparency, created through light and ideal naturalist shapes."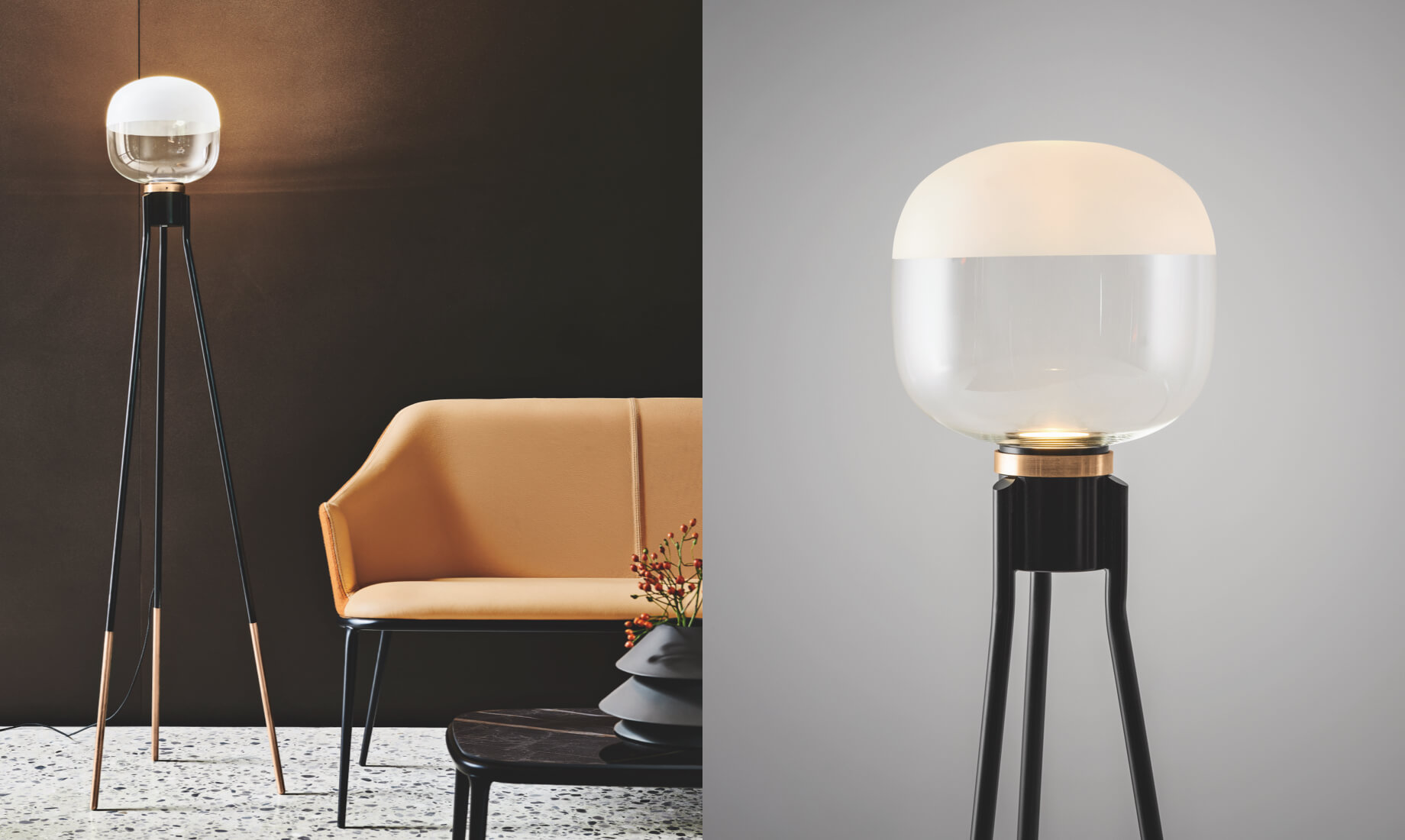 Ghost floor lamp, Lea sofa and coffee table.
The unusual light source seems to magically glow as it remains well hidden inside the black metal socket decorated with a gold insert. The soft and smooth light beam creates a surprising aura through the transparent and frosted glass, enchanting the observer and harmonizing the home or workspace interior.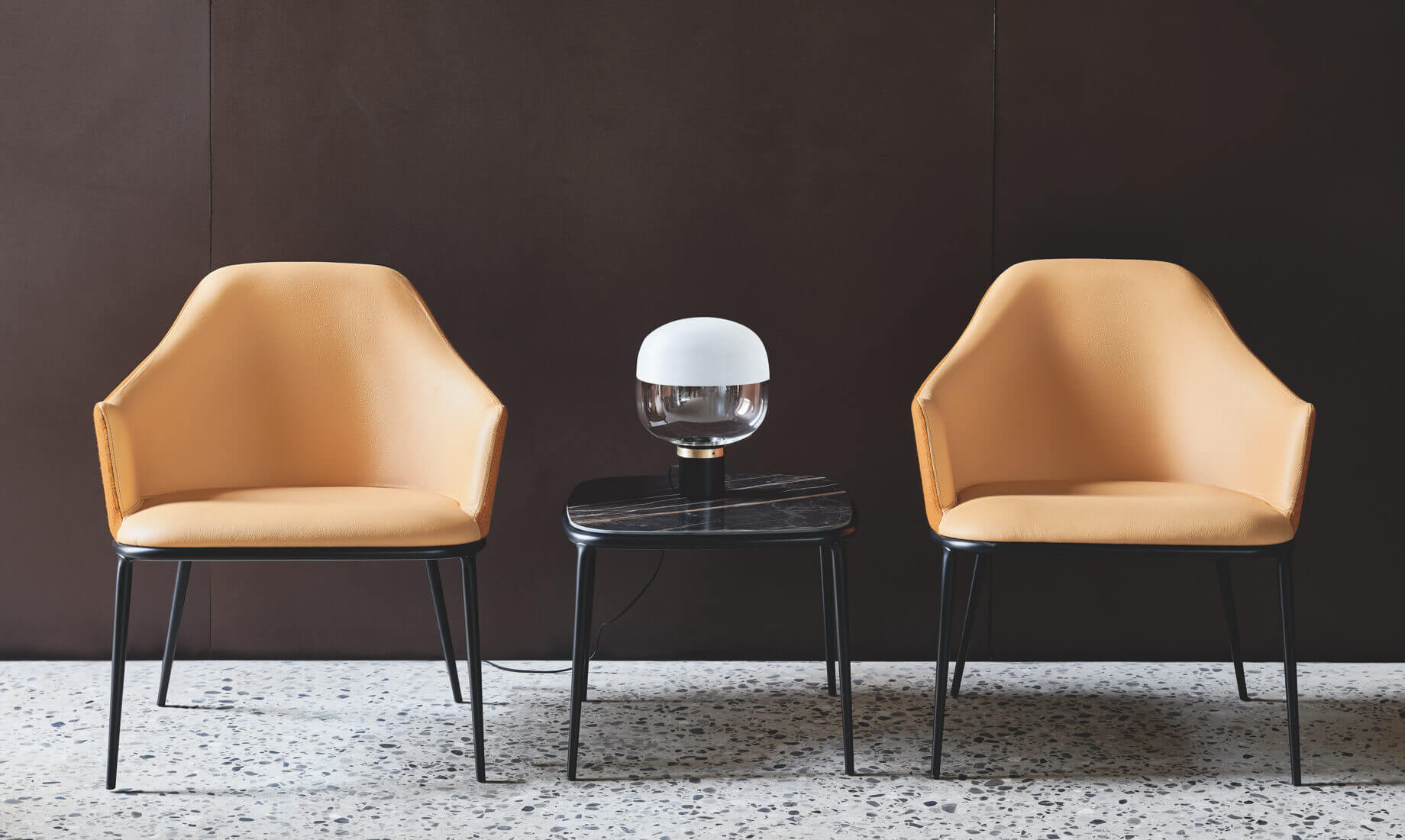 Ghost table lamp, Lea armchair and coffee table.
Japan: eye-catching and sleek
The collaboration between Davide Bozzini of the Opaca Lab studio and Nicola Tonin of the Tosca Design studio, brings Japan to life. The collection includes a hanging lamp in 3 versions and a floor lamp.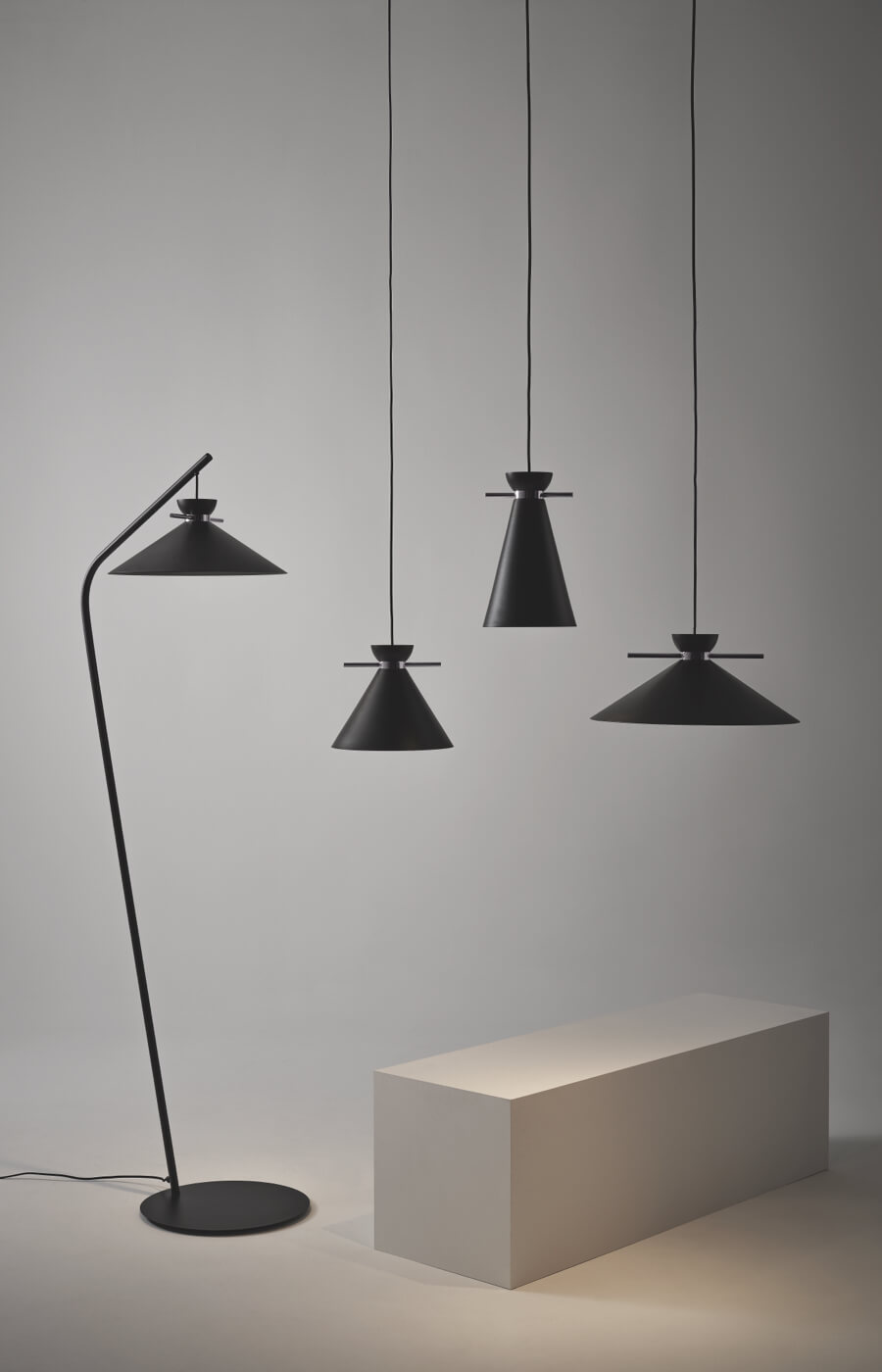 The conical lampshade is inspired by the typical Asian and South-Asian straw hats, while the chromed black nickel rod recalls the Kanzashi, the fine hair ornament used by Japanese women.
"The Japan collection leads imagination beyond the borderline, towards distant and fascinating worlds that still hold a gritty character and refined soul."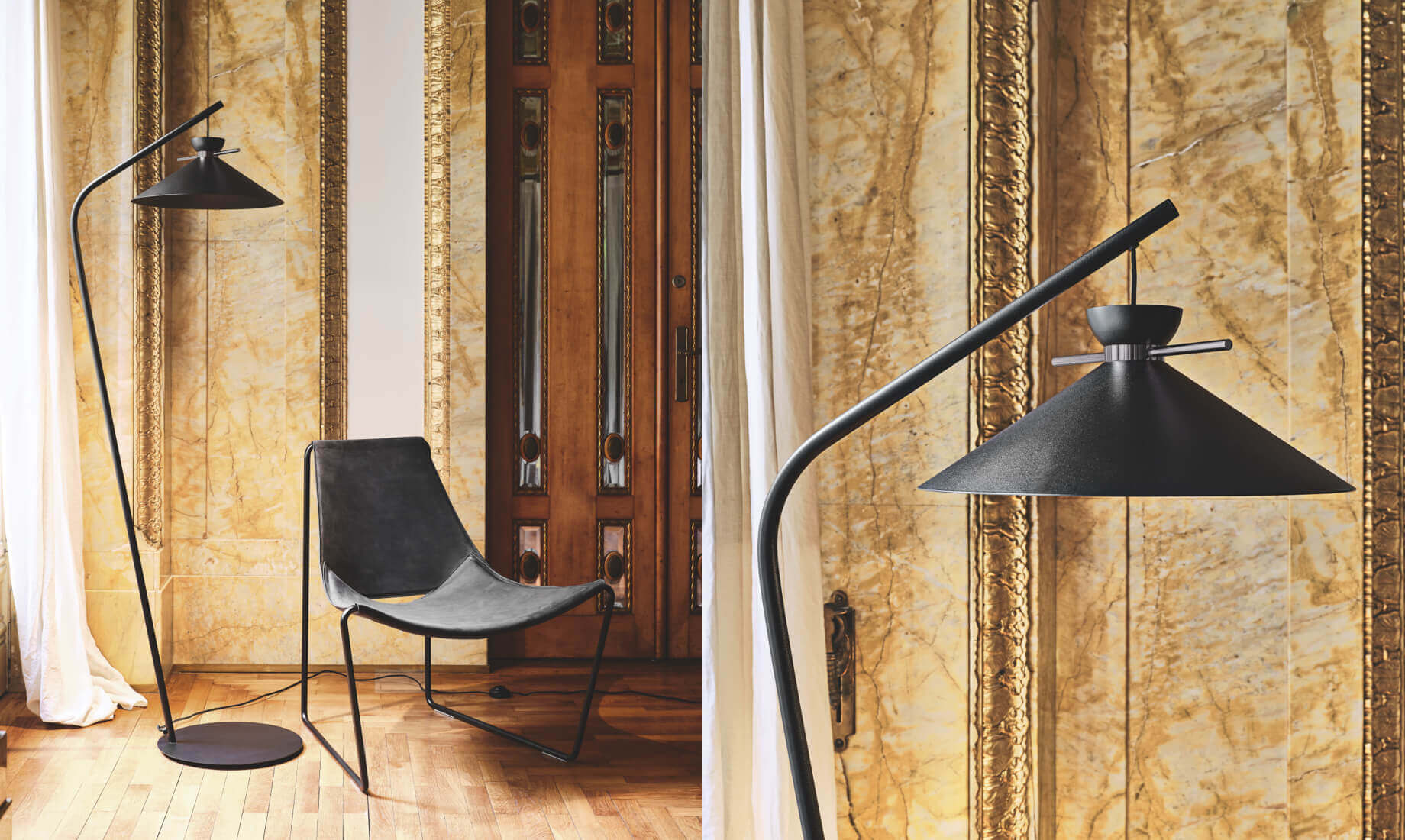 Japan floor lamp, Apelle chair.
The lampshade is available in black or white and in 3 hanging versions that can be placed individually or grouped. Create multiple scenographic compositions to merge aesthetics with functionality.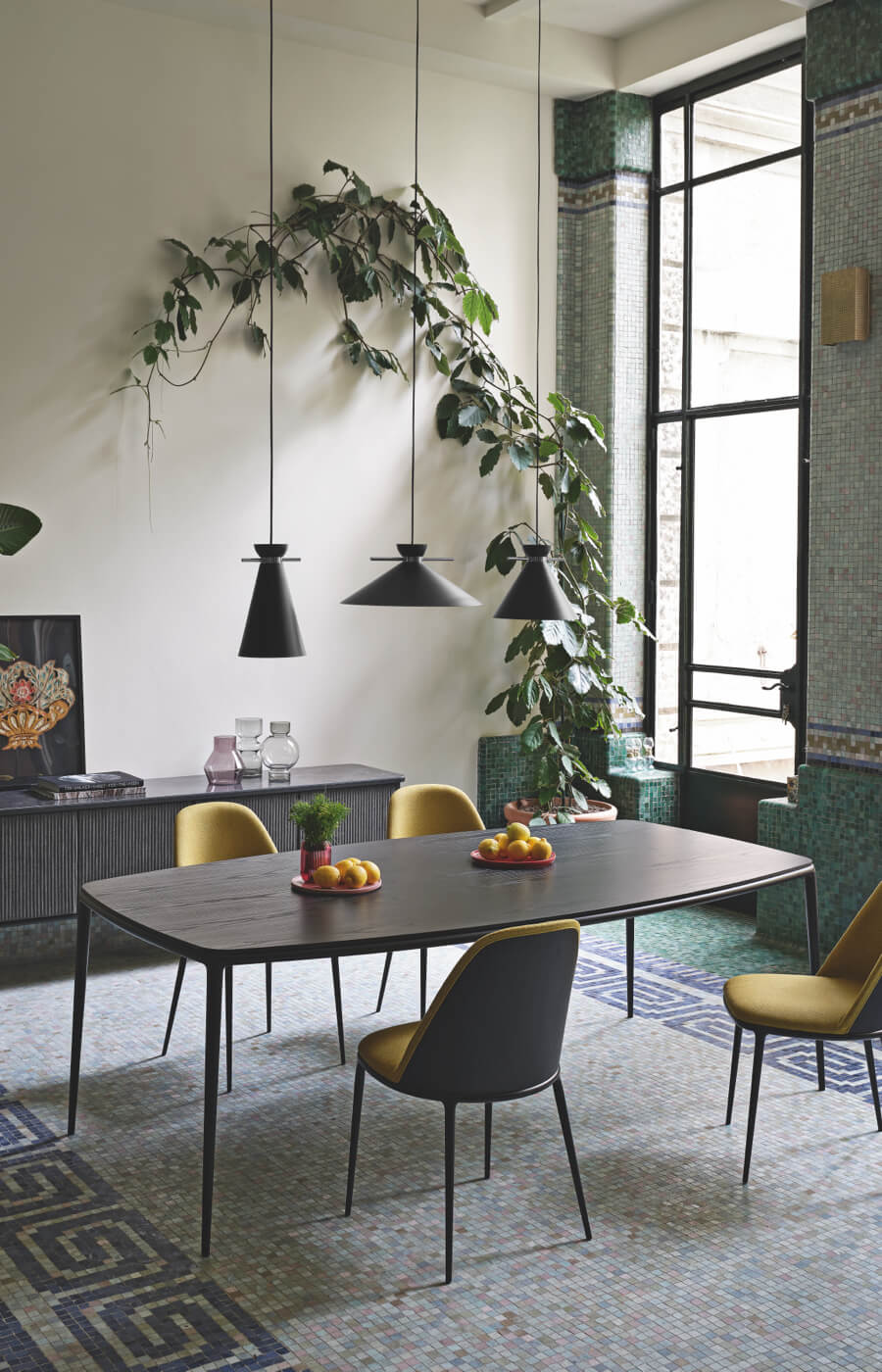 Japan hanging lamp, Lea chair, fixed table, and sideboard.
The wider and flattened lampshade creates a uniform lighting effect within the room, while the narrower and taller version highlights a specific focal point.
Charlotte: dynamic and versatile
Inspired by the Bauhaus current, Charlotte naturally fits into the environment as a chandelier or floor lamp.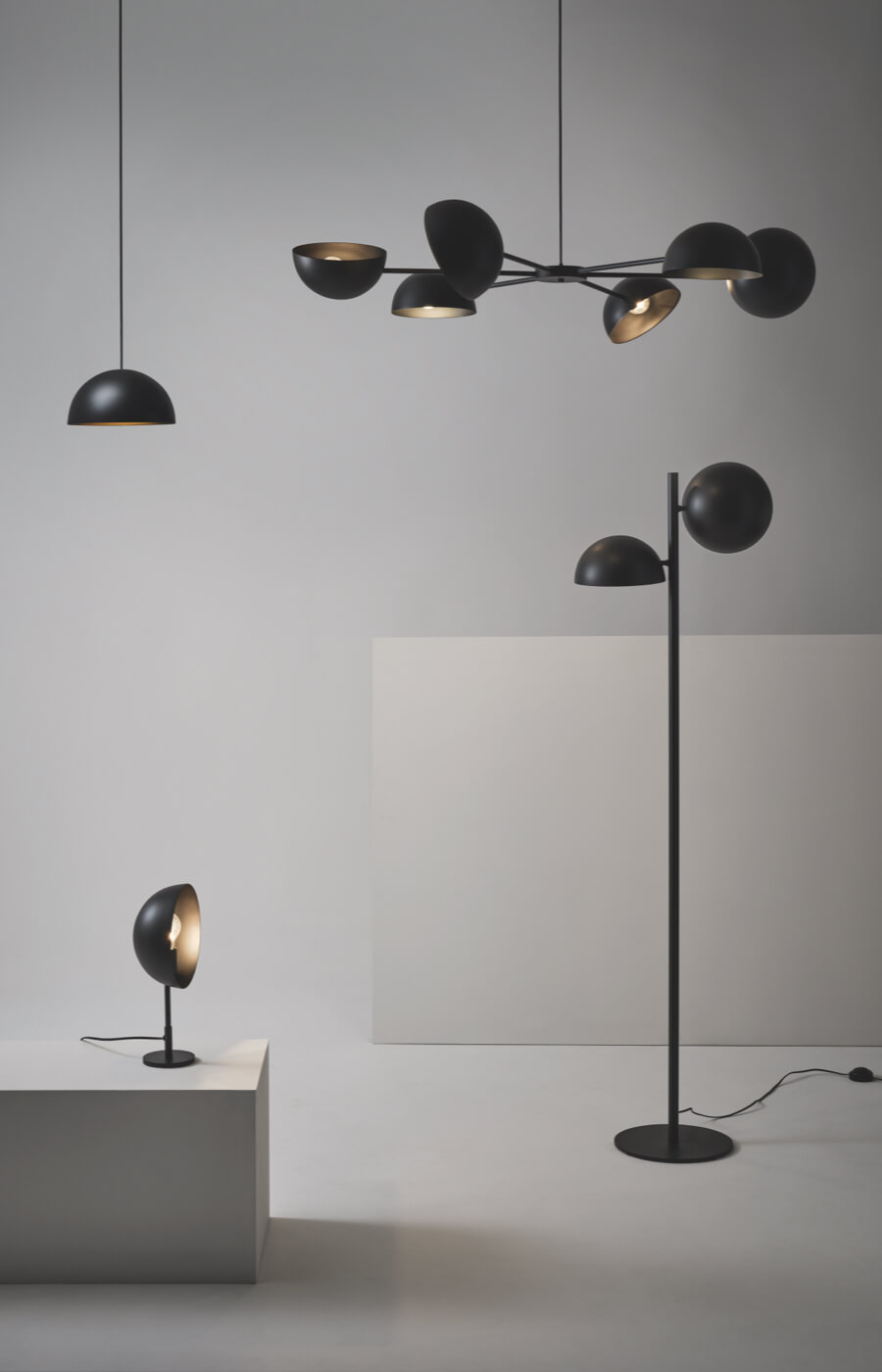 Designer Tomas Dalla Torre wanted to celebrate the essence of light with a minimalist, abstract design and strong graphic line. The aim is to rekindle environments without invading them. However, Charlotte does not go unnoticed.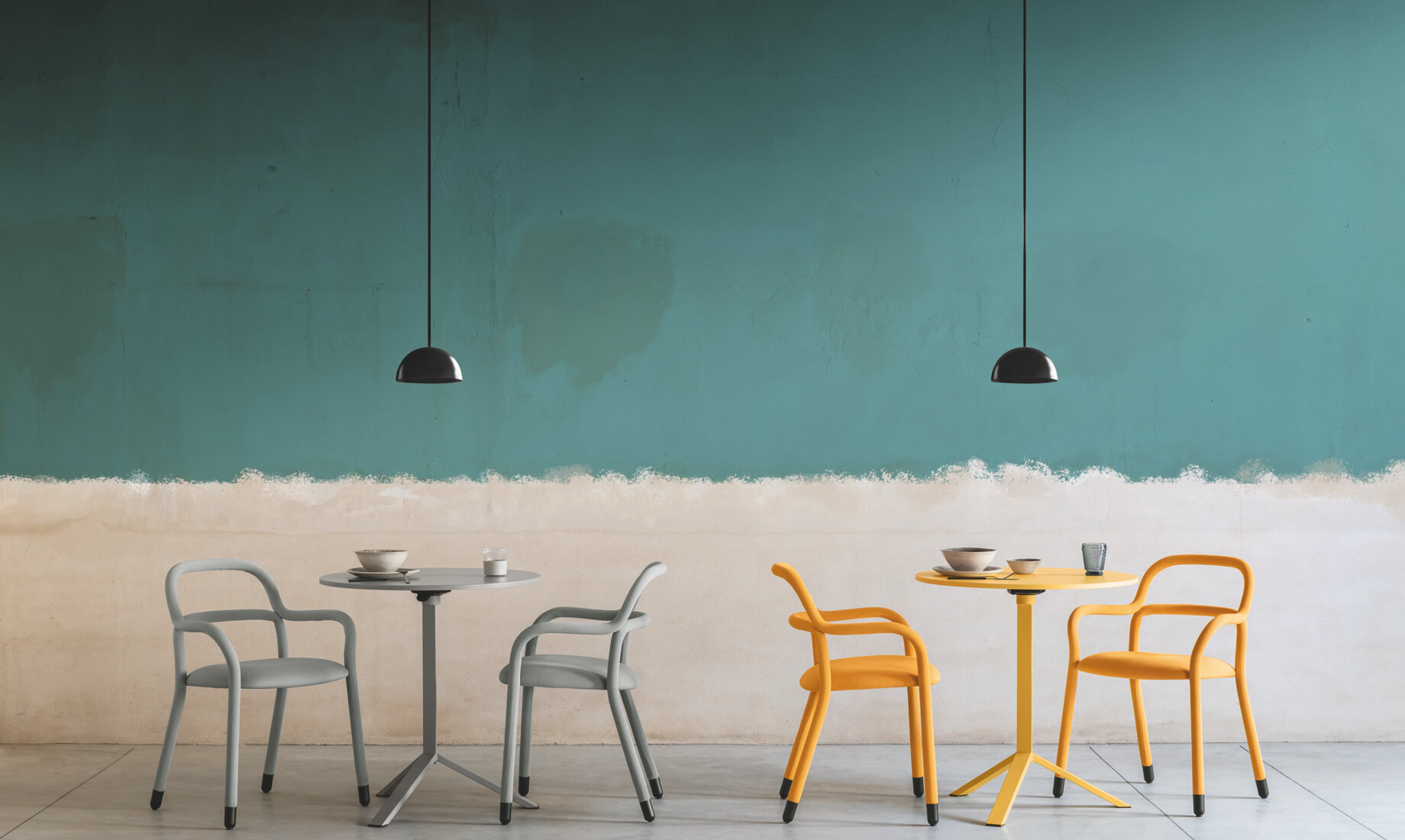 Charlotte hanging lamp, Pippi armchair, Square bistro table.
"Charlotte wisely combines retro and industrial design."
The shades represent the collection's peculiarity. Easily rotate and adjust them at 180° to satisfy any lighting need and create countless plays of light that redesign the space.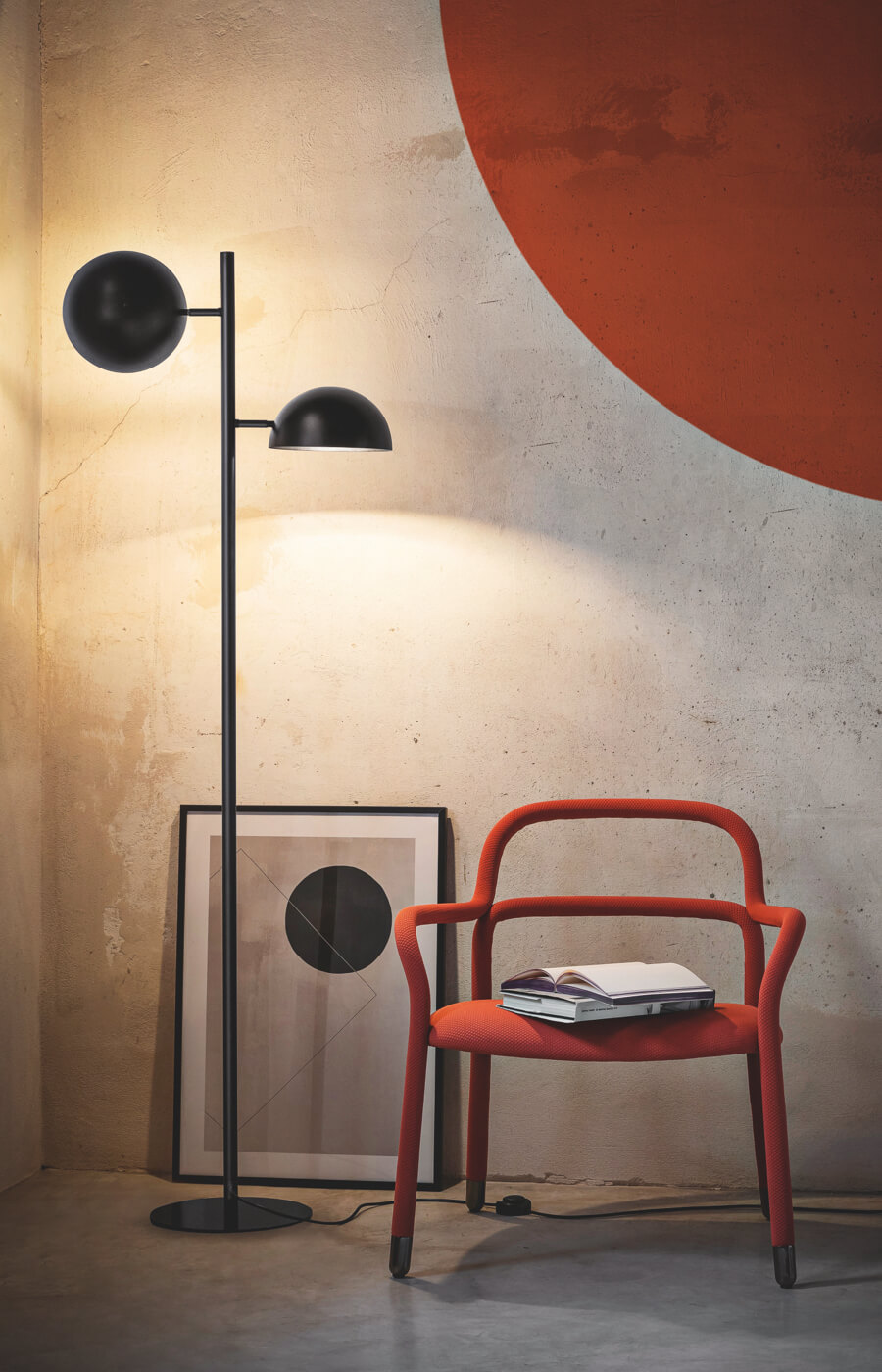 Charlotte floor lamp, Pippi armchair.
Highlight your style!
Download our accessories catalog now and customize your space with timeless design solutions!