Ceiling lights: when aesthetics meets functionality
Published on 13/05/2021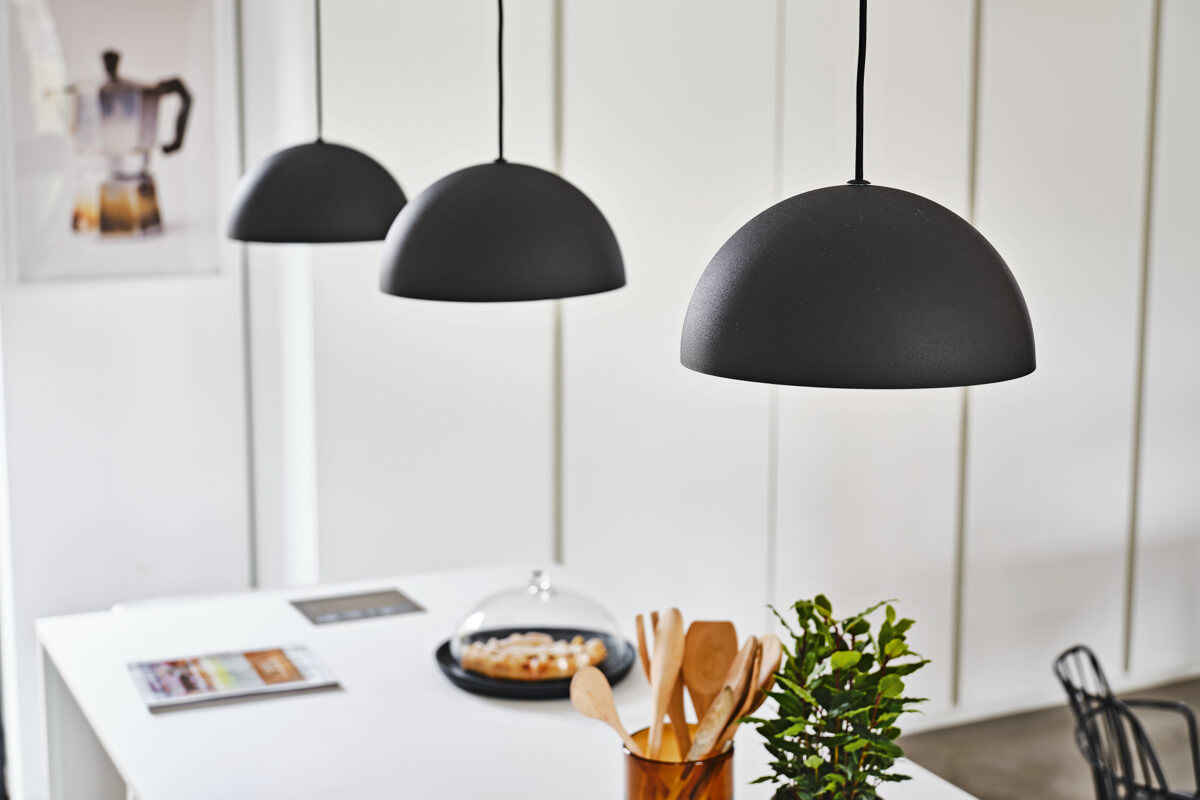 Lights, contrasts, and shadows shape the environment by creating unique and dynamic games of movement. Our pendant lights bring to life countless compositions that allow us to reinvent any space and give harmony to the entire room.
Our hanging lights are available in various solutions to transform the indoor atmosphere, bringing new perceptions of harmony, style, and charm.
The entrance hall welcomes our sophisticated soft design
The entrance hall defines one's first impression of the house's interior. Our Ghost hanging lamp provides softly diffused ambient lighting to greet guests in a relaxed and pleasant atmosphere.
Ghost is unusually and peculiarly made of mouth-blown glass with a double transparent and opaque finish. The black metal support is enriched with an elegant gold insert that becomes the source of a colorful light beam.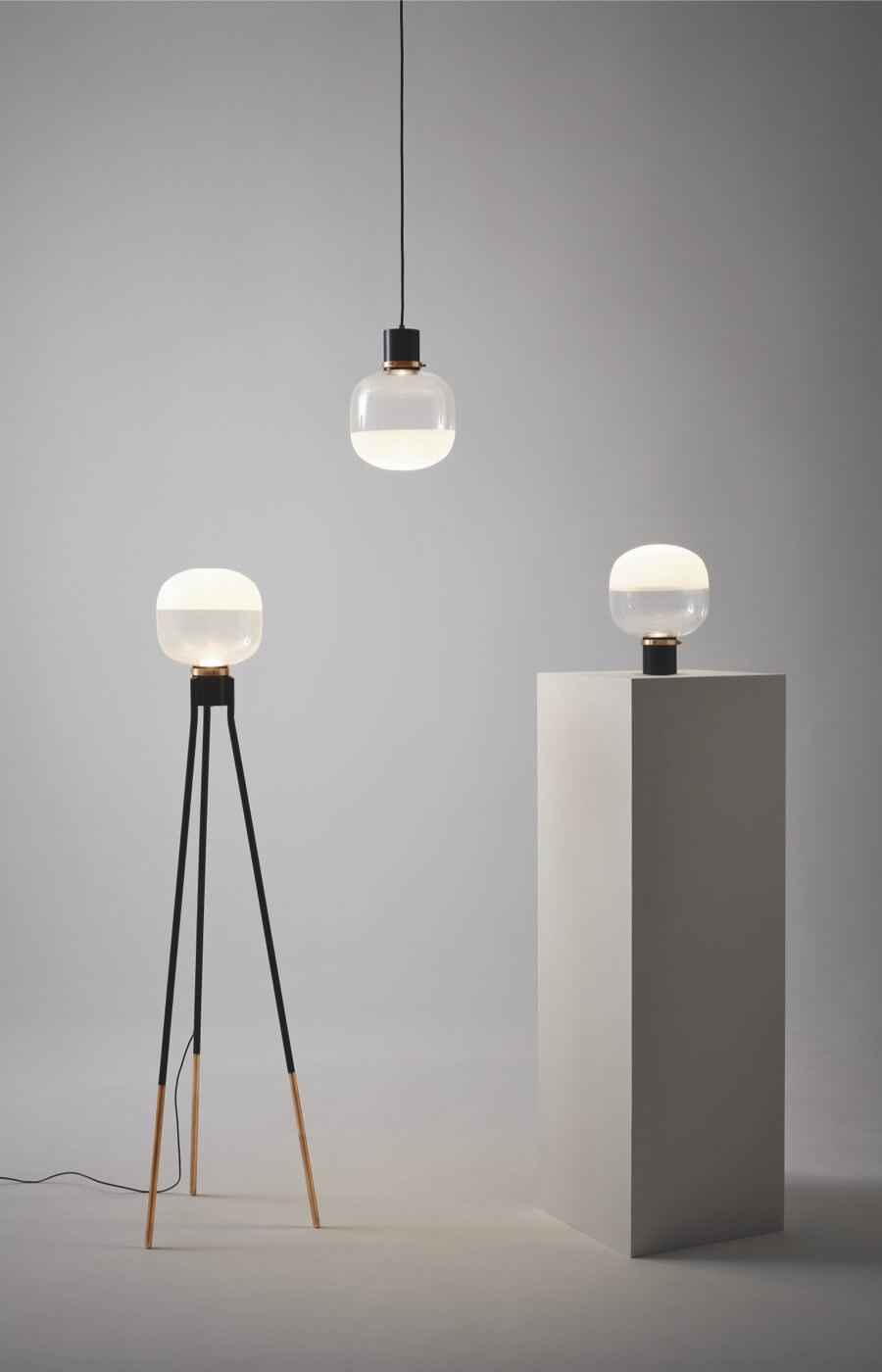 Ghost collection, F + B design.
Ghost harmonizes the surrounding space and communicates a comfortable and reassuring feeling thanks to its subtle and scattered light beam. Designed by F + B design studio, the hanging light fixture fades towards the main rooms of the house, becoming ideal for secondary passageways or reception areas.
Living spaces with abstract geometry
Perfect for common areas, Tomas Dalla Torre expresses his minimal design through the Charlotte collection. The ceiling light with six directional hemispheres in black painted metal, supported by six converging arms, allows direct or indirect light to flow in all directions.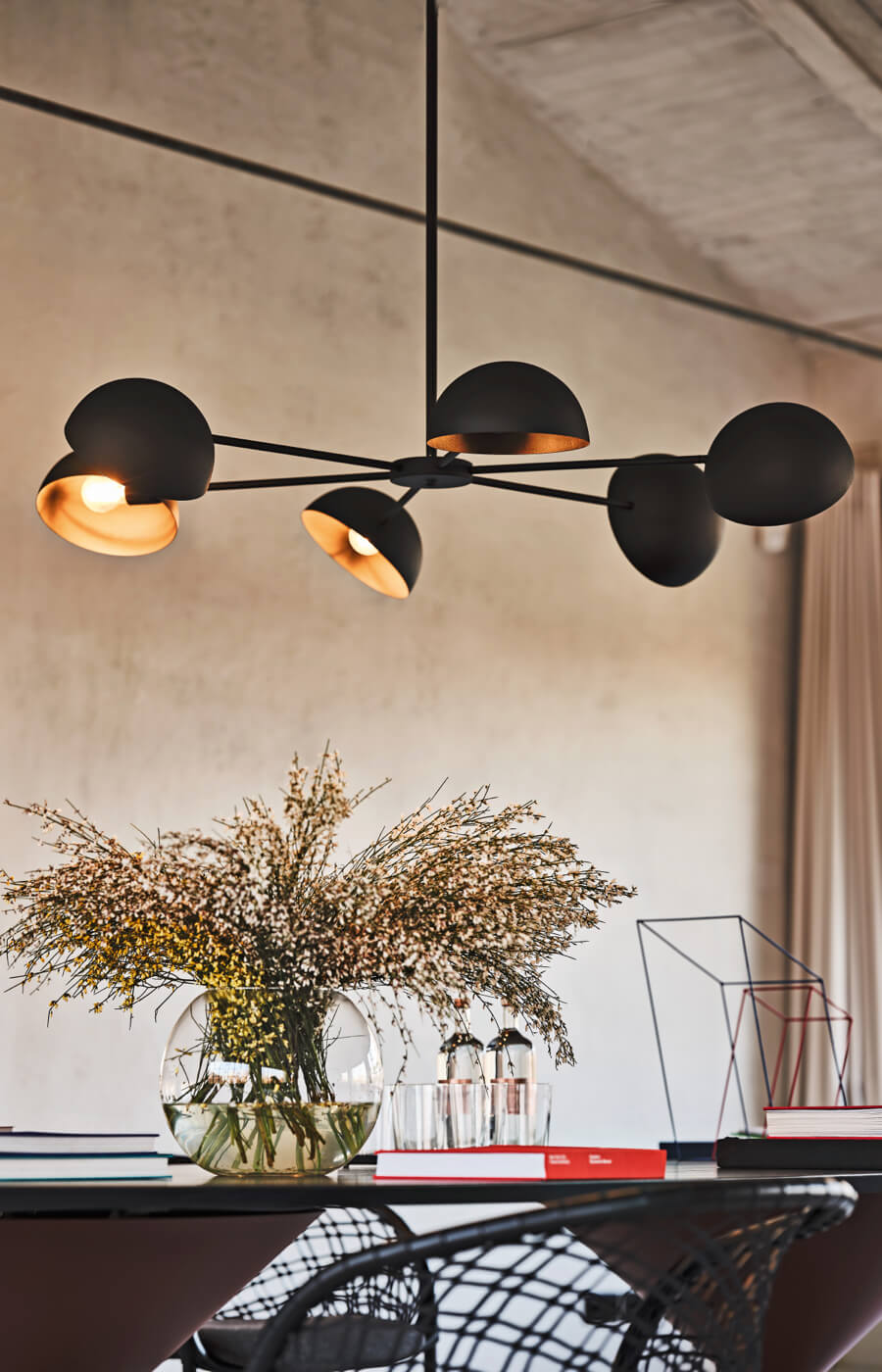 Charlotte hanging light, design Tomas Dalla Torre.
"Charlotte is a contemporary artistic manifestation of the Bauhaus current."
What makes Charlotte extremely flexible is its abstract geometry and the ability to direct light-rays in all directions. By orienting the six lampshades, it effectively and functionally transforms the environment, adapting to countless contexts of formality and familiarity.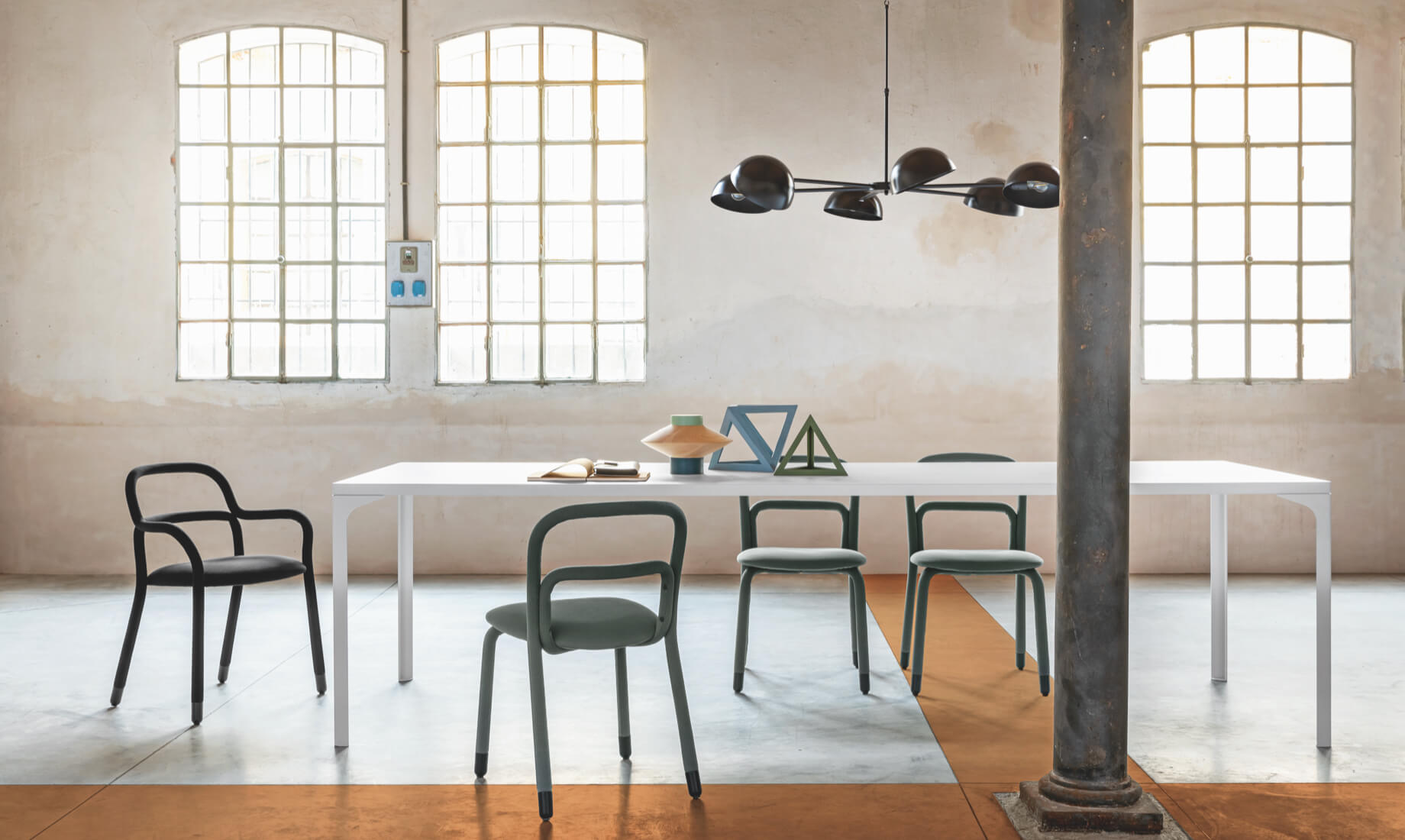 Charlotte hanging light, design Tomas Dalla Torre.
Charlotte lends itself to large shared spaces as the direction of the light can be adjusted according to one's needs and situations.
A living room illuminated by opaline spheres
Five spheres embraced by an essential and defined structure: Suspense is our hanging light with a multifaceted and functional character.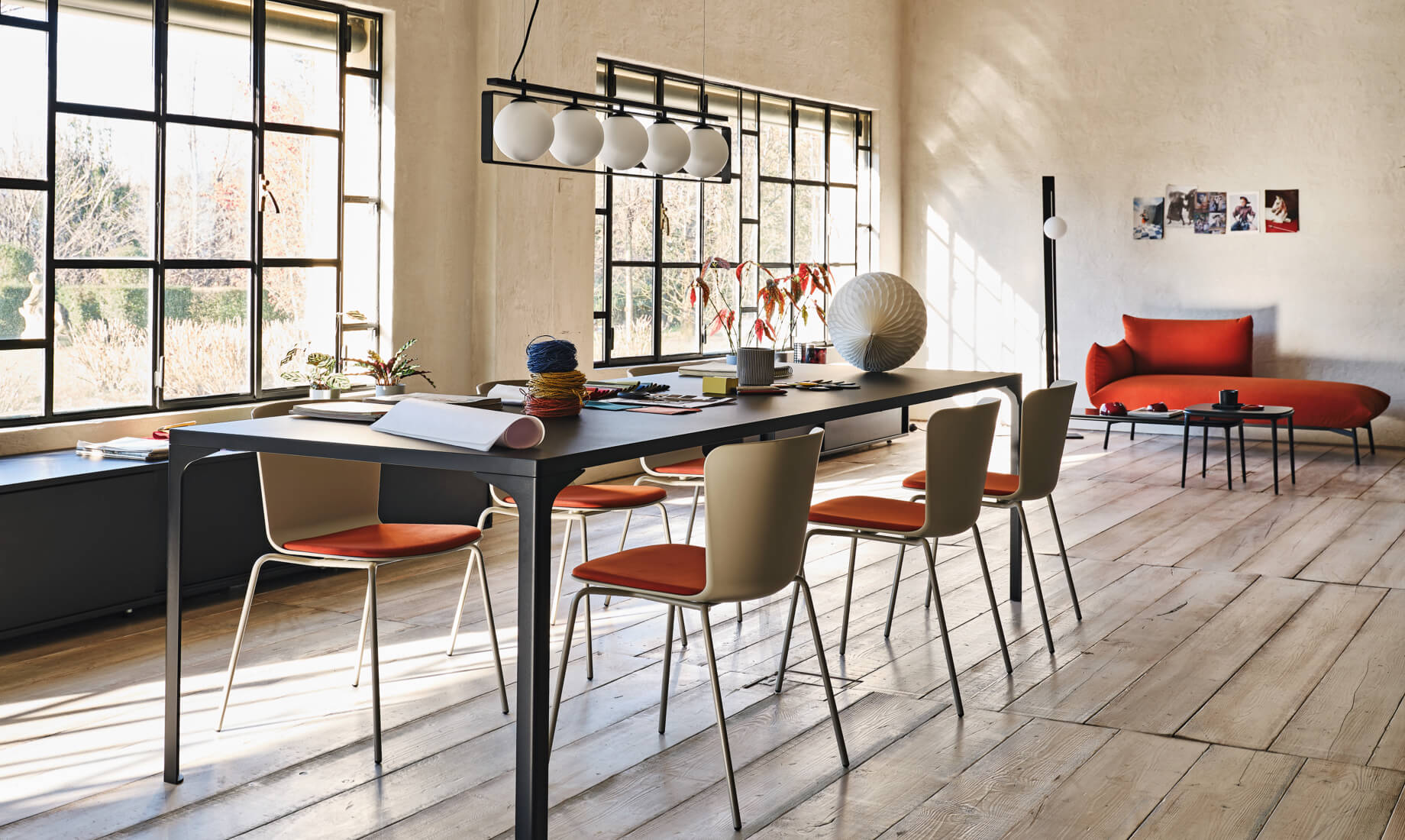 Suspense hanging light, F + B Design.
The rectangular black steel body contrasts with the mouth-blown glass globes, characterized by a satin finish covering the entire surface.
"Suspense stands out for its timeless lines and represents the perfect symbiosis between classic and contemporary."
Two imperceptible cables support the rectangular structure from above, creating a contemporary element with fluid and discrete lines. The electric cable is wrapped in black silk to perfectly complement the aesthetics of the fixture.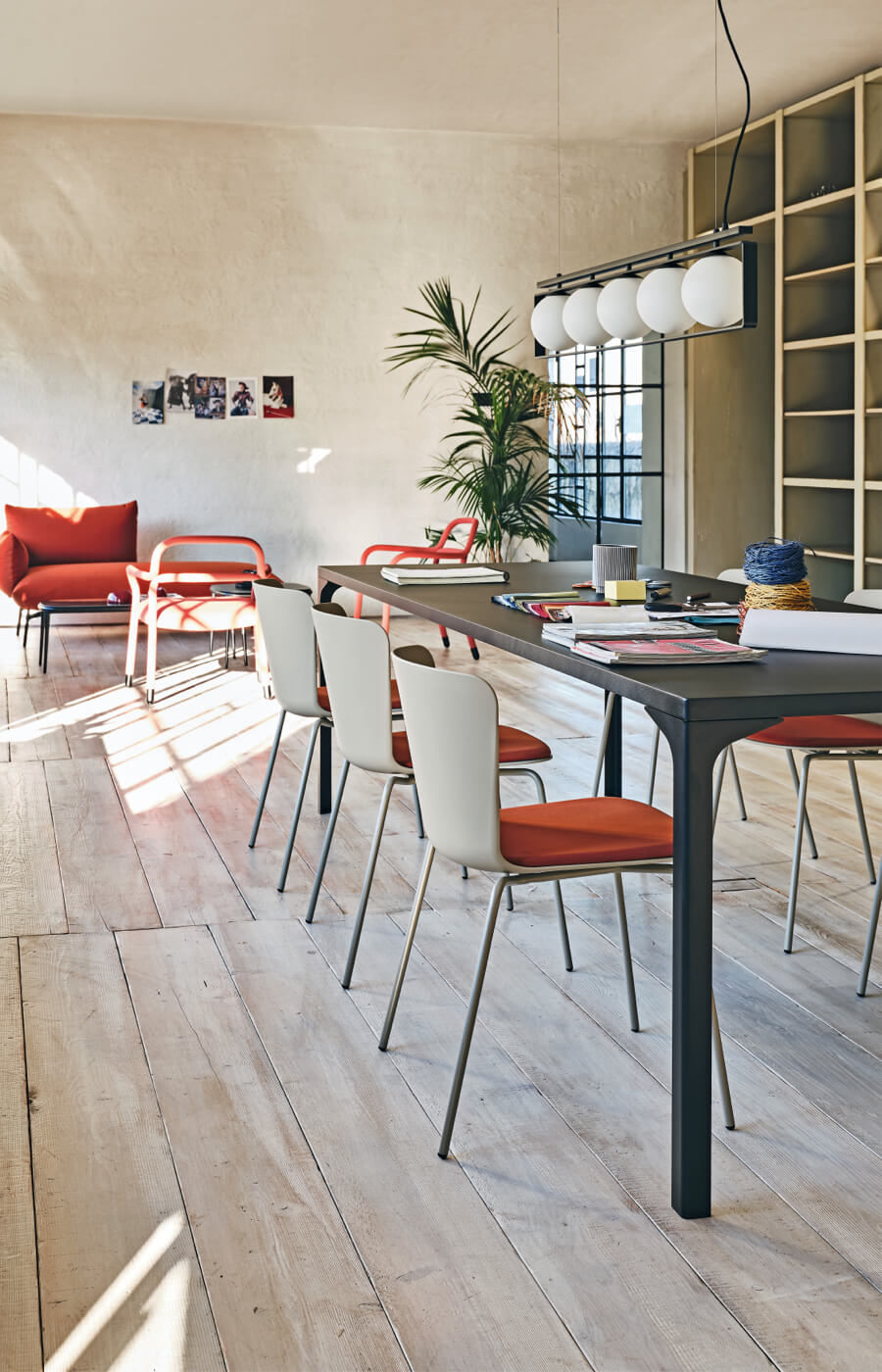 Suspense ceiling light, F + B Design.
The gentle glow of the spheres creates a soft and impalpable effect on any surrounding surface. The intimate and evocative atmosphere is ideal in large dining rooms.
The eclectic Japan collection for dining rooms
The hanging lights from our Japan collection result from the close collaboration between Davide Bozzini of Opaca Lab and Nicola Tonin of the Tosca Design. The unique shapes are incredibly versatile and remain faithful to their inspiration, representing Eastern cultural elegance.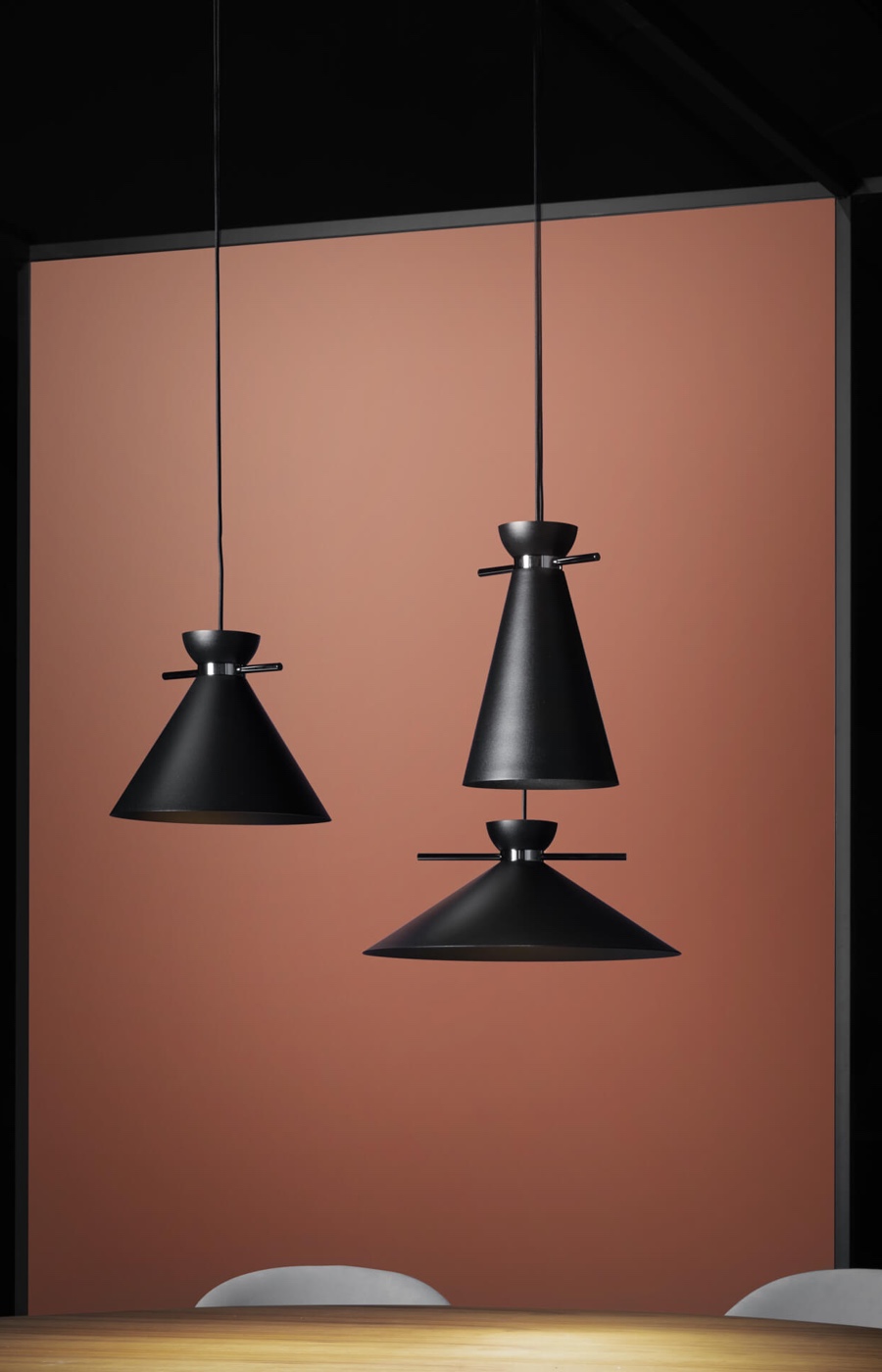 Japan collection, design Davide Bozzini and Nicola Tonin.
"Japan is a cultural allusion that attracts the eye and expands the imagination."
Our Japan collection includes three different pendant lamps that offer a versatile use to outline bright spaces according to the width of the conical lampshade. Used alone or in an arrangement of 2 or more, they surely create unique and functional compositions.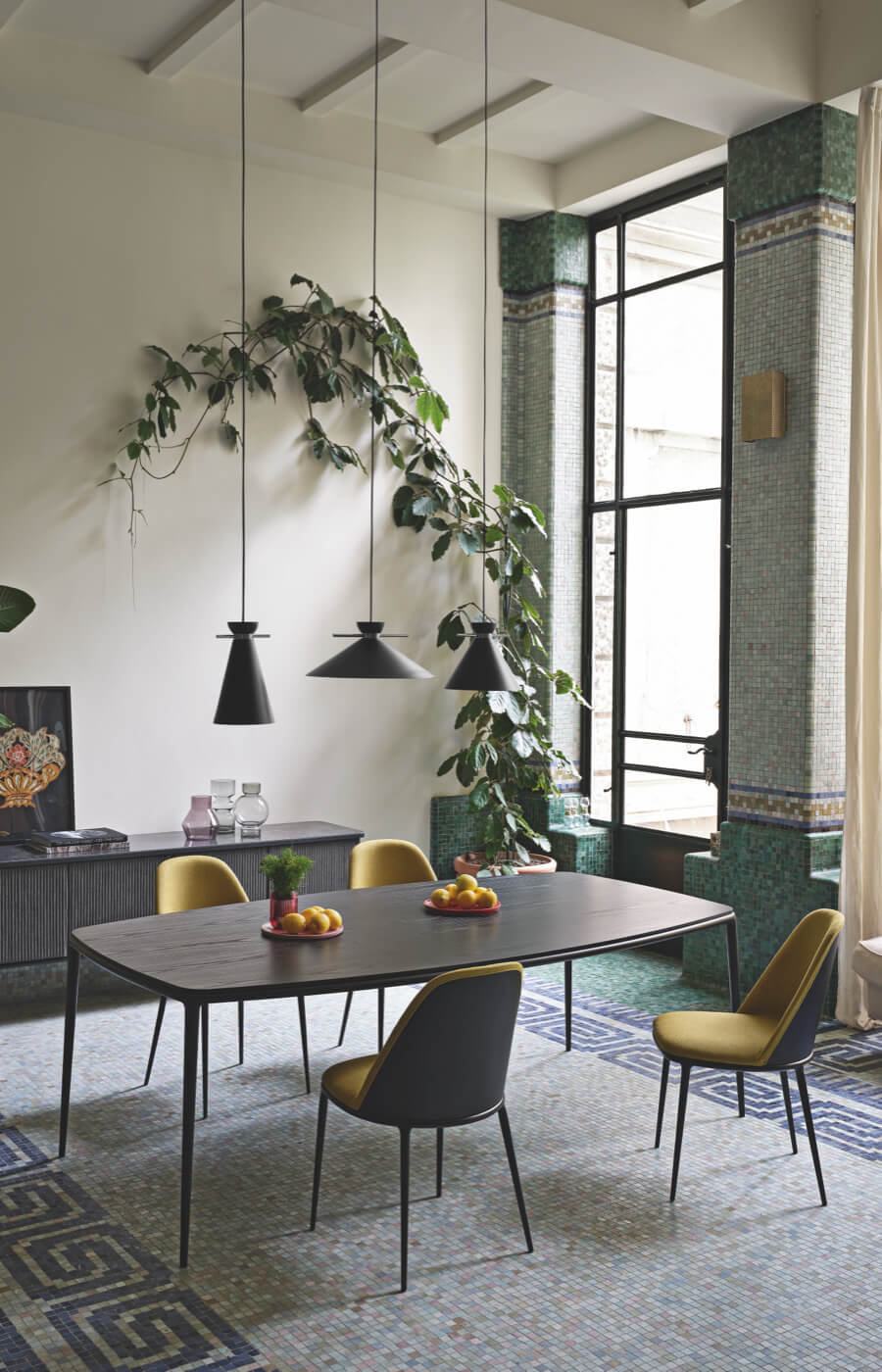 Three Japan pendants light, design Davide Bozzini and Nicola Tonin.
The focal point created by Japan is suitable for smaller social and family spaces, such as dining rooms and kitchens.
"Modernizing a space in an interesting and innovative way becomes extremely simple with our Japan lamps."
A hemispherical lampshade for intimate settings
Recognizable thanks to their minimal design, the single lamps included in the Charlotte collection illuminate surfaces without invading them to create pleasant and inviting sensations.
Charlotte's audacity is sure to add a relaxing and sophisticated effect with its retro character and industrial features, becoming perfect for conversation rooms and small dining rooms.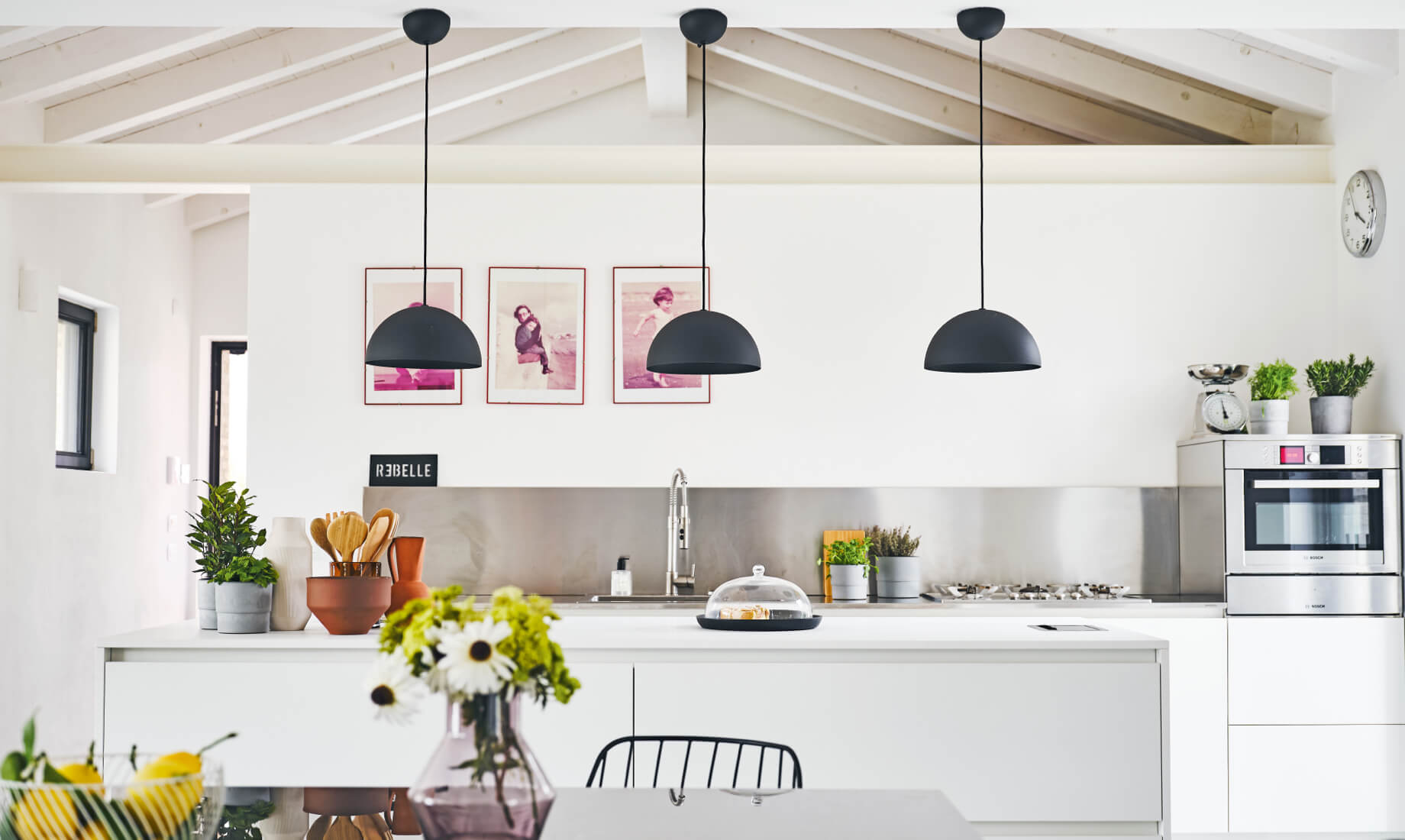 Three Charlotte suspension lamps, design Tomas Dalla Torre.
Thanks to the installation of a multi-pendant group, the hanging lamps effectively accompany kitchen islands, worktops, and study environments.
Spice up your spaces with our ceiling lights
Express and share new sensations of comfort and hospitality with innovative pendant lights. Single lamps, compositions, and chandeliers will allow you to express the unique style of your spaces.