CasaClima Tour
Published on 29/05/2019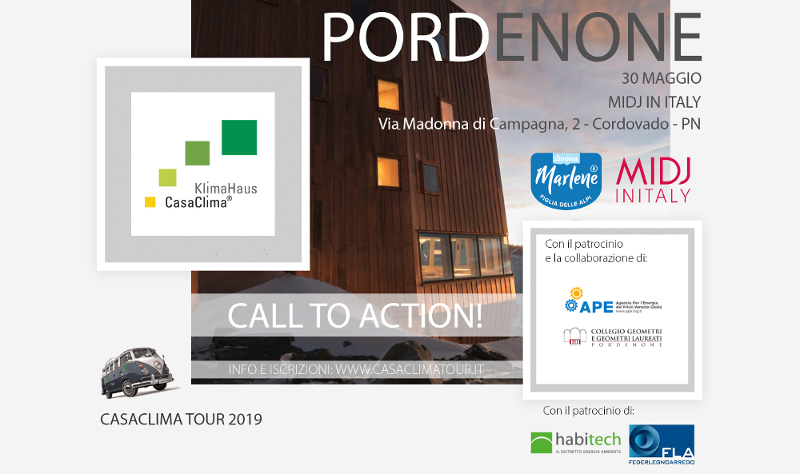 Thursday 30 May we will host the Pordenone stop of the CasaClima Tour in our headquarters in Cordovado.
Qualified teachers will tackle the issues of housing wellness starting from the foundations. The executive details will be analyzed with particular attention to provide the knowledge necessary for the design of welcoming buildings from the point of view of thermo-hygrometric comfort, air quality, acoustic comfort and luminous comfort.
The event is free and training credits will be recognized:
4 for architects;
4 for surveyors;
3 for engineers;
3 for industrial experts,
2 CasaClima credits.
Program:
1.30 pm - 2.00 pm Accreditation and registration at the thematic tables
2.00 pm - 2.15 pm The first certification with CasaClima.
2.15 pm - 3.00 pm Planning the living well-being: the healthy building.
3.00 pm - 4.00 pm Invest in the envelope and spend the right amount for the implants. The durable building with a correct quality / price ratio.
16:00 - 16:30 Coffee Break
4.30 pm - 6.30 pm Thematic tables. Controlled mechanical ventilation, heat pumping, construction with disposable formwork, airtight taping, green roofs, window opening, radiant systems, wooden constructions, certification protocols
The event is organized under the patronage of: APE - Friuli Venezia Giulia Energy Agency, College of Surveyors and Geometers graduates, Federlegno Arredo and Habitech.
Some places are still available: click here to fill out the registration form.