Wood furniture: furnishing accessories for a suggestive and natural atmosphere
Published on 02/02/2022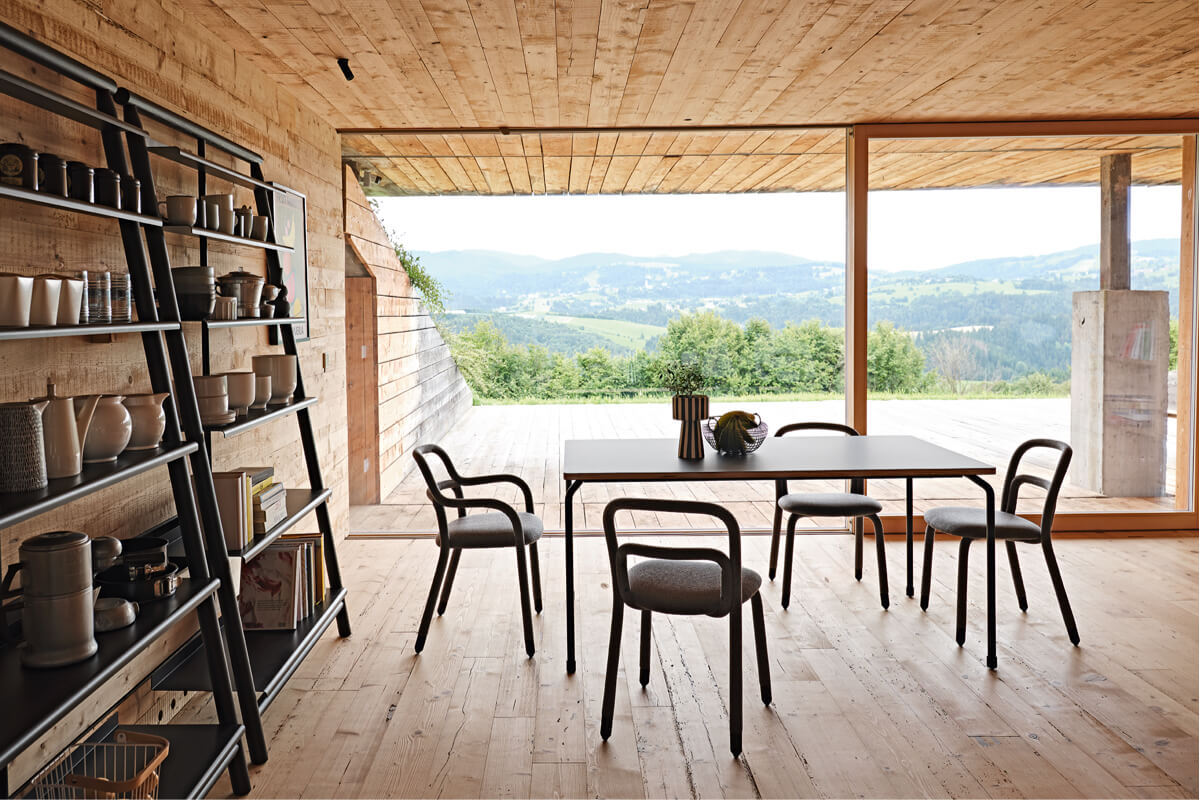 Wood has always been a treasured material capable of creating warm, welcoming, and timeless atmospheres. Discover our suggestions full of natural charm.
The encounter between classic wooden furniture and Mediterranean colors
Total wood interiors are an eternal trend in constant evolution and innovation. In these environments, careful attention paid to the peculiarities offered by nature leads to the most striking and avant-garde furniture choices.
Thanks to brightly colored furnishing accessories, wooden interiors are characterized by a Mediterranean feel.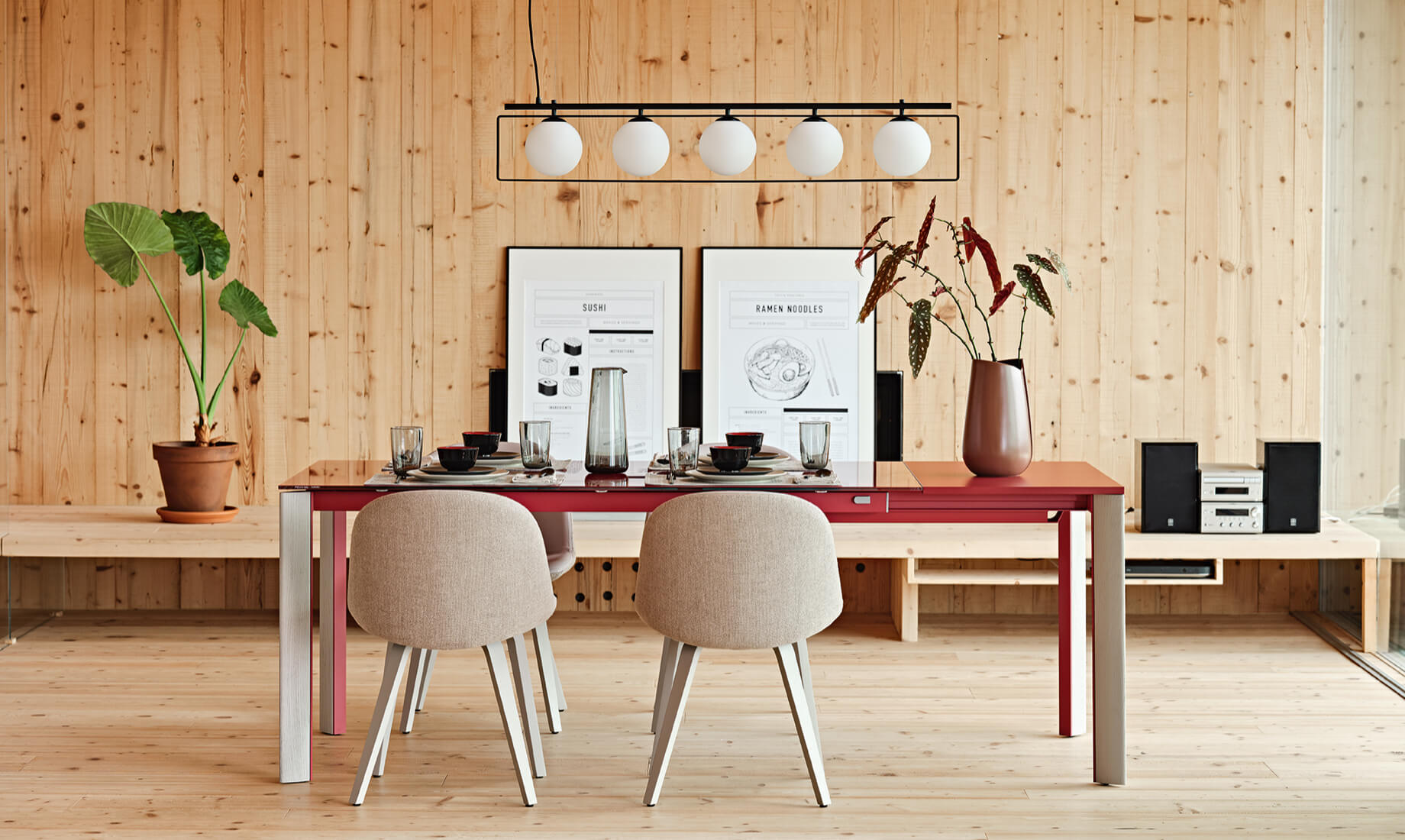 Blade extendable table with Danny chair, Midj R&D design and Suspense lamp, Studio F + B Design.
The extendable Blade table, with a painted metal structure and solid stained ash legs, is ideal for large shared rooms. Together with our Danny chairs, with a veneered wood base, Blade gives the environment expressive continuity, interrupted only by the black metal structure of the Suspense hanging lamp.
"The naturalness of wood reveals scenes of nature and freedom within everyday spaces."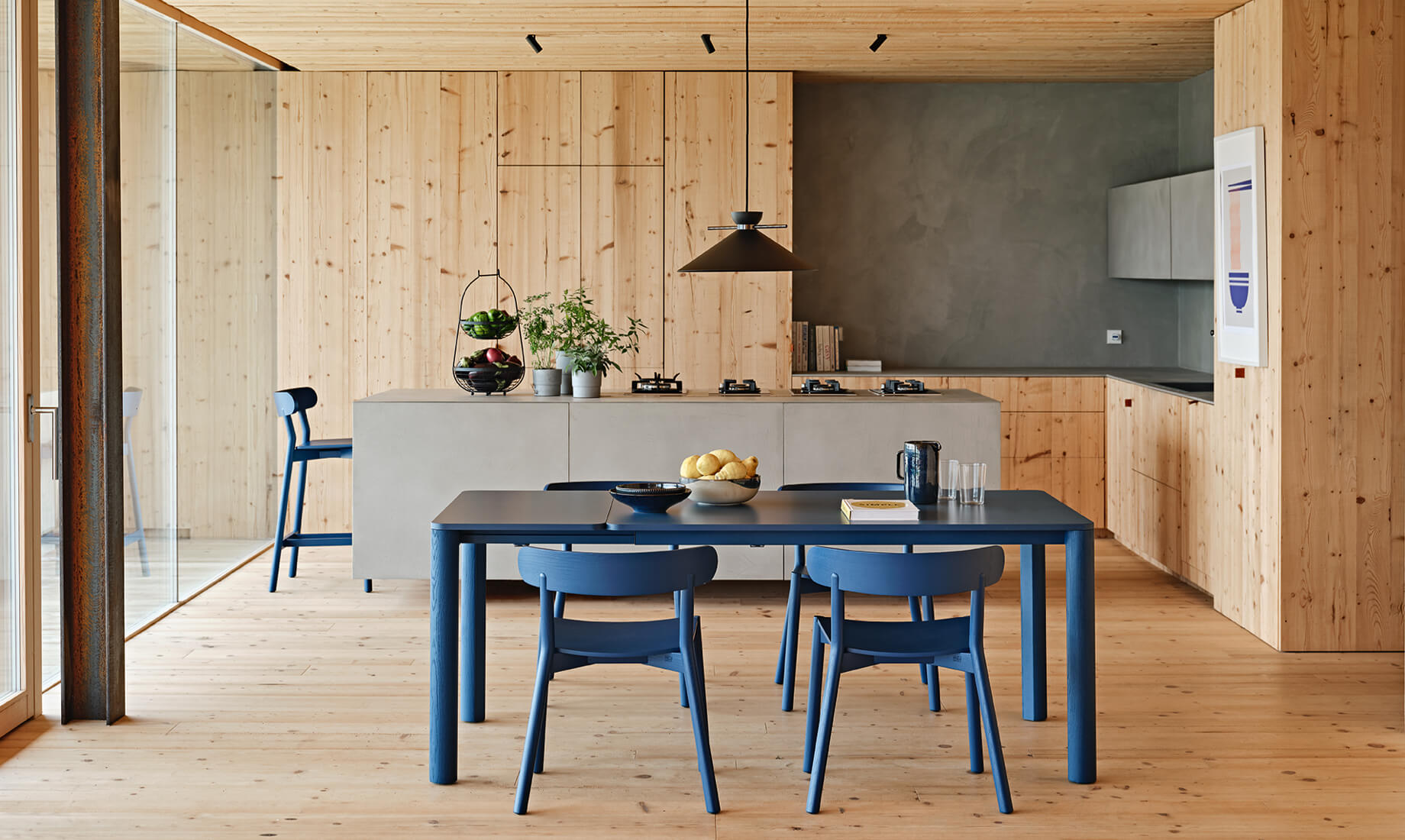 Woodj table, Midj R&D design, with Montera chairs, AtelierNanni design and Japan lamps, Opaca Lab and Tosca Design design.
Always at the heart of total wood interiors, the Woodj table stands out with its deep ocean blue color, a shade also used for the stained ash Montera chairs. This blend of hues recalls the beauty of coastal landscapes overlooking the Mediterranean.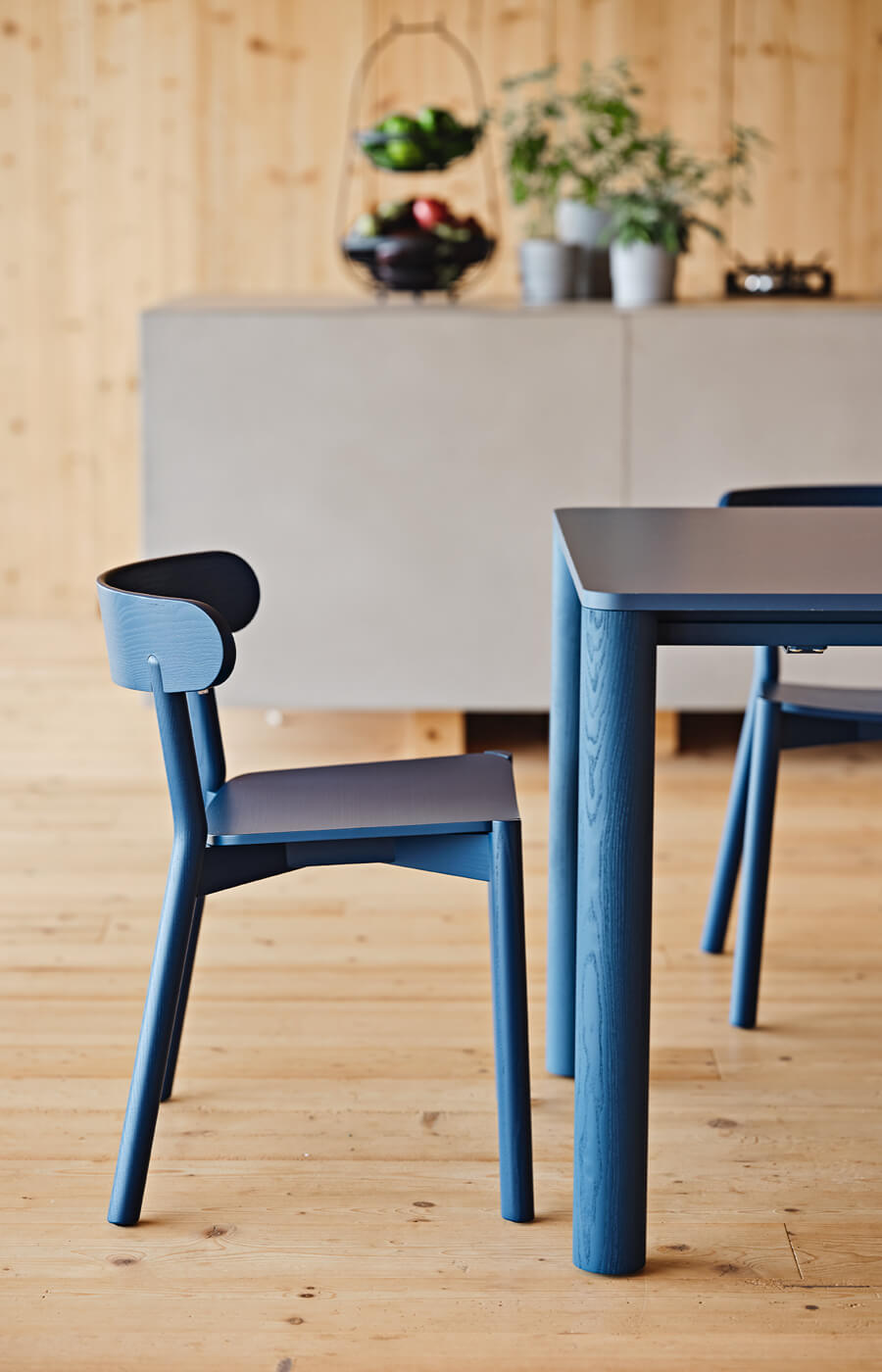 Montera chairs, design AtelierNanni.
Black and wood furniture: an unpredictable combo
Defined lines draw out the space: the black metal structure of our Master table, the legs of our Pippi chair, and our Suite bookcase provide the environment with a strong and prominent character, perfectly balanced by the surrounding delicate wood grain.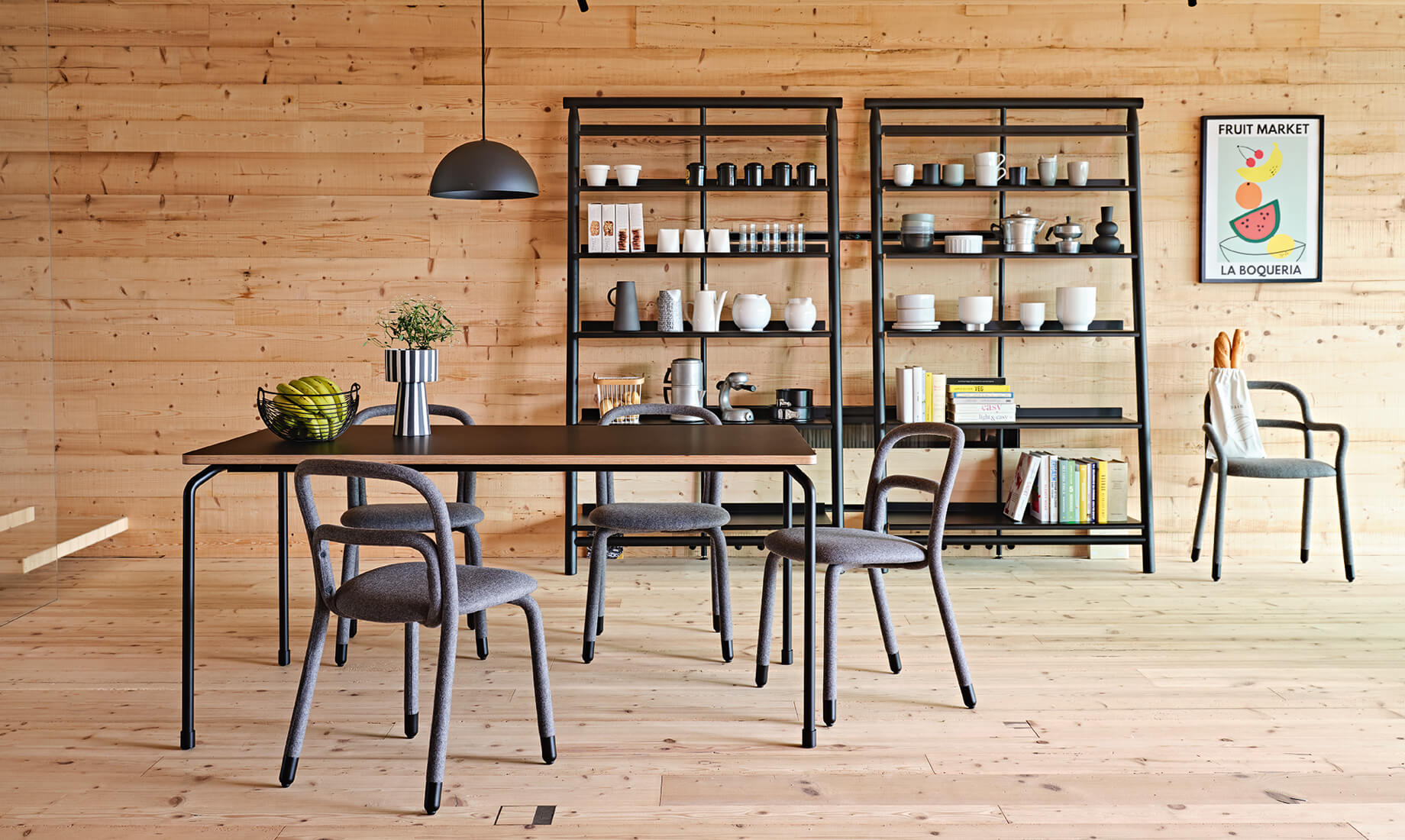 Master table, design Paolo Vernier, with Pippi chairs, design Roberto Paoli, and Suite bookcase, design AtelierNanni.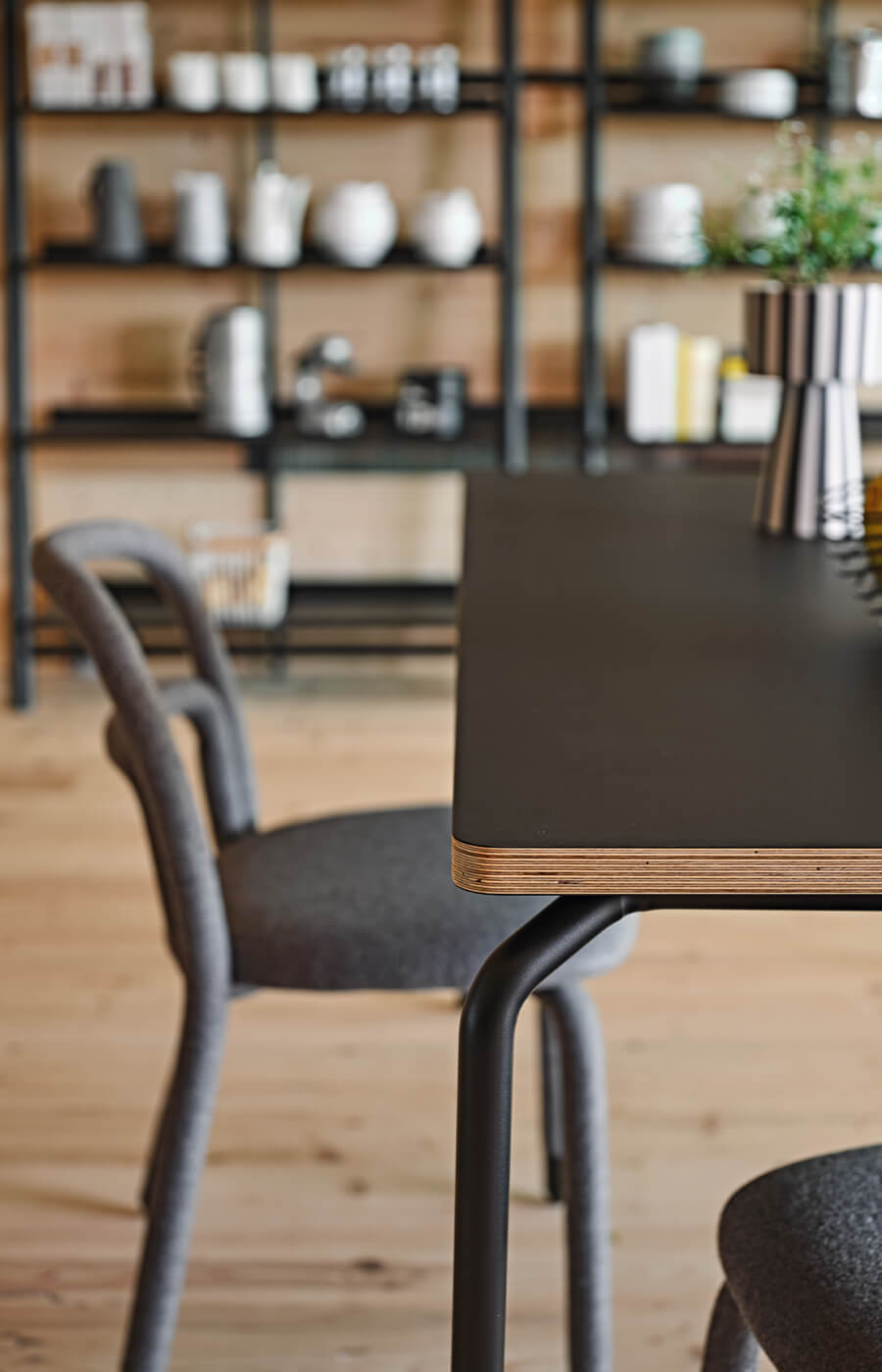 Master table, design Paolo Vernier, with Pippi chairs, design Roberto Paoli.
"The combination of two different materials and colors gives the environment a charismatic, magnetic, and lively style."
Ashwood is what attracts the observer towards the Suite bookcase. AtelierNanni wisely conquers space with a black metal structure that outlines a contemporary and versatile designer item.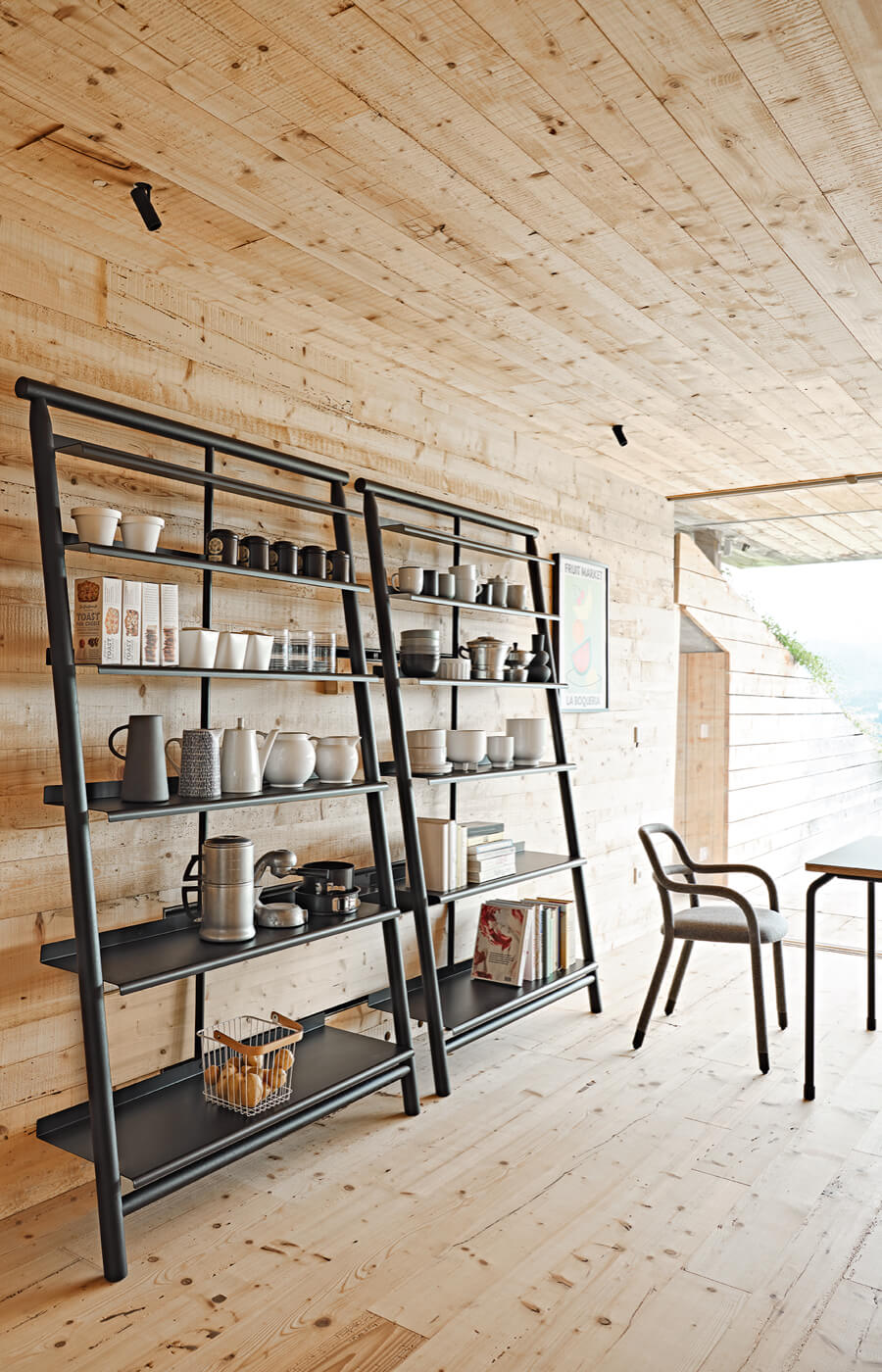 Suite bookcase, design AtelierNanni.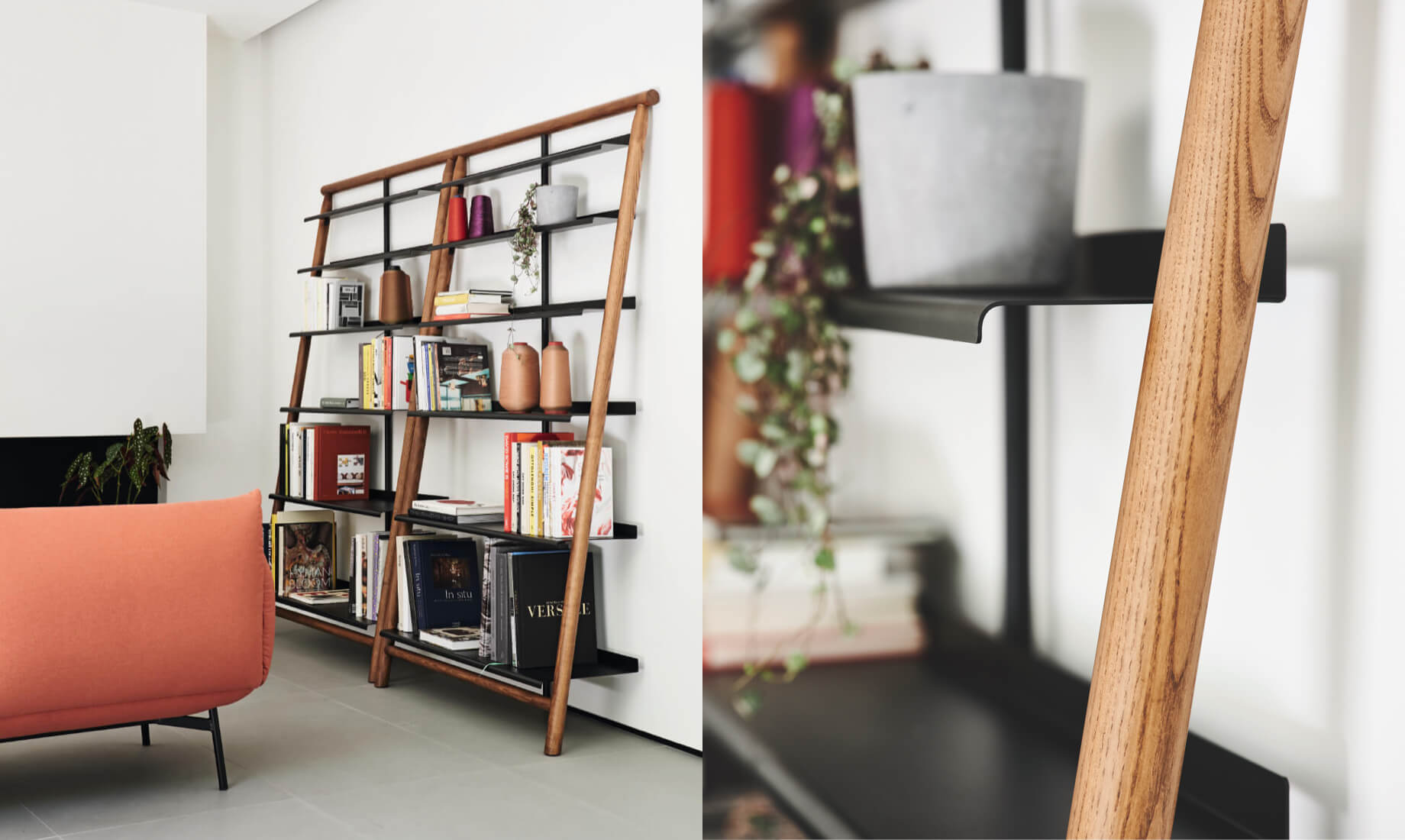 Suite bookcase, design AtelierNanni.
The desk enriches the Suite collection with chromatic and material contrasts that recall the same eclectic traits: the smoked textured glass top is supported by an ash wood structure holding a document pouch in Tuscan leather.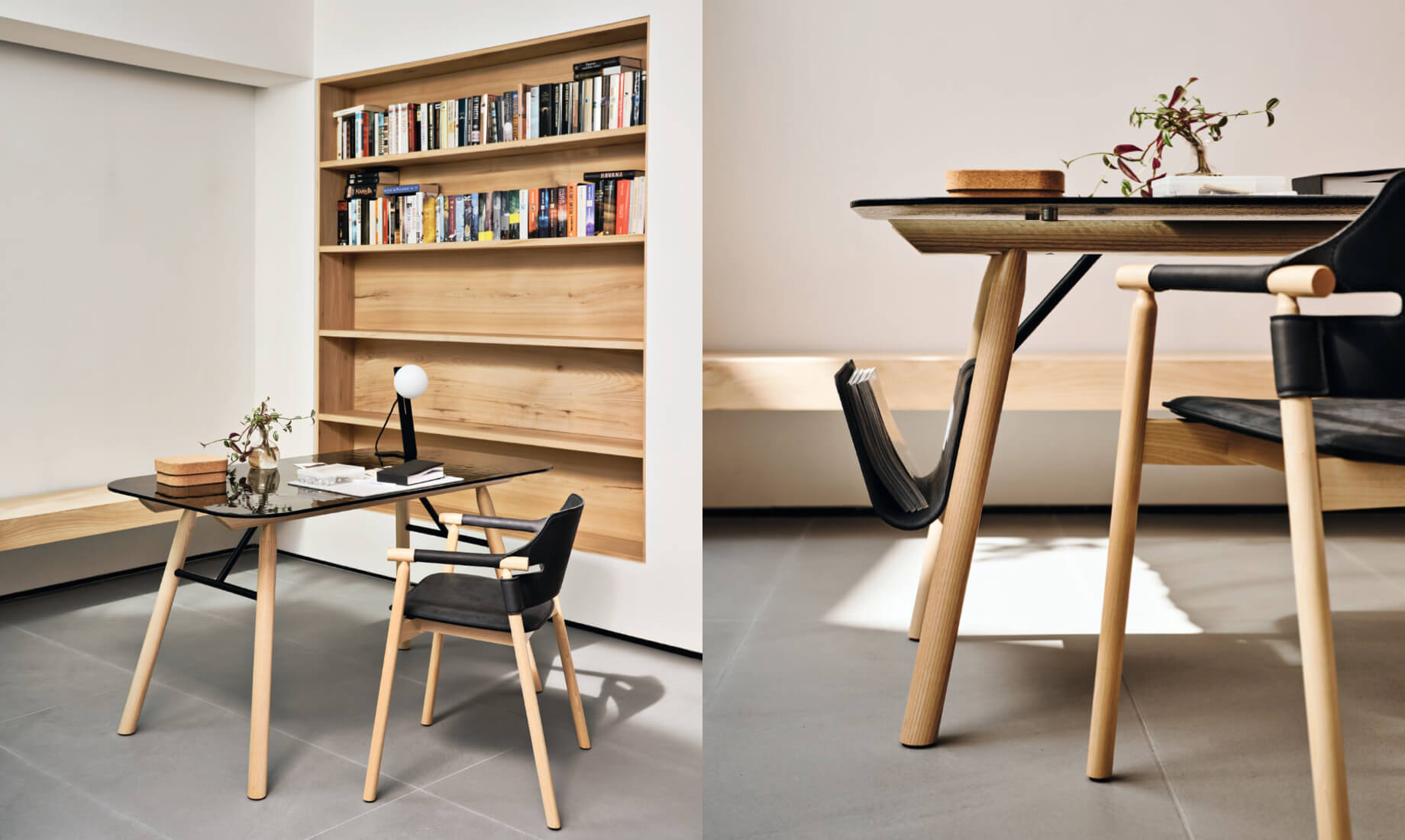 Suite desk table and armchair, design AtelierNanni.
Even the Suite armchair is made of Tuscan leather, and together with ash wood, it fits into the ideal office for those seeking comfort and elegance.
Focus on Lea: versatile, fascinating and mesmerizing
Feel the energy of our Lea collection: once we cross the threshold of Bar Posta, we are welcomed for a seat by Paolo Vernier's armchairs that stand out with their backrest made of lacquered veneered wood.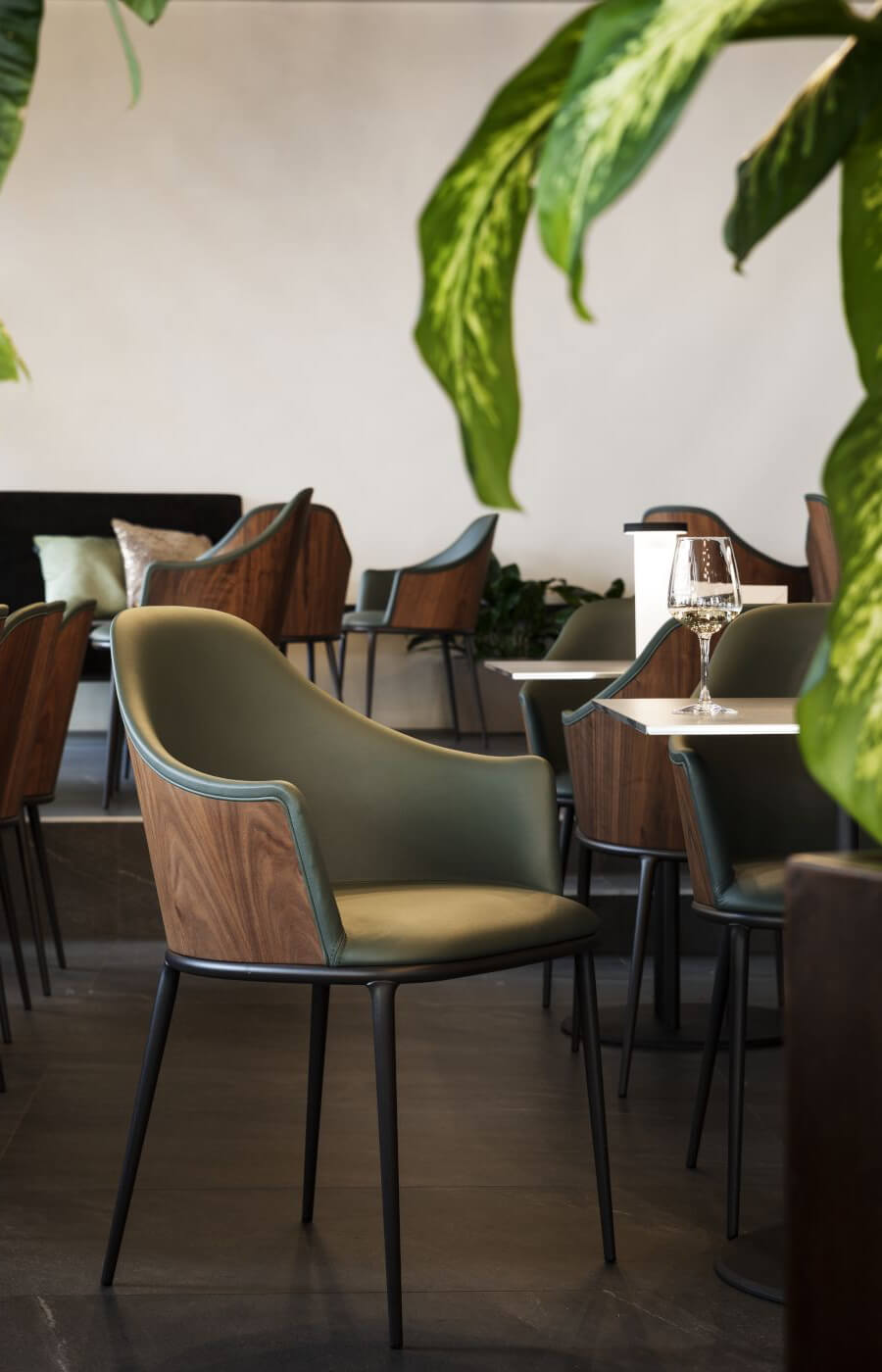 Lea chair, design Paolo Vernier.
Lea's backrest is characterized by a three-dimensional design. The clearly defined wood grain arises from the black metal structure to the elegant leather upholstery.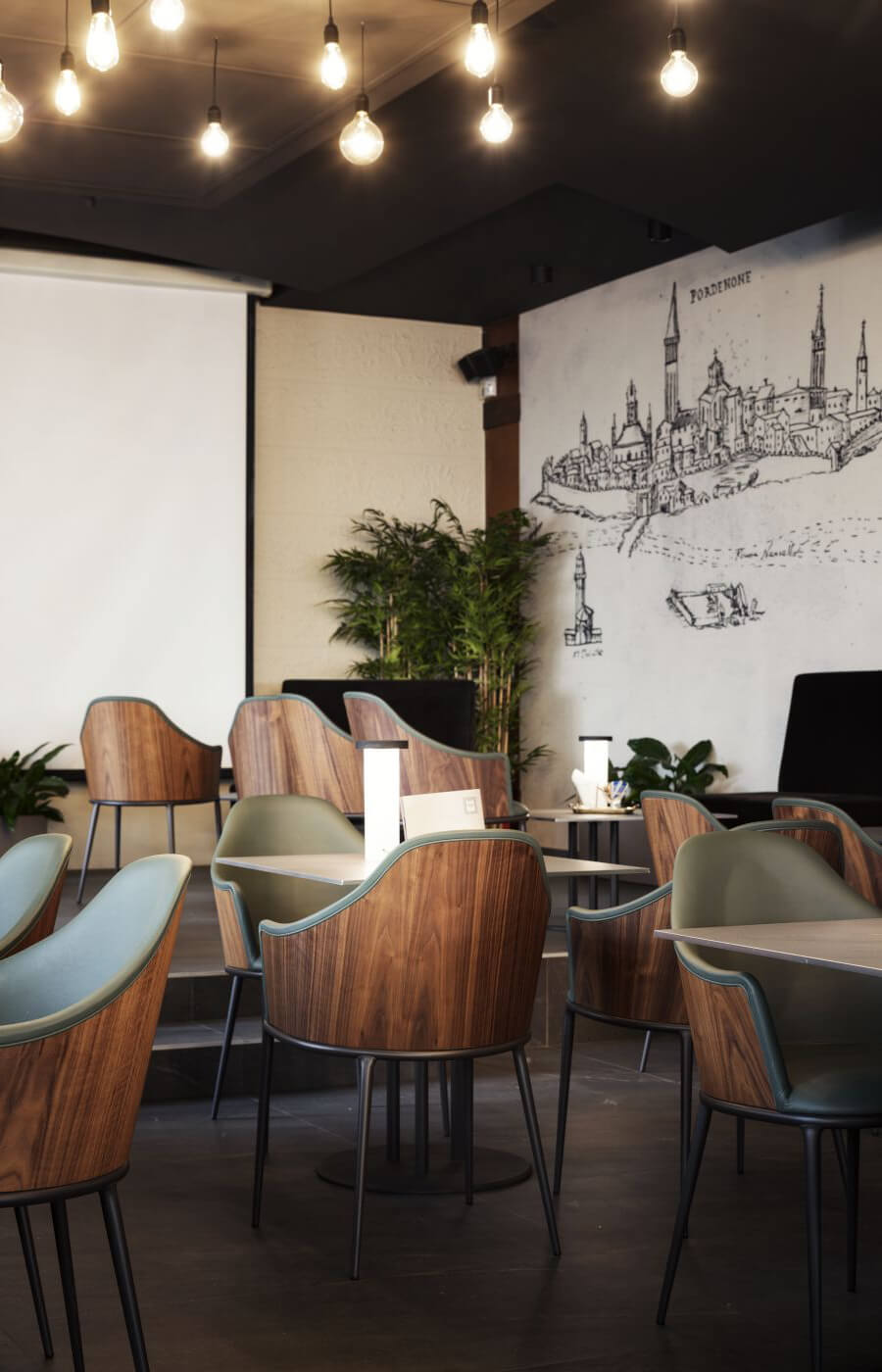 Lea chair, design Paolo Vernier.
Natural soft design for elegant and exclusive interiors
Get inspired by Midj's suggestions for wooden furniture marked by natural charm.