Midj meets Paola Navone: an incredible journey in the world of design
Published on 26/07/2022
Through the extraordinary collaboration with architect, interior and product designer Paola Navone, we had the chance to understand even more deeply how life experiences become an integral part of a product's design. And through the pleasant dialogue between Midj and Paola Navone, aimed at investigating the relationship between emotions and design, the new Bolle, Plissé, and S1 collections are brought to life: a true manifestation of joy, lightness, and warmth.
We met her again with the desire to learn something more about her way of looking at, interpreting and experiencing the world.
How does your journey into the world of design begin?
I started my job a bit by chance, just as many other things in my life. I was studying architecture at the Polytechnic of Turin, but I was intrigued by everything creative happening in the world. Turin was too close to me, and I was attracted to paths that were a little unconventional, certainly different from my family's expectations. My thesis fell into Alessandro Mendini's hands, who invited me to Milan, and I left without a second thought. The encounter with Alessandro and the whole Alchimia group marked the beginning of my adventure in the design world... and I'm still here.
What makes your style so distinctive and how does Midj interpret it?
I don't believe our work owns a specific style. Our projects are very different because they arise from alchemy that can never be replicated, like the one with Midj. There are also some "tools" that belong to us, such as simplicity, lightness, attraction for imperfection, and respect for traditions. And then, of course, a pinch of fun that fortunately never misses in our work, allowing us to create unique and dedicated projects.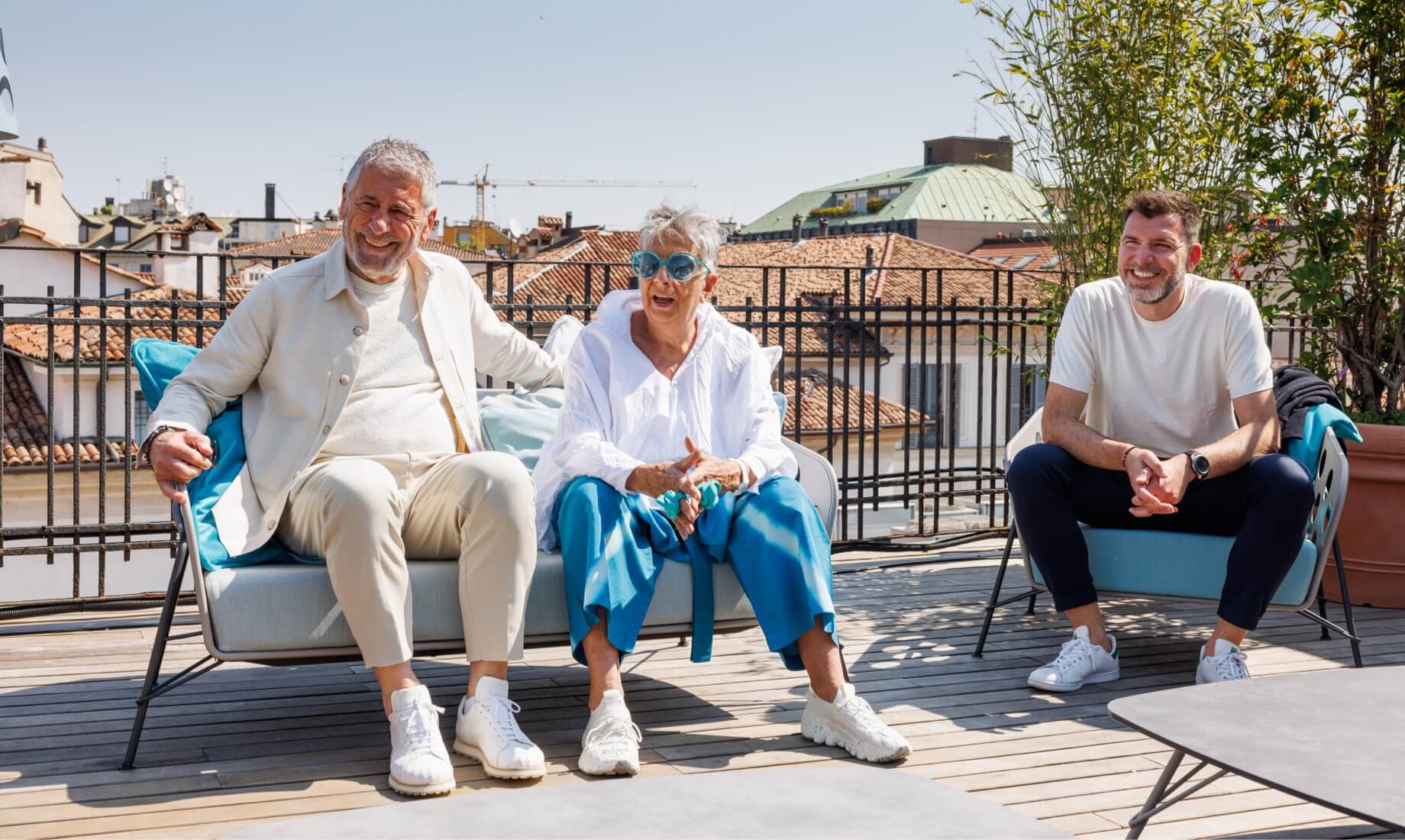 From left: President Midj Paolo Vernier, Designer Paola Navone, Production Manager Rudy Vernier.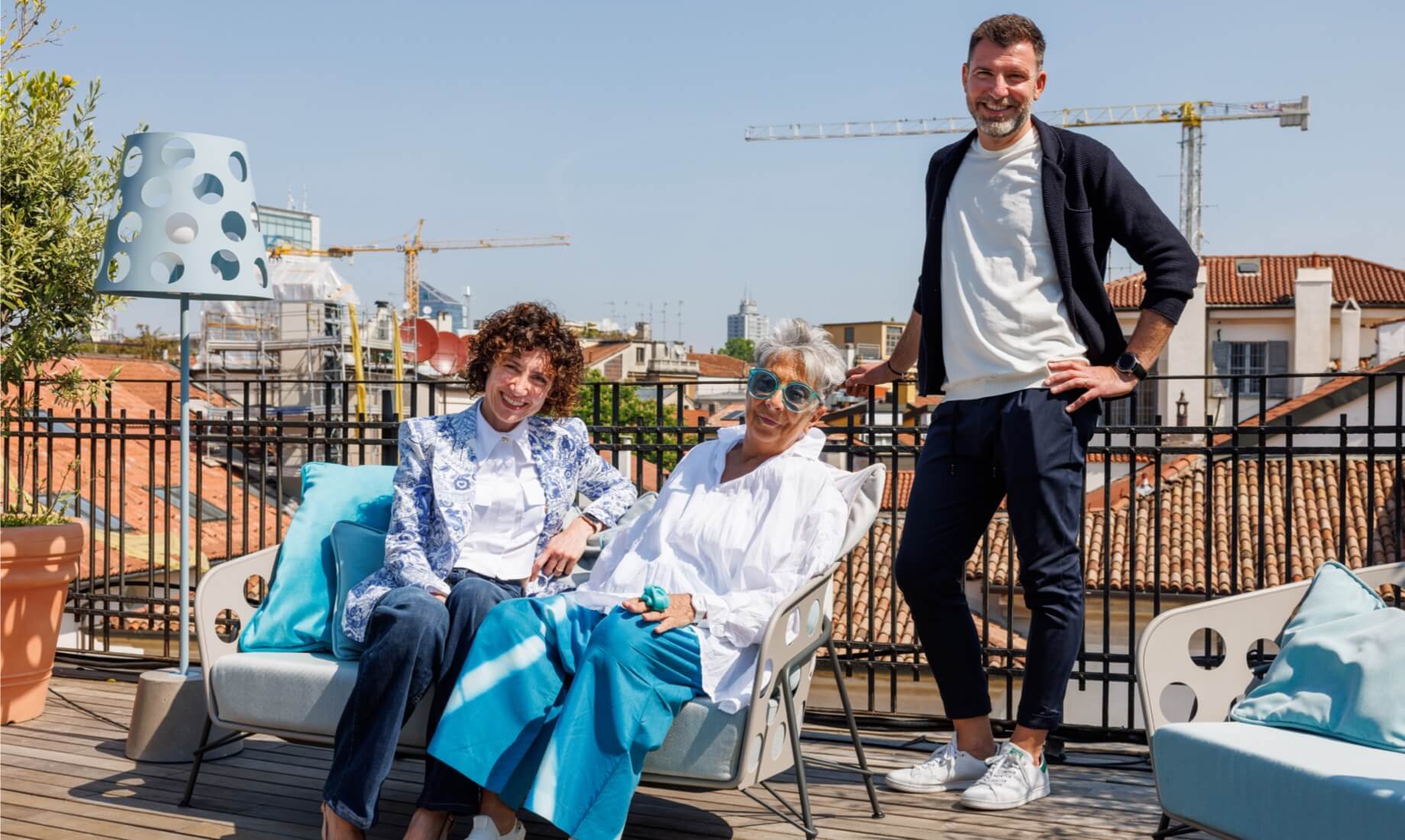 From left: Sales Manager Miriam Vernier, Designer Paola Navone, Production Manager Rudy Vernier.
What is your design philosophy?
When we imagine an object or an interior space, we always allow enveloping sensations to guide us, such as the pleasure of sinking into a very soft sofa.
We like to suggest relaxing, light, joyful, and slightly surprising atmospheres.
Friendly and never aggressive objects allow everyone to feel at ease, anywhere they are in the world.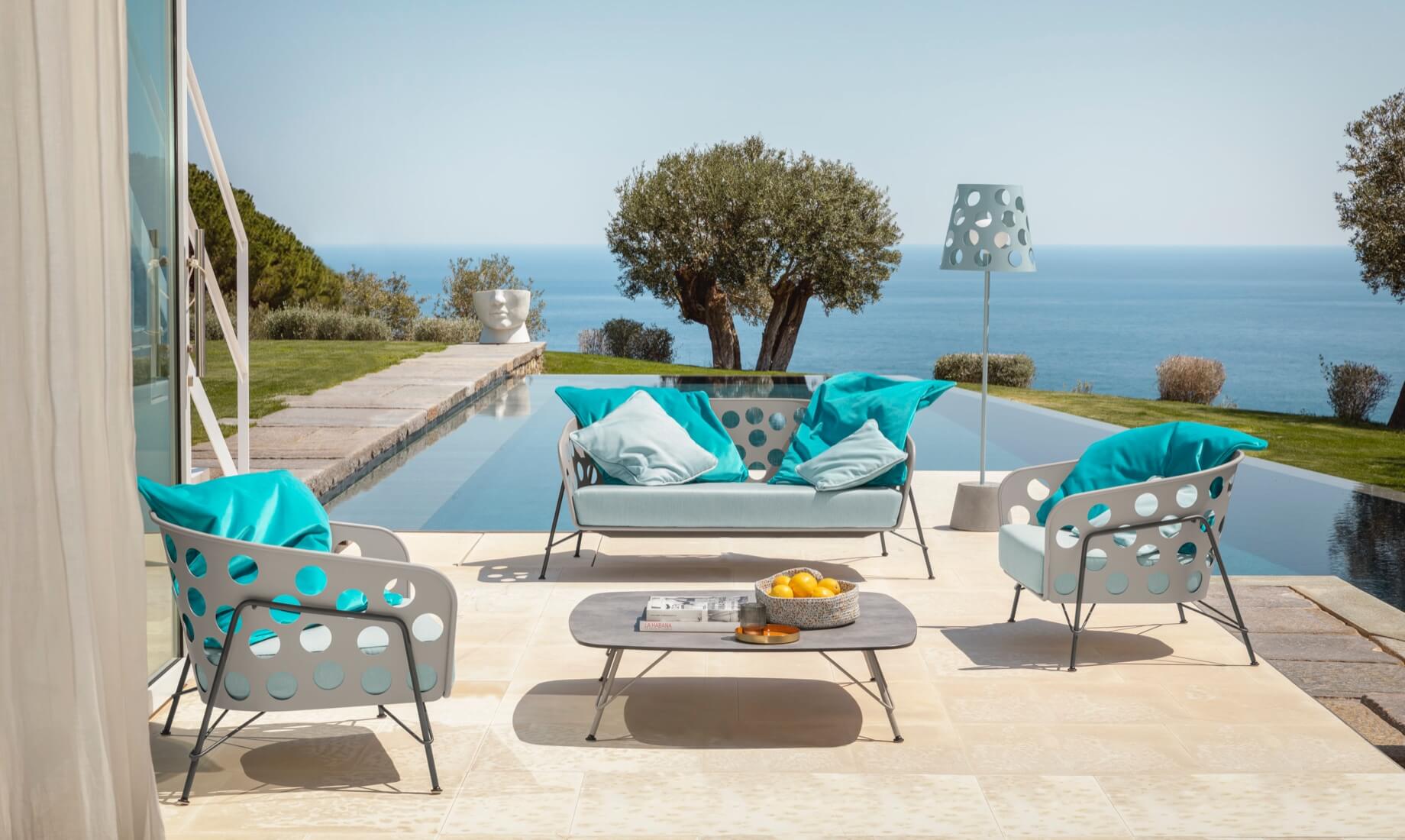 Armchair, sofa, floor lamp, and coffee table from the Bolle collection, design Paola Navone.
What role does color play in your projects? Which shade best represents you and why?
In our way of thinking about design, color is essential, and it is never just a "superficial layer". I prefer the cool colors of water and air that carry away the slightest sense of gravity.
Blue is the color of my creativity and has a calming, almost hypnotic influence on me.
An intense blue is reminiscent of the Mediterranean and belongs to many handicraft traditions that root far back.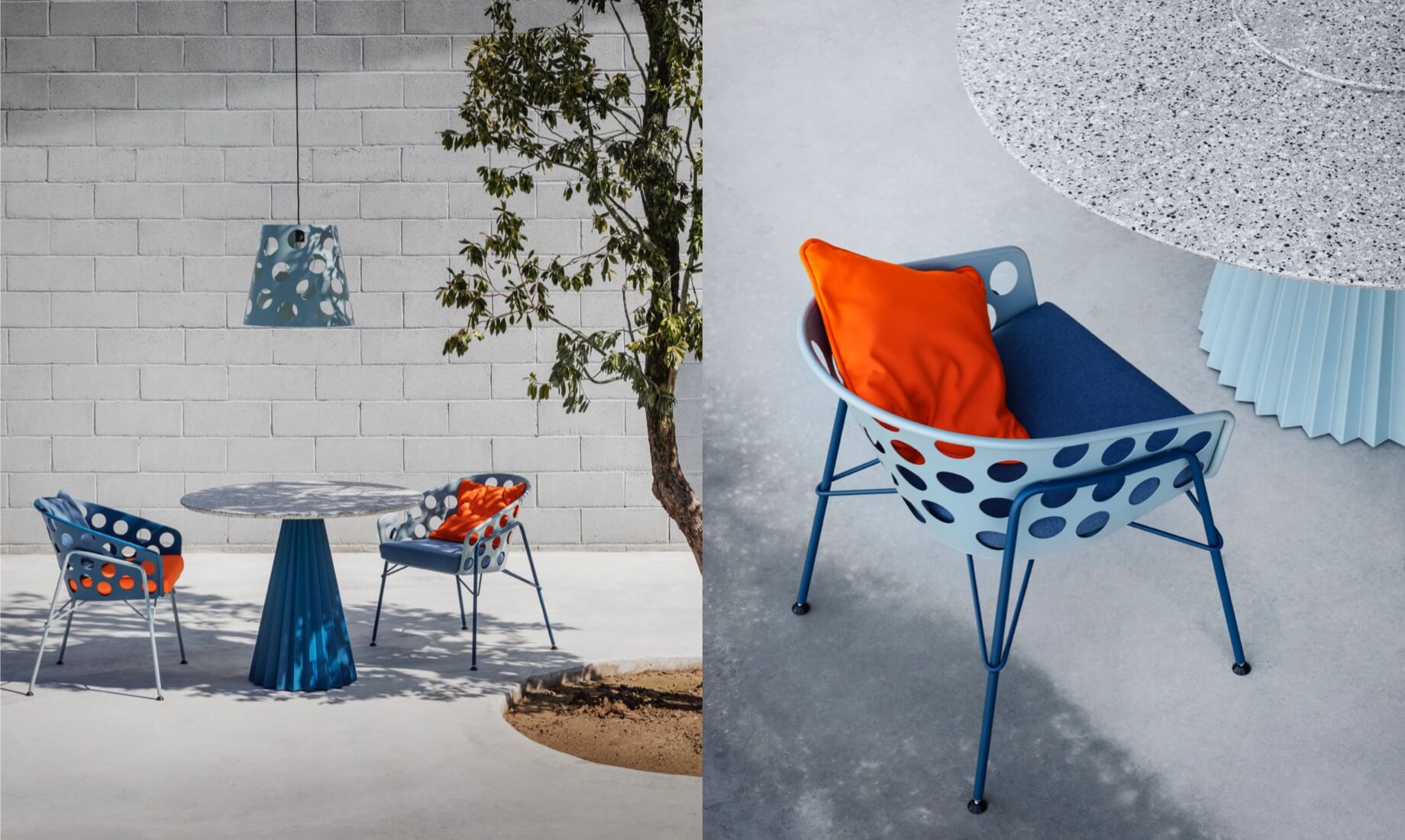 Bolle armchair and suspension lamp, Plissé table, design Paola Navone.
Where do you draw inspiration for your furnishing items?
Each of our creative adventures originates from a unique chemistry with a company's traditions, to which we add our contemporary, eclectic, and slightly pop way of interpreting things. The objects created are always unexpected, undoubtedly linked to tradition but in a surprising, imaginative form with a hint of irony.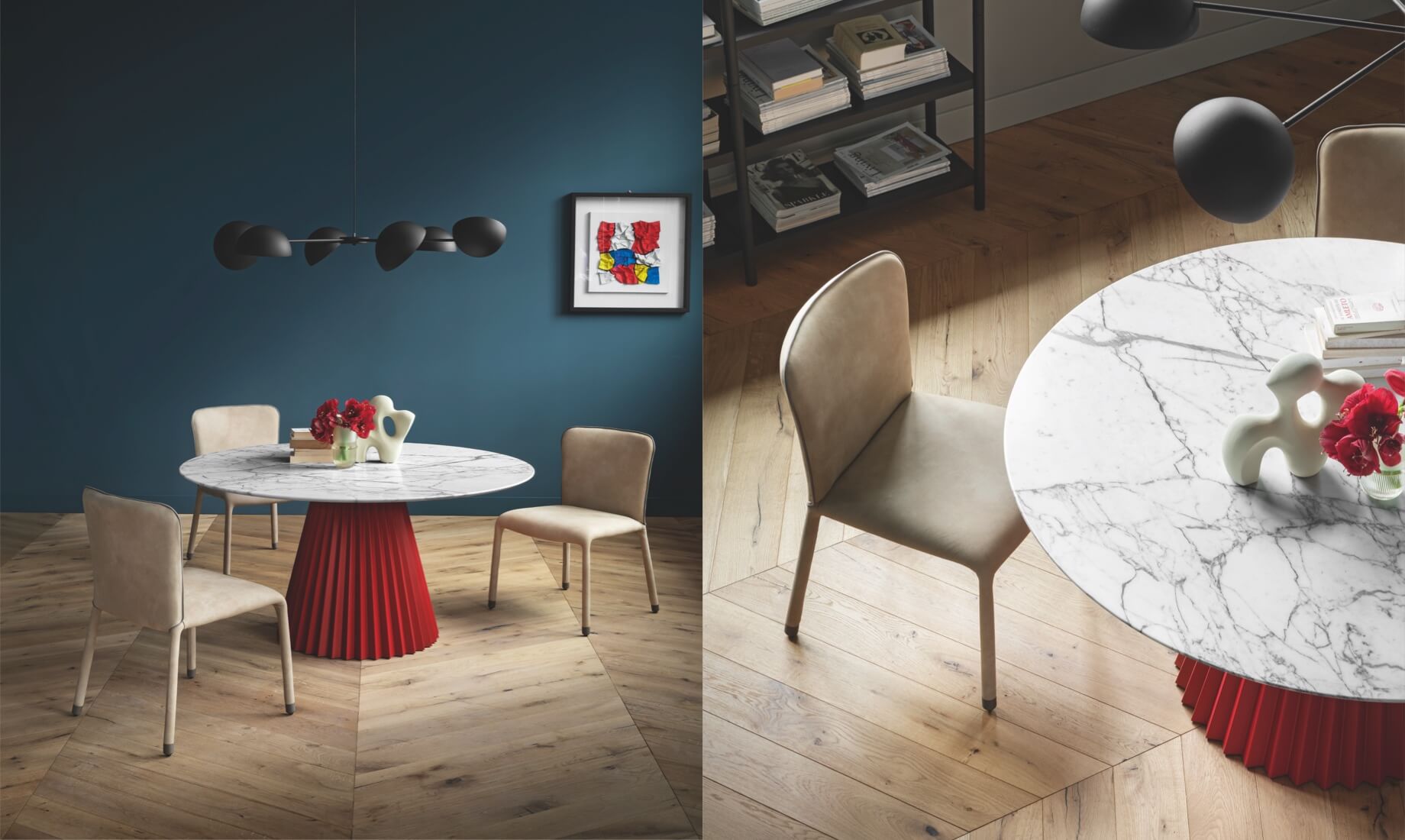 S1 chair and Plissé table, design Paola Navone.
What are the trends in interior design today and what do you think will be the new challenges of tomorrow?
I feel that we now tend to follow trends less and that there is a common desire to live in environments that reflect our way of being, regardless of fashions. I see it as a great creative opportunity for designers.