Decorating with black: a fascinating allure conquers interiors
Published on 25/02/2022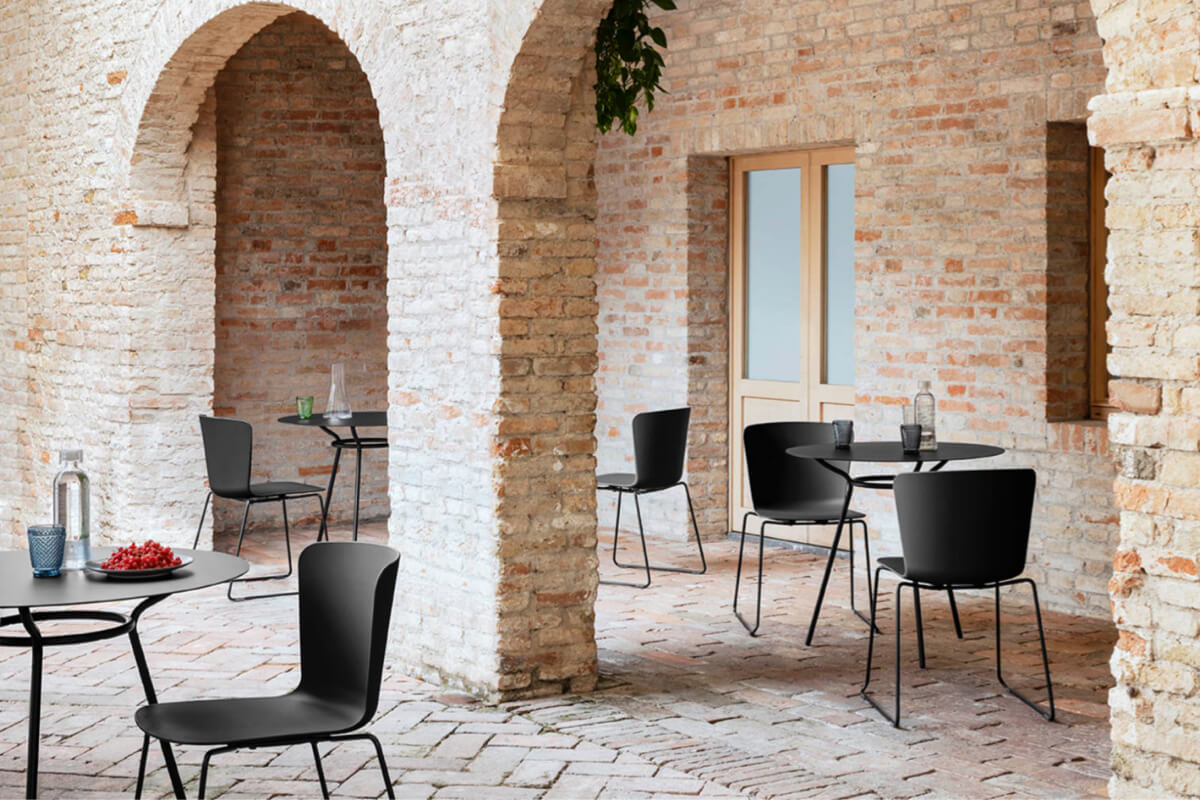 Black is the color par excellence of elegance and class, and the fact that it goes well with everything is a certainty. So much that, more and more often, we also find it in interior design.
This chic and vigorous hue fits into any environment, from the most classic to the most modern, and allows us to revolutionize the image and concept of traditional homes.
"Black has a great potential in interior furnishing."
Black and wood furniture: a striking combination
Furnishing with black is undoubtedly an important choice, and when we choose it for our interiors, every detail needs to be thought out and taken care of down to the smallest detail.
The combination of black and wood is perfect for those who want to add a pop of unexpected interest without running the risk of overwhelming the space. Small accessories like chairs, coffee tables, and designer lamps add a touch of elegance that completes the environment. In particular, we chose the coffee tables and comfortable lounge chairs from our P47 collection, which become the main characters in the room. We also added an essential light source with the unique Ghost floor lamp to complete our proposal.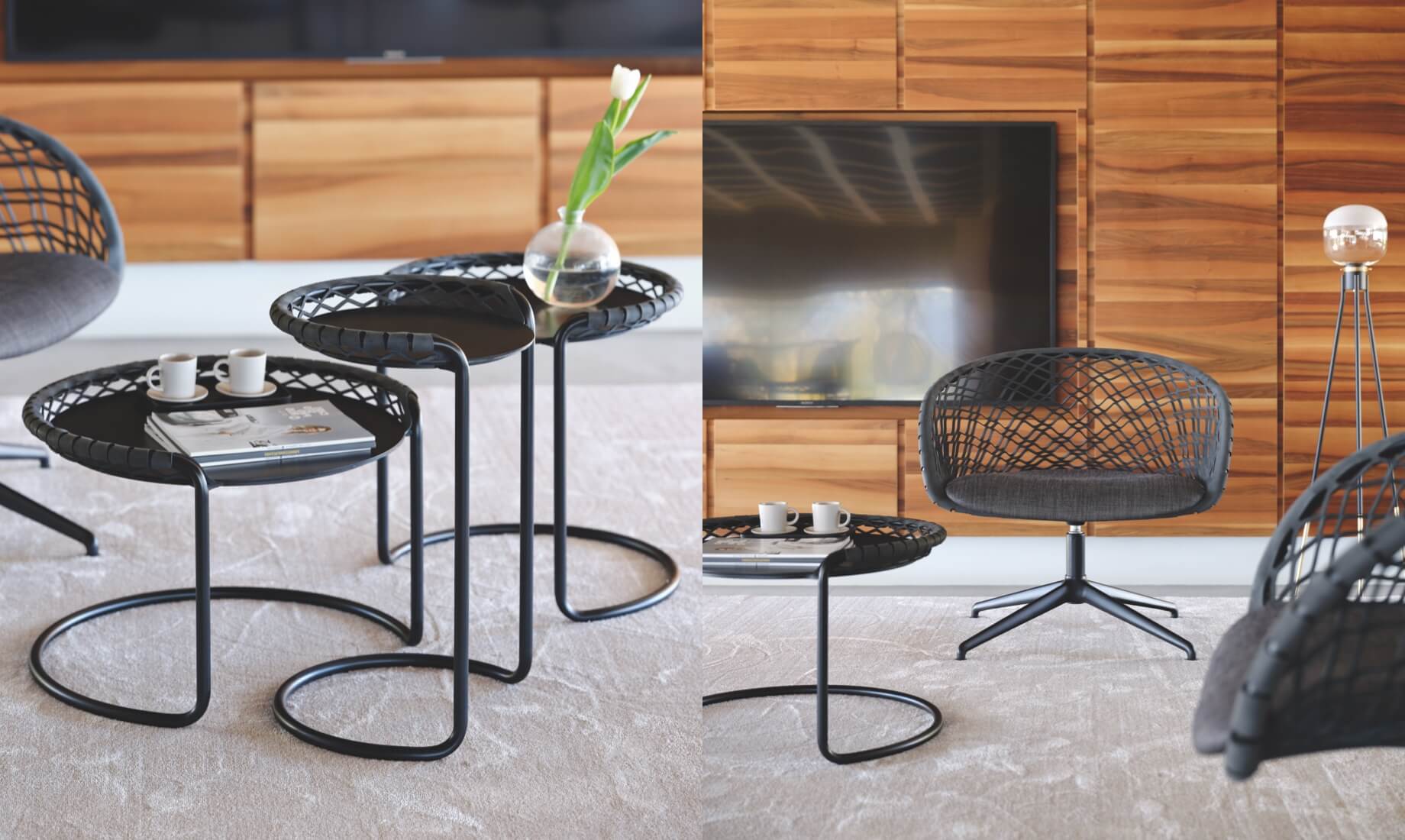 P47 lounge armchair and coffee table, design Franco Poli. Ghost floor lamp design Studio F+B Design.
"Black is just right for interiors with a timeless Nordic style."
Our Toy stools and Pippi chairs add a playful accent to living areas, while the Master table with familiar lines proposed in a modern key brings memorable moments back to mind. And how can we not mention the Charlotte suspension lamps and the peculiar Peek mirror that reflects light and expands the space?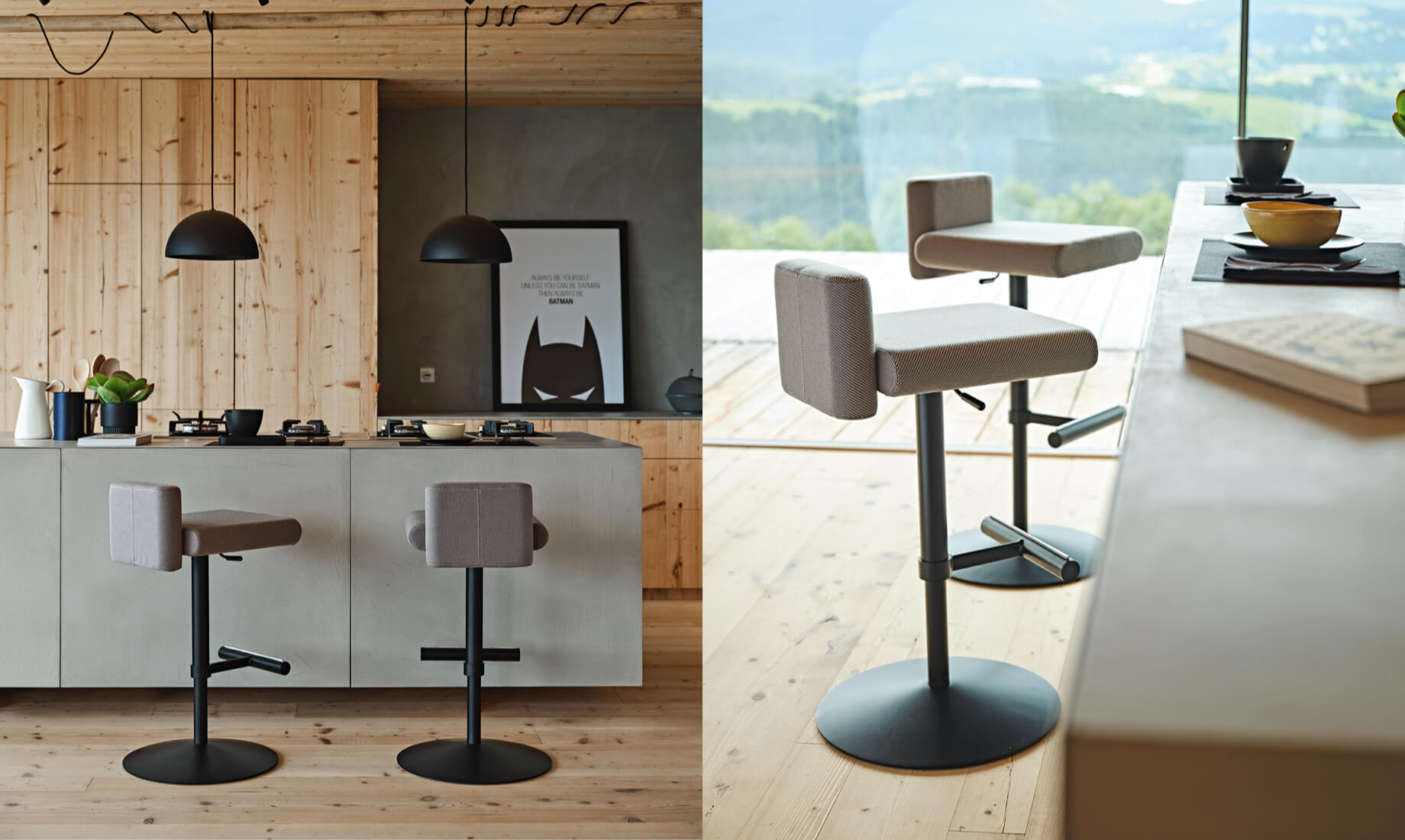 Toy stool, design Studio Pastina. Charlotte suspension lamp.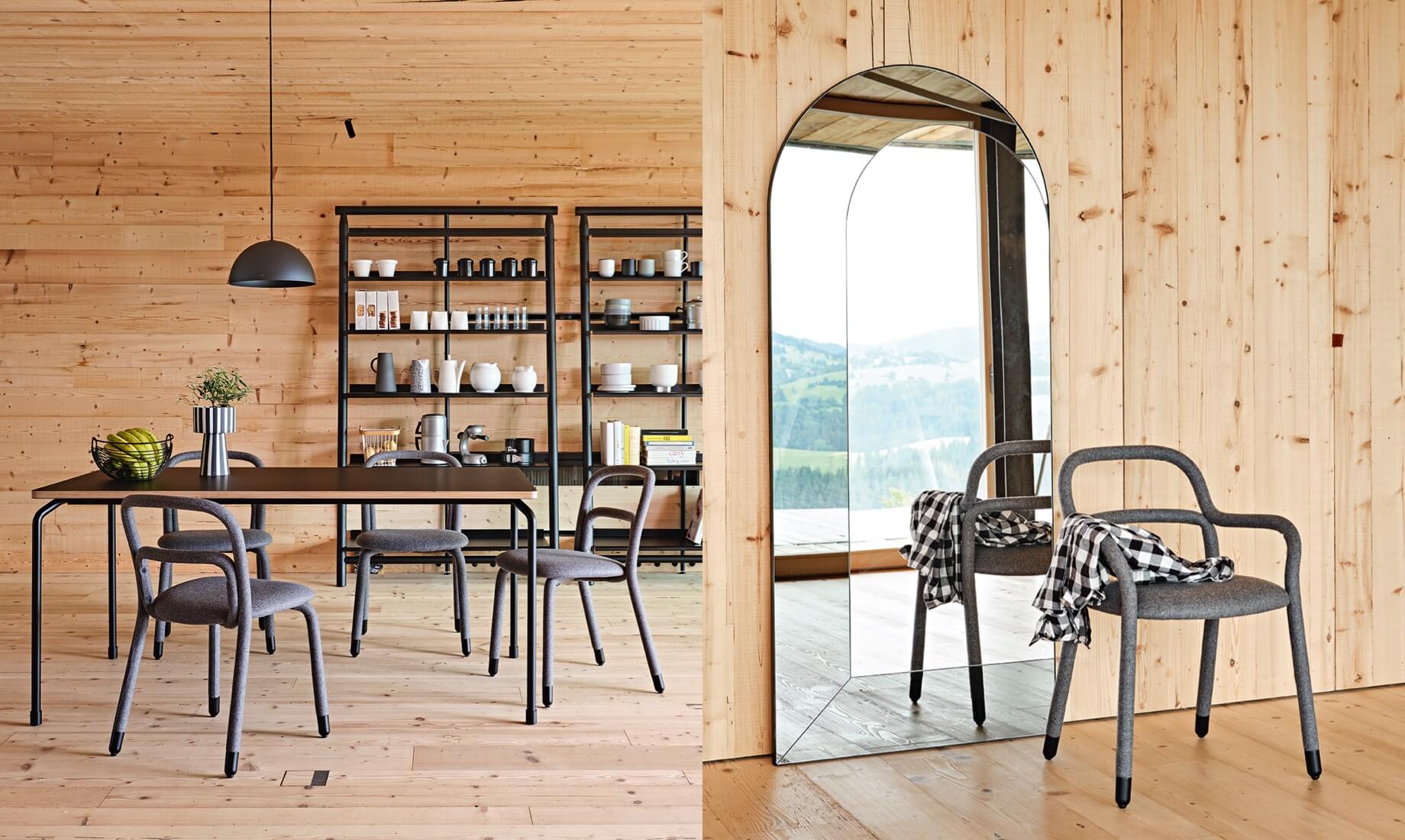 Pippi chairs, design Roberto Paoli. Master table, design Paolo Vernier. Suite bookcase, design AtelierNanni. Peek mirror, design Studio Pastina. Charlotte suspension lamp.
Material combinations for a glamorous look
The combination of dark shades and elements of various materials creates environments with a luxurious and sleek look.
The metal accent of the sinuous Mia chair captures the light and adds a touch of glam to the dining room, which becomes the ideal place to gather guests.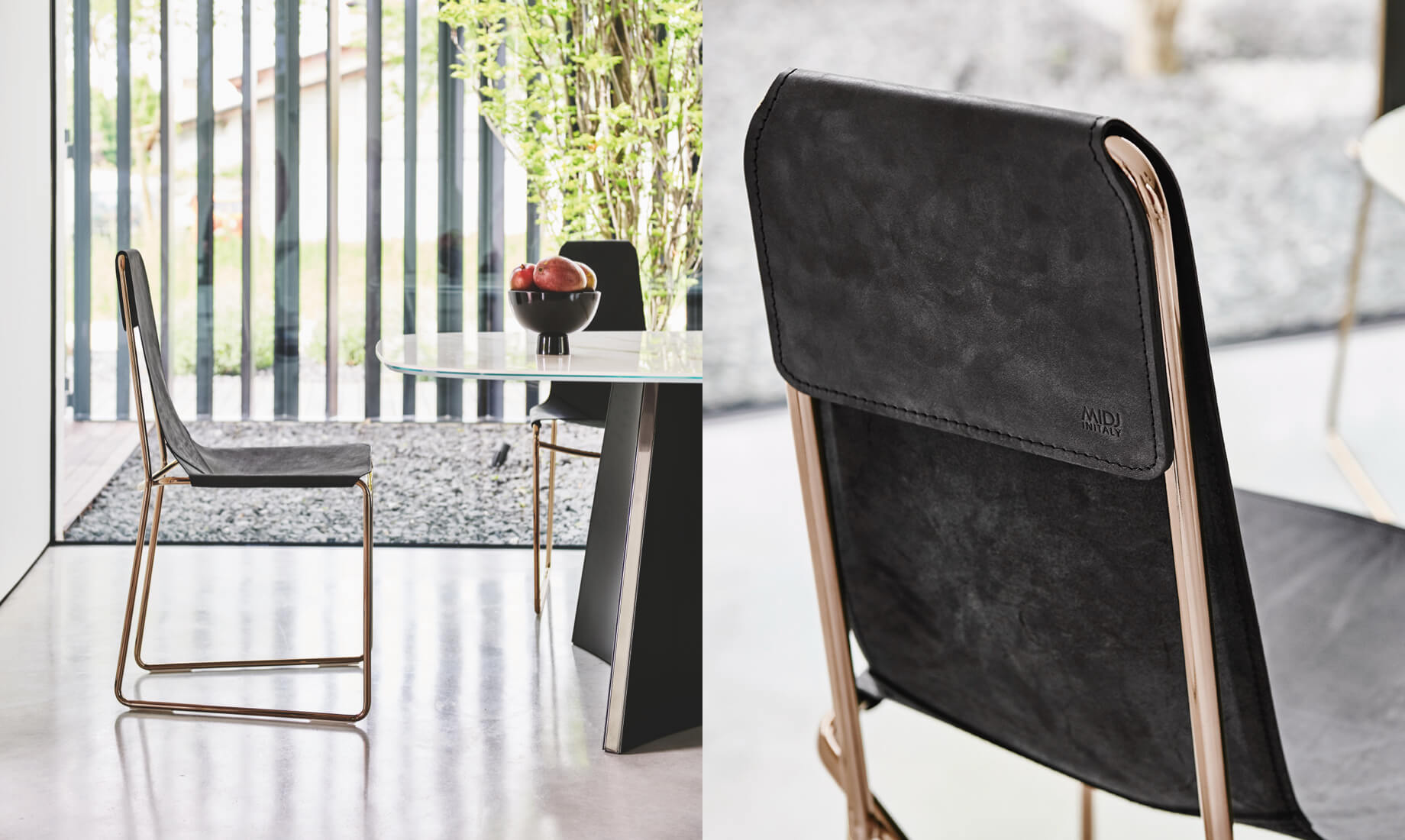 Mia chair, design Beatriz Sempere, with Concave table, design Nicola Bonriposi.
And what about our Trip coffee tables? Positioned individually or in groups next to sofas and armchairs, they offer a functional and particular support surface.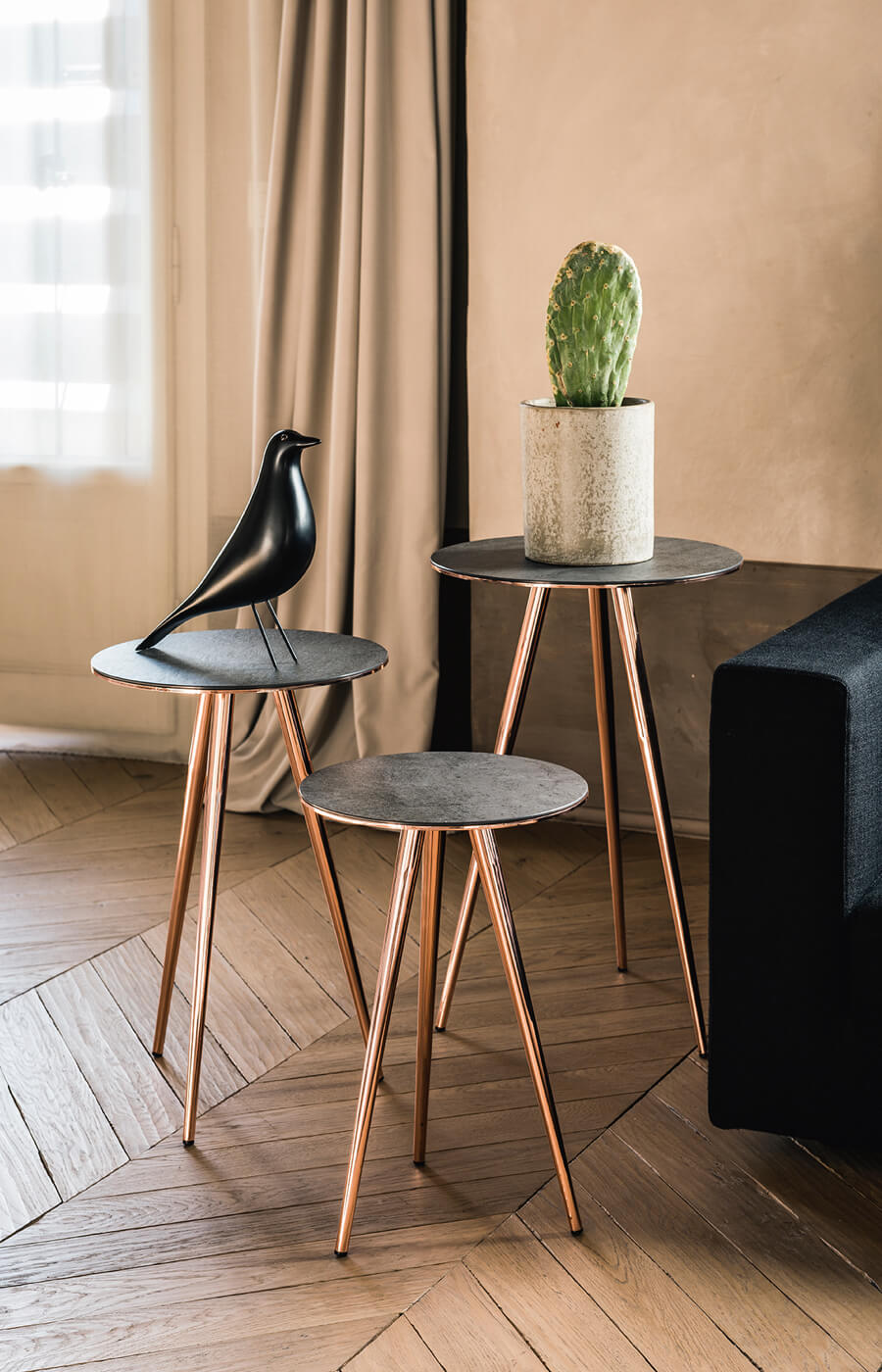 Trip coffee table in 3 heights.
When it comes to choosing a large piece of furniture in a bold color such as black, a mix of materials allows us to obtain a significant visual effect. Our Lea sideboard, although presented in total black, displays a skillful play of contrasts with its wooden structure, marble or ceramic top, and panels upholstered in fabric or leather.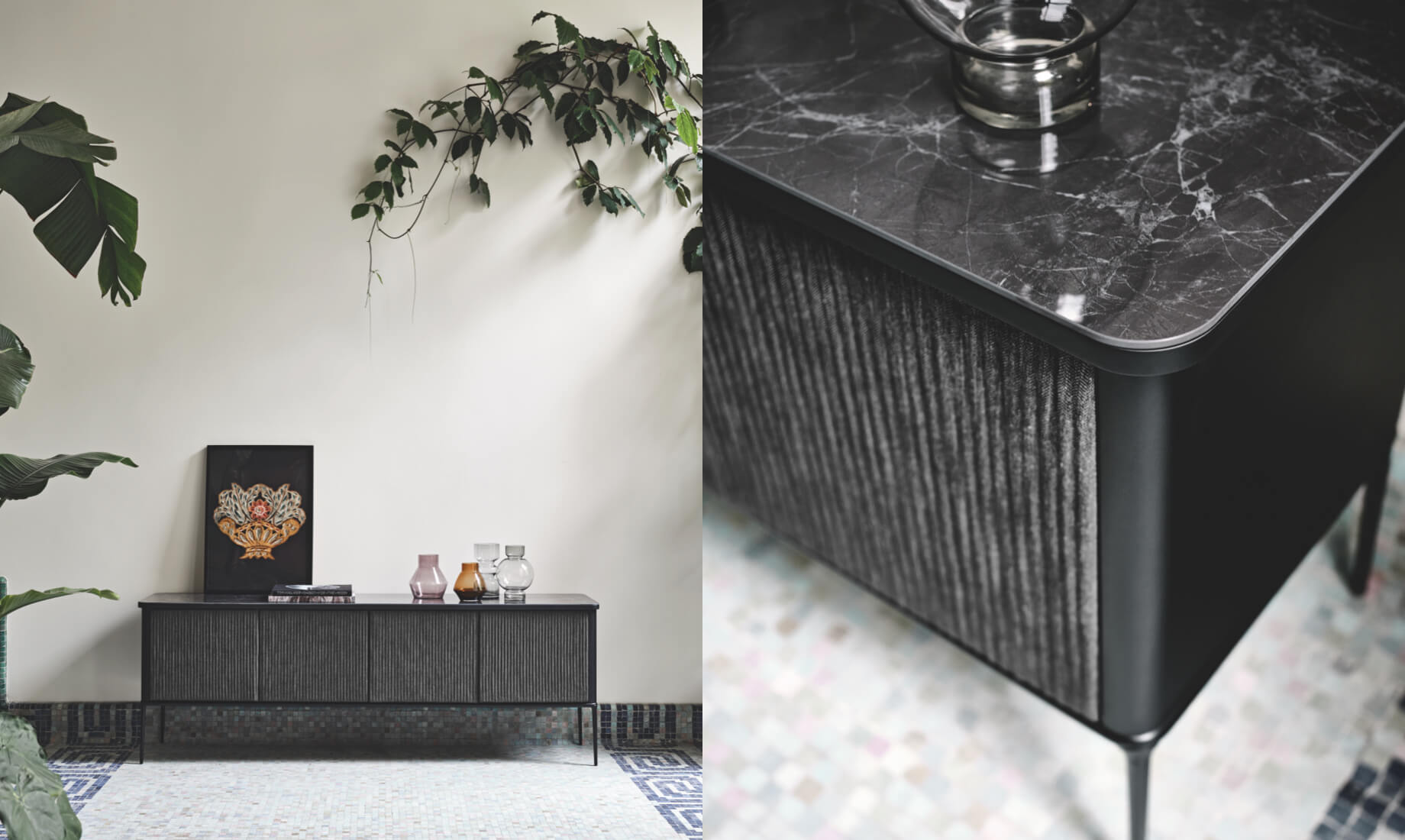 Lea sideboard, design Paolo Vernier.
All black decor
With its strong scenic impact and magnetic allure, total black furniture fill any environment with an impressive energy charge.
Technically considered a "non-color," black reveals an undeniable appeal and creates dreamy environments. But how can we soften a graphite-colored environment? The trick is to layer a variety of materials ranging from black to charcoal tones, such as our Suite armchair, which embodies the perfect combination of wood and leather. Ideal for total black environments, don't miss the glorious Gran Sasso table, which adds a sense of lightness with its glass top.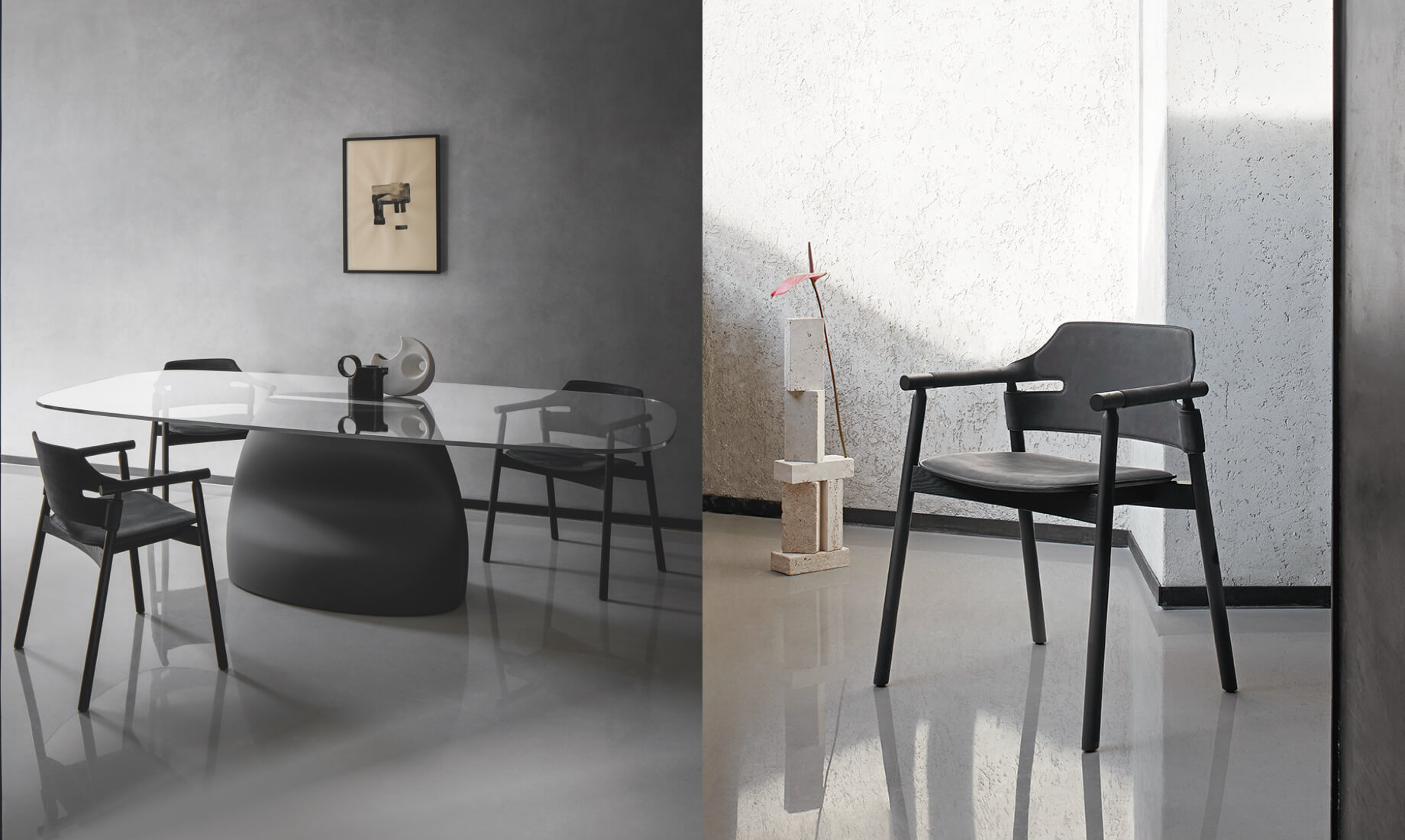 Suite armchair, design AtelierNanni, with Gran Sasso table, design Andrea Lucatello.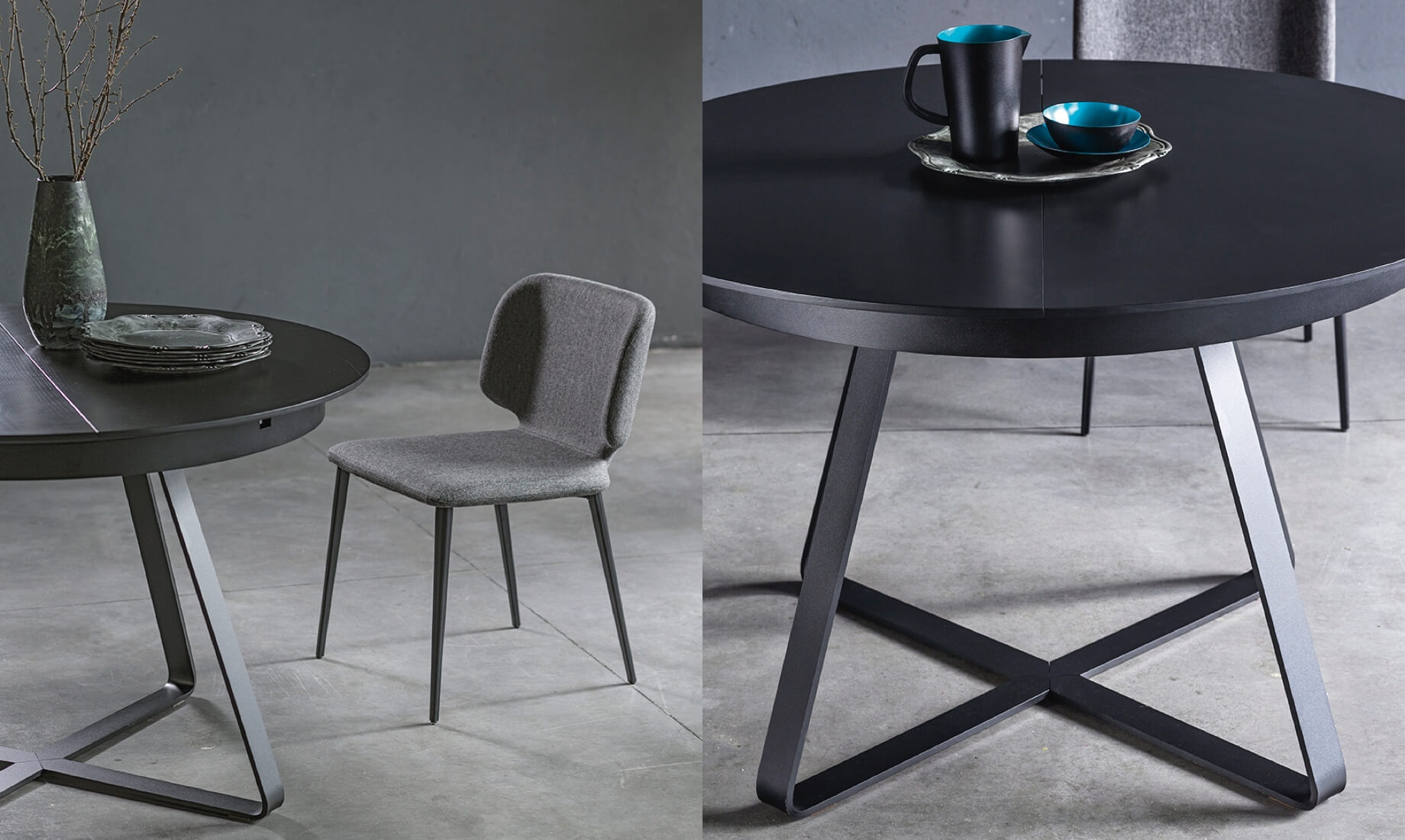 Paul extendable table, with Wrap chair, design Balutto Associati.
A graceful dance of harmonious and contrasting colors
Black is perfect as a single color and in combination with other shades. Our Strike armchairs, Marcopolo table, and Charlotte suspension lamp stand out against the white canvas given by the walls and flooring.
"The ideal partner for black is its antagonist: white."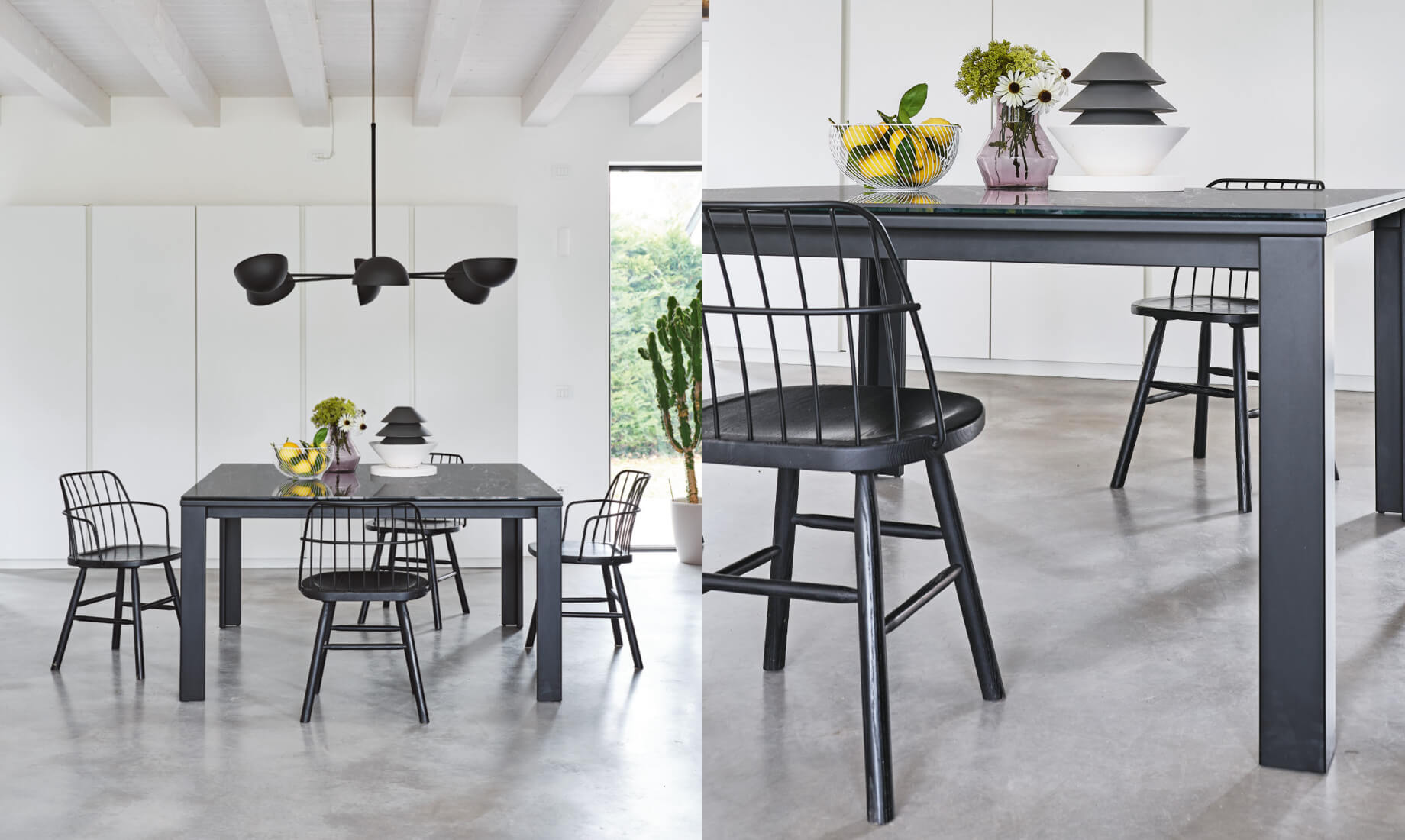 Marcopolo table, design Paolo Vernier, Strike armchair, design AtelierNanni, Charlotte suspension lamp.
What if we wanted to create a game of contrasts instead? Combined with the yellow stools and red seats from the Calla collection, what we get is a thoughtful pop of color. While combined with the pastel tones of the living room furnished with the Lea collection, the result is elegant, sweet, and a little rebellious.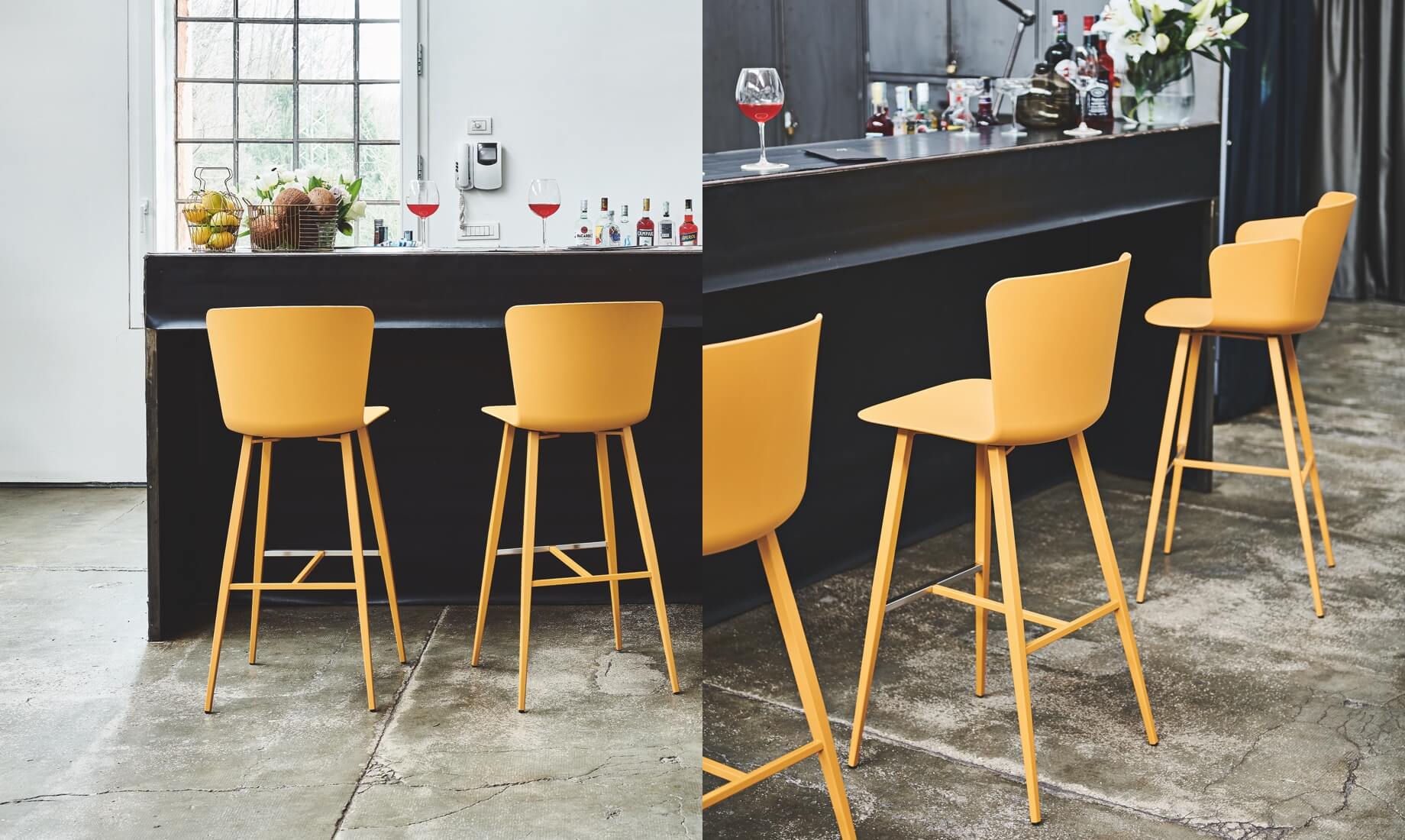 Calla stool, design Fabrizio Batoni.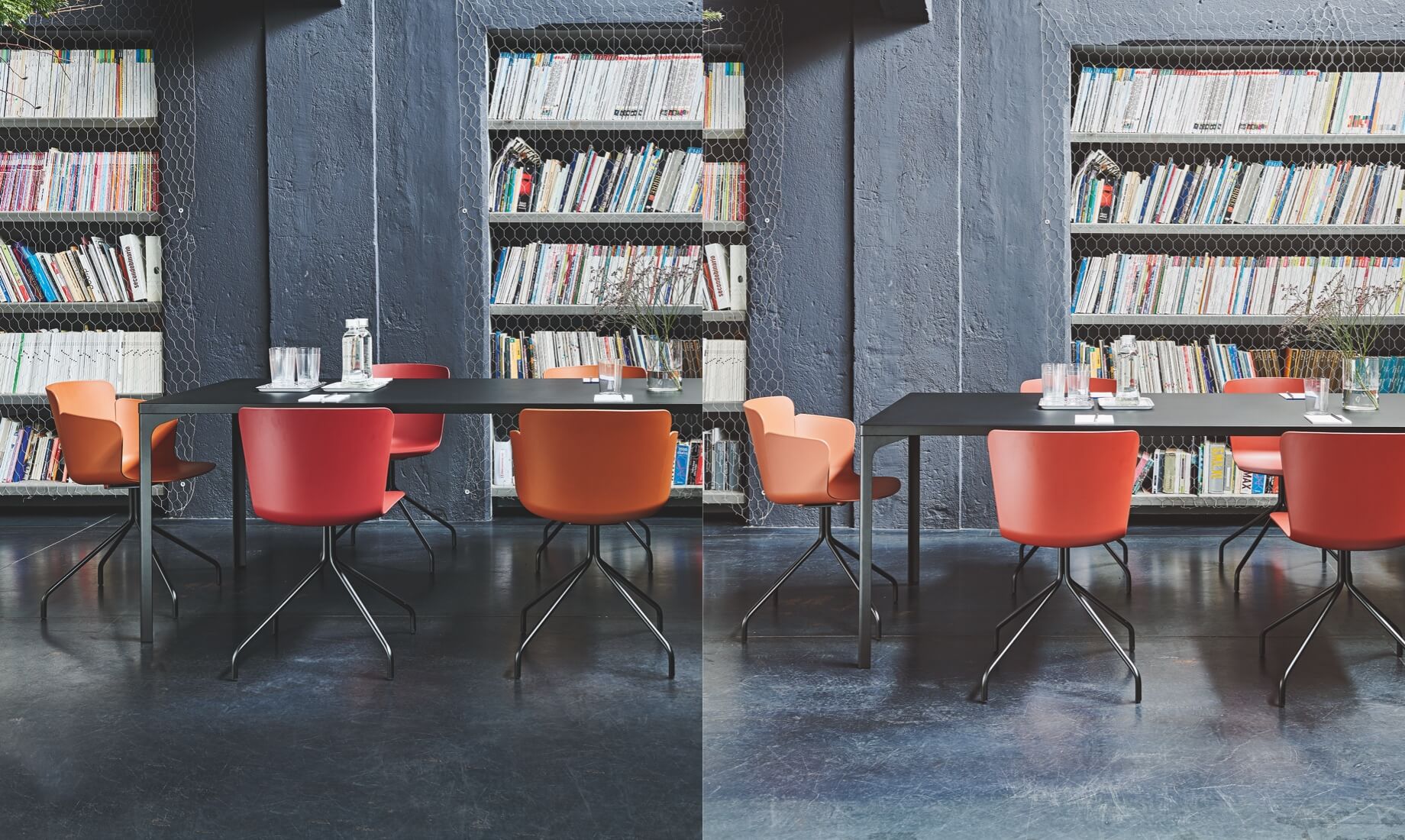 Armando table, design Balutto Associati with Calla seats, design Fabrizio Batoni.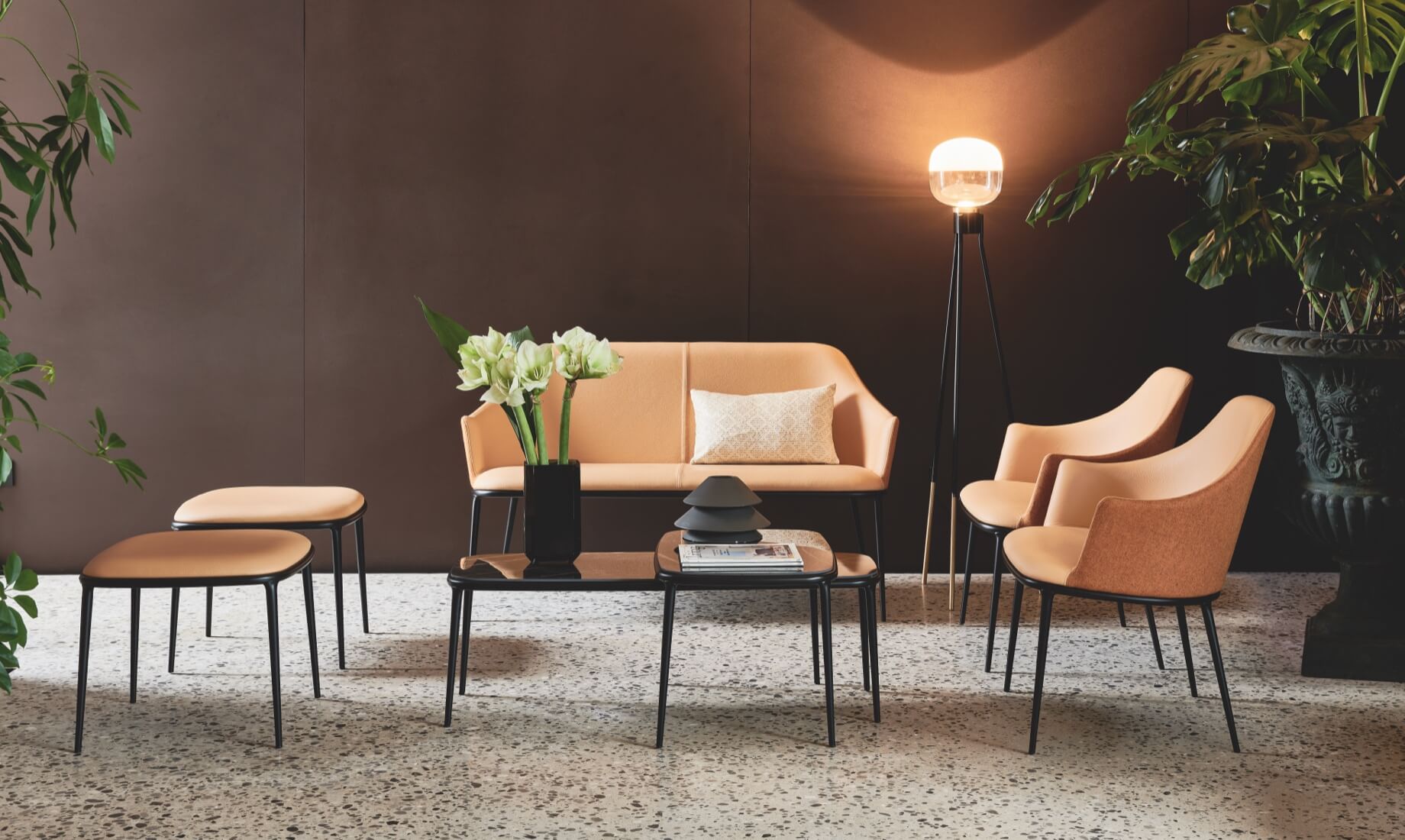 Lea collection, design Paolo Vernier. Ghost floor lamp, design Studio F + B Design.